In any successful retail business with a premium product like Great Harvest, sales are often driven by items you really cannot get anywhere else. Our whole grain
breads and sweets
are crafted each and every day from fresh ingredients and kneaded by hand in
Great Harvest bakeries
all over the United States.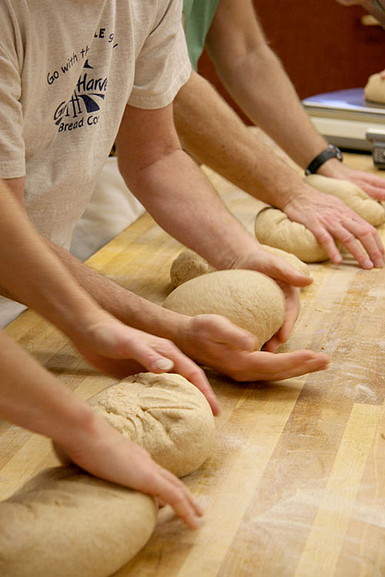 Many supermarkets and other retail bakery companies want you to believe they are scratch-baking from raw ingredients on premises but the real truth is that very few actually do. Bread is baked off from frozen or retarded dough and/or loaves, buns, and rolls arrive on a truck from some far-away factory loaded with conditioners and preservatives to make sure they are still fresh weeks later when you open up the package.

We are always looking for ways to provide you with amazing items that can enrich your life and make meal time with your family and friends better. In the life of the Corporate Chef and the marketing department, this week was focused on just such a line of products that have serious growth potential and set us apart from anyone else in the marketplace – premium buns for summer grilling.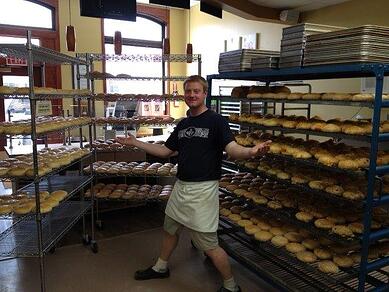 Sure, you can buy your burger buns at the grocery store or at Costco when you are picking up your meat and dog food, but there is nothing that compares with Great Harvest's premium line of buns. Where else can you get fresh, delicious buns with oozing chunks of sharp cheddar and the savory punch of garlic?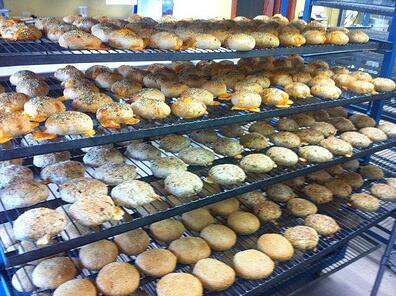 When was the last time you had the opportunity to bite into a juicy burger on a whole wheat bun made with bacon, cheddar, and premium beer or made a grilled pesto chicken sandwich on a bun teaming with the Mediterranean flavors of spinach, roasted red peppers, and parmesan?
One of the most fun aspects of my job as Corporate Chef is when we have completed a new product or marketing idea and we get to do a photo shoot to produce printed materials and posters for our bakery franchisees to display in their stores and digital resources for email marketing, social media, and website uses.



This past week in the Dillon test bakery, we made almost 1000 buns in a variety of flavors and did a photo shoot showcasing not only the beautiful, hand-crafted buns but mouth-watering shots of actual sandwiches made on them to get people excited about summer grilling and heading to their local Great Harvest to pick up buns for their next quick mid-week family burger night, weekend barbecue, summer holiday, or block party. Our buns are unlike any others out there – delicious, loaded with great ingredients, and visually stunning.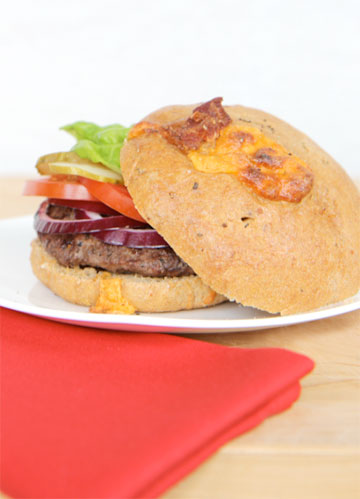 How excited are you for this summer's quickly approaching grilling season? I think I will have a venison burger tonight. On a Great Harvest Bacon Cheddar Beer bun. I can taste it already, can you?