Ahh… the intoxicating smells of summer. Sure, the scents of freshly-mowed grass and flowers blooming in yards as you walk around the neighborhood can catch your attention — but whenever we walk the dogs around the neighborhood after work, do you know what always catches my attention and flares my nostrils as I take a big whiff? The unmistakable aroma of someone grilling. It makes me hungry and it makes me wonder, "What are they cooking up tonight?" It is almost as powerful as the aroma of baking bread.
Your grill + your bread. Separated by winter, reunited by fate.
Hmm… if we put those two things together, might we have one of the best food combinations on the planet? Sure, Great Harvest bread is amazing hot and fresh out of the oven. It is also amazing sliced and made into a sandwich. Many of our varieties simply make the best toast in America (a good thing for us in this golden age of toast). Savory, backyard barbecue-friendly cheesy breads like Asiago Pesto, Bacon Cheddar Beer, and Cheddar Garlic come to mind.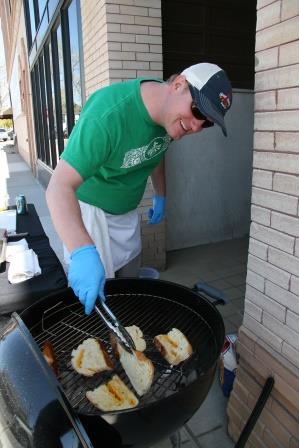 Serious toast. For people who like fire. And flavor explosions.
When those savory breads cool, when those luscious melty chunks of cheese have coagulated and the loaf has had a chance to come into its own with all of the flavors mellowed and in perfect harmony, perhaps there is no better use for it than tossing it on the grill over hot coals (or ok sure, propane…) until it is lightly charred, smoky, and once again dripping in its oozy, cheesy magnificence. Think of it as Toast 2.0. Caveman toast. Campfire bruschetta. It sounds so simple, so basic, but I'd bet that many have either forgotten the glory of grilled bread or (perhaps more likely) have never tried it.
Unsurprisingly, hot bread sells much like hotcakes.
I proved the power of the grilled slice during our last franchisee training cycle when we opened up the bakery to the public of Dillon. It was sort of a quick, spur of the moment thing, but it changed the entire face of the bakery for the day. The day before we thought to ourselves, "Hey, we're making cheddar garlic bread tomorrow, why not set up outside and grill it over charcoal and create some buzz in town?" So I dragged in the Weber, brought out a table, a cutting board, a knife, flavored oil for brushing, and some tongs. And you know what? People went nuts for it and we sold out of cheddar garlic loaves in record time. Customers would stop on the way in at the grill and get a slice, walk in the bakery and buy a loaf of it (or two or three) and stop by the grill on the way out for instructions on how to do it that night.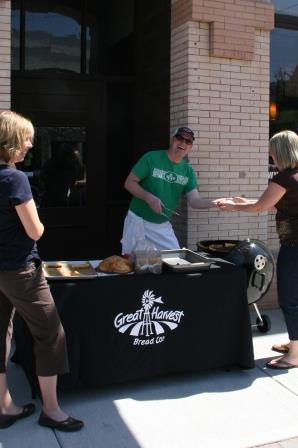 How powerful of a marketing tool is that? It is no industry secret that one of our key tenets of customer service is that everyone gets a free thick slice of bread as soon as they walk in the door. We simply moved "the breadboard" outside and coupled it with sexy smoke and neighborhood-filling aromas, and soon people were pulling their cars over to see what was happening.
The lessons of grilled bread are these:
If you are a Great Harvest franchisee, you need to seriously consider firing up the grill in the very near future right in front of your store or in front of your booth at the farmer's market. You will sell more bread, I can guarantee it.
If you are a Great Harvest customer, you need to go to your local bakery and purchase a loaf of savory bread (think Cheddar Garlic, Bacon Cheddar Beer, Spinach Feta, Popeye, Cracked Pepper Parmesan, Asiago Pesto, etc.) and go home and grill it. Tonight. It is perfect as an appetizer with some dip, as a bruschetta, alongside a steak or salad, or simply as is. You will love Great Harvest bread even more than you already do, I can guarantee it.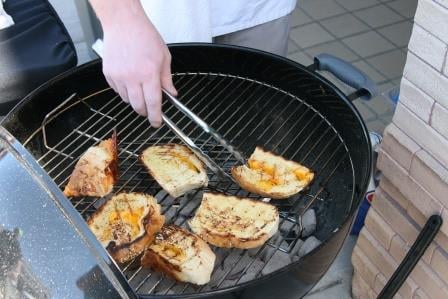 What did I do that day? I simply mixed together a ½ cup of extra virgin olive oil, a teaspoon of dried thyme, a ½ teaspoon each of kosher salt and cracked black pepper and brushed it on thickly cut slices of cheddar garlic bread. Over a medium flame, I grilled on each side (turning once at a 90 degree angle to get those fancy grill marks) until lightly charred and the cheese was melted.
So go grill some bread. Tonight. Trust me, you will not regret your decision.
Find out where you can pick up an exceptional loaf of grilling bread here:
Check out some of our previous posts on grilled breads:
• Whole Wheat Pizza Treat on the Grill
• Grilled Pizza With Great Harvest Dough
• Tomato Basil Goat Cheese Saute with Grilled Great Harvest Bread