Like many Americans, we splurged and bought a new grill to kick off the 4th of July weekend. So needless to say, we are trying to break in that bad boy. I recently took home some Great Harvest Honey Wheat dough and grilled up some pizza for dinner.
Ahhh…grilled pizza, it's all about the crispy crust. You don't want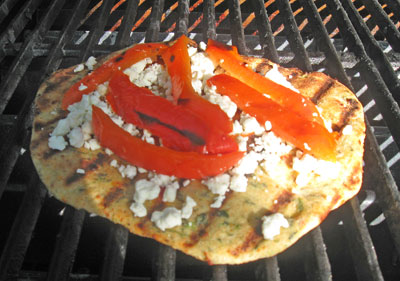 to get too carried away with the marinara or else you'll end up with a soggy pie. Grilling happens in a matter of a few minutes so you can't overdo the cheese or else your crust will burn before the topping has melted. When it comes to grilling pizza, simplicity equals epicurean delight!
What you'll need:
1 pound of Great Harvest dough (Honey Wheat, White, Asiago Pesto, Focaccia, or Spinach Feta.) We recommend calling your local Great Harvest bakery to ask them if they'll set aside some dough you can purchase before you stop in.
Olive oil
Basil pesto and/or marinara
Choose one of your favorite cheeses: such as feta , gorgonzola, fresh mozzarella, or parmesan
Decide on other toppings of choice such as: sweet bell peppers, Roma tomatoes, pine nuts, black or Kalamata olives, salami, pre-cooked spicy Italian sausage, red onions, etc.
First and foremost, you want to have all your toppings cooked and/or prepared before you put your dough on the grill. Like I mentioned above, grilling time for the pizza itself only takes a few minutes so that isn't adequate time to thoroughly cook some toppings. For example, I wanted my veggies cooked so I grilled the bell pepper ahead of time so it was ready to just throw on the pizza.
Next, you want to heat up your grill to medium-high heat (approximately 350-400 degrees). Then divide your dough into 4 equal chunks which will eventually result in 4 small pizzas. Starting with your first pie, put some olive oil on a cookie sheet. Place one chunk of dough on the cookie sheet and press it flat using your finger tips. The key is to get the dough as flat as possible without tearing any holes. Once you put the dough on the grill, it will proof up so you want to start out as thin as possible. Think about a tortilla- that's the thickness you are aiming for as you stretch, flatten, and poke with your fingers.
Next, you want to rub about a teaspoon of olive oil on the top of the dough.
Place your dough on the grill. Don't worry if some of the edges start to slip through the grate. It will harden quickly before it all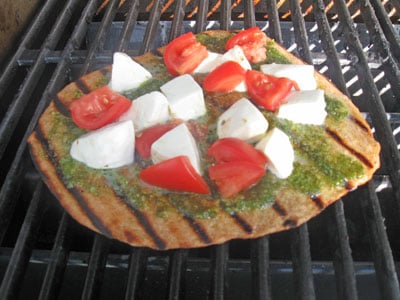 falls through. Let the dough grill for approximately 2 to 3 minutes. Using a pair of tongs, flip the dough over. Immediately spread on your pesto and/or marinara. If you choose to use marinara, go easy. If you put on too much, your crust will be soggy and doughy. Then put on a very light amount of your preferred cheese along with your other toppings of choice. Close the lid and let your pizza grill for 3 to 5 minutes. Once finished, use your tongs to pull the pizza off onto your cookie sheet. It's that easy!
My favorite is honey wheat crust with gorgonzola, mild sausage, and fresh Anjou pears. What's your favorite pizza combination?