There is that ubiquitous saying "XYZ is the best thing to happen since sliced bread." I am going to confidently say that the best thing to ever happen to bread is TOAST.

In the latest issue of Bon Appetite that focuses on America's best new restaurants, food editor Andrew Knowlton compiled "The Foodist 25" --the most amazing things he saw, heard and devoured during his 120 day, 26,333 mile journey researching these restaurants. Coming in at number 19 under a section entitled Fallback Moves: This year, whenever chefs were in doubt they would… Put It On Toast. As a toast lover and the bread business chef here at Great Harvest, of course that caught my eye.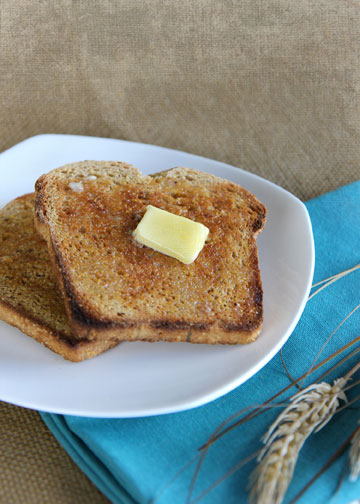 Future and existing franchisees and our customers should take away a couple of very good points from this. First, that amid all of the hoopla and press surrounding the wisdom of the consumption of bread, it is one of the go-to vehicles for flavor delivery of the country's top chefs. Is bread "on trend?" I should think so. The second is that amid all of the fancy, new wave molecular gastronomy and fancy water baths chefs are using to dazzle restaurant goers and reviewers – toasted bread is at the forefront of their food delivery system. This is because it is the perfect platform for so many foods. Hearty whole grain breads, sliced and toasted or grilled are awesome as everything from crostini to open faced sandwiches.
Many mornings Paul (one of our trainers here at Great Harvest headquarters) and I make a breakfast of thick slabs of whole wheat bread toasted, slathered in avocado, sprinkled with coarse salt, freshly ground black pepper and drizzled with Tabasco sauce. If you have not tried doing this with Great Harvest bread, I suggest you make that a priority for tomorrow morning…
I have previously published several recipes for things that are great on toasted or grilled Great Harvest bread. The White Bean Crostini, the Tomato Basil Goat Cheese Dip, and the Baked Bried with Berries are some of my favorites and are absolutely perfect this time of year when tomatoes are at their peak and berries and herbs are found in fresh abundance. Some of my other favorite ways to use toasted bread:
Jam and Cheese: Perhaps one of the most under-utilized sweet and savory combinations on earth. My absolute favorite is spicy pepper jelly and aged white cheddar. I eat this at least five times a week as soon as I get home from work as an appetizer. Other great combos: soft ripened cheeses like St. Andre, D'Afinoise, Cambazola and Camembert with blackberry, raspberry, huckleberry, or apricot preserves. Slathered on thick slabs of warm toasted Dakota bread this will change your life
Salty cured meats, pickles, and mustard: I can confidently say this is my favorite open-faced sandwich of all time. High quality charcuterie seems to be available everywhere these days (also featured in Bon Appetite this issue) and I absolutely love spreading coarse whole grain mustard on a toasted slice of Great Harvest bread and topping it with slices of naturally fermented pickles and some curls of salami or prosciutto.
Sliced Summer Vegetables, Softened Butter, and Sea Salt: Ok, I know this might sound kind of bizarre, but another great treat to have for lunch in the summer relies loosely on the Scandinavian tradition of open-faced sandwiches: Take a piece of toasted Great Harvest bread and spread with it with high quality softened butter made from pastured cows and top with very thin slices of fresh-from-garden summer vegetables like radishes, zucchini, yellow squash, even sweet onions. Squeeze just a touch of lemon juice over the top, sprinkle with coarse sea salt and crack some black pepper over the top and have yourself a serious food utopia moment.
Of course there are a million other ways to top toast – it's great with just butter and jam, it is the best vehicle for pate, it makes a wonderful canvas for sautéed mushrooms seasoned with a touch of garlic, salt and pepper, sherry, butter, and fresh tarragon. It is the best way to sop up sauce on any dinner plate. It is a runny egg yolk's best friend at breakfast, and it is one of the best ways to get some hearty whole grain nutrition in a kid's hand on his way out the door to school. A slice of Great Harvest toast spread with peanut butter, almond butter, or Nutella and topped with slices of banana and drizzled with honey can change the mind of anyone thinking they don't have time for breakfast!
What are some of you favorite ways to enjoy your favorite toasted Great Harvest bread?
Enjoy more recipes by Scott here: