Summer may be winding down, but in our household we don't retire the barbeque grill until it's unbearably cold. Using inspiration from my herb garden and a loaf of my favorite bread (Great Harvest honey whole wheat!), I created this tasty mini-pizza, cooked mostly on the open flame. It works perfectly for a light dinner or a hearty appetizer and the sage adds unique flavor to a hearty and chunky tomato sauce.
Tomato & Sage Pizza Sauce
2 tablespoons Olive Oil
¼ cup Green Onion, finely chopped
2 cloves Garlic, minced
1 14.5 oz can diced, peeled Tomatoes (low sodium variety preferred)
1/3 cup Fresh Sage, finely chopped
1 tablespoon Agave Nectar or Local Honey
Heat the oil in a medium sauce pan over medium-high heat. Add the green onion and sauté until fragrant and lightly golden (about 2 minutes). Add the garlic to the onions and sauté for another 2 minutes, taking care not to scorch or burn. Next, add the can of tomatoes, chopped sage and agave nectar, bring to a simmer and let stand for 20 minutes over very low heat.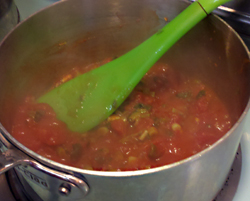 Honey Whole Wheat "Pizza"
3 tablespoons olive oil
4 1-inch thick half-slices (from round loaf) of Great Harvest Honey Whole Wheat bread
Tomato & Sage Pizza Sauce (above)
2 cups cheese of choice (I used a flavorful asiago!)
Pepperoni
Using a basting brush, generously coat the slices of bread with olive oil.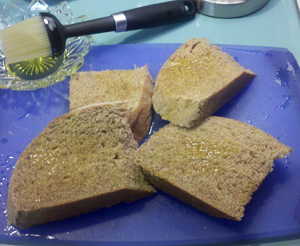 Toast one side on grill until nicely browned.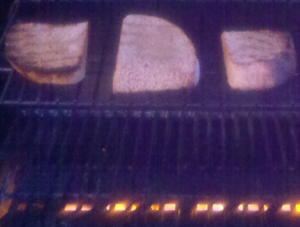 Remove bread from grill and top toasted side with sauce, cheese and pepperoni. Place the individual "pizza's" back on the grill and continue toasting and cooking until cheese has melted and bottoms are well toasted. Remove from grill and enjoy!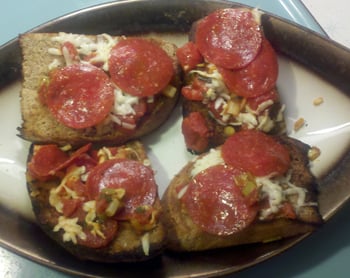 What are ways you've used bread on the barbeque?