I am not going to lie — I absolutely adore bread pudding. Definitely under-appreciated in the dessert world, it's known for being a way to use up old stale bread more than anything else. Not much thought is given to proportions, flavors, or the sheer power and possibility of this classic dish. Too many times, iterations of bread pudding are more like sweet versions of Thanksgiving stuffing — heavy and cloying. It's time to set things right.
Bread pudding isn't just about getting rid of old bread ─ it's about the pudding.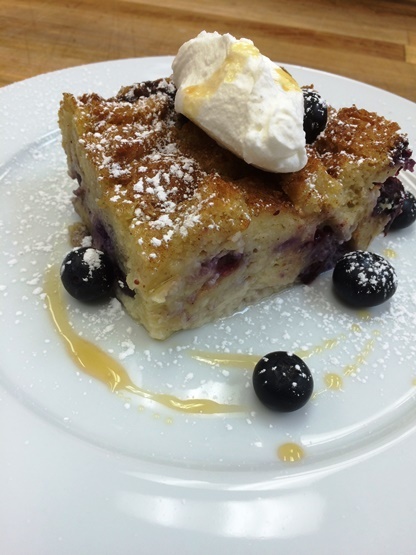 In my updated version, the cubes of classic Great Harvest white bread are suspended in rich custard flecked with nutmeg and cinnamon. It is loaded with tart blueberries and enhanced with the perfect complementary flavor of maple syrup. When done properly, slices of this bread pudding literally quiver on the way to the plate the way the best quiche does. Equally important is the crisp butter and sugar baked topping from the reserved bread cubes (an old pastry chef trick to provide contrast in texture to the silky pudding underneath).
Despite its sometimes sordid reputation as a use of leftovers and crusts, when executed this way, bread pudding can truly be one of the great stars of your summer dessert tables, barbecues, and cookouts.
With the season's fruit just coming into its own it is the perfect time to head to your local Great Harvest bakery, buy a loaf of our famous white bread, grab some berries from the farmer's market and get your bake on! Feel free to substitute other fruit for the blueberries, such as blackberries, peaches or plums. When autumn rolls around, diced fresh apples or pears work equally as well.
This dessert can be made a day in advance and stored in the refrigerator if necessary; simply cut squares and reheat in a 300⁰ oven for 10-15 minutes.
Blueberry Maple Bread Pudding Recipe
Yield: 8 healthy servings
Preheat oven to 325⁰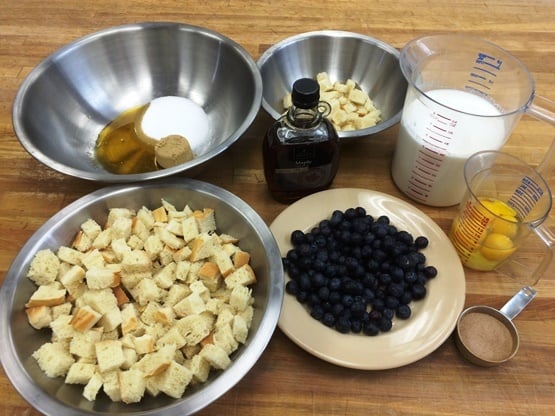 Ingredients
8 ½ cups Great Harvest white bread, cut into 1-inch cubes (divide and reserve in 6 cup and 2 ½ cup amounts)
4 large eggs
1 large egg yolk
½ cup brown sugar
¼ cup granulated sugar
3 tablespoons maple syrup
2 ½ cups whole milk
2 ½ cups heavy whipping cream
1 tablespoon vanilla
½ teaspoon nutmeg
½ teaspoon cinnamon
¼ teaspoon salt
2 cups fresh blueberries, rinsed and dried (or other fruit; individually quick frozen blueberries also work — use them slightly thawed).
¼ cup melted butter
Cinnamon sugar (mix cinnamon and sugar in 4:1 ratio – 4 tablespoons granulated sugar and 1 tablespoon cinnamon. You will have some left over to sprinkle on your toast tomorrow!)
Method
Butter a 9"x 13" baking dish or spray with nonstick cooking spray.
In large bowl, whisk together eggs, yolk, sugars and maple syrup until well combined.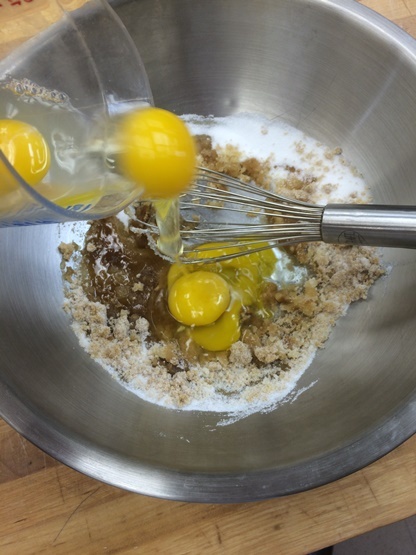 Add milk, cream, vanilla, nutmeg, cinnamon and salt. Whisk until well combined and spices are dissolved.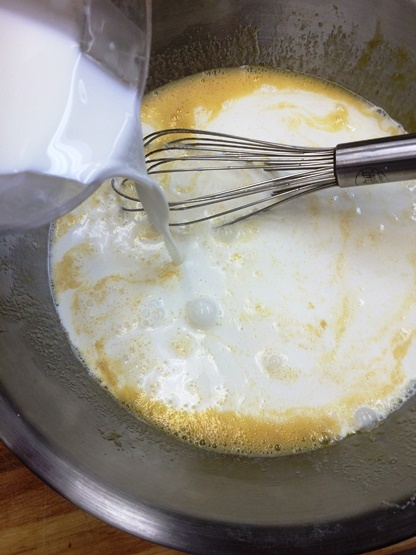 Add the 6 cups of bread cubes, stir gently to submerge and allow to sit for at least 20 minutes, but not more than 30.
Add the blueberries and stir gently to combine without breaking up the bread too much.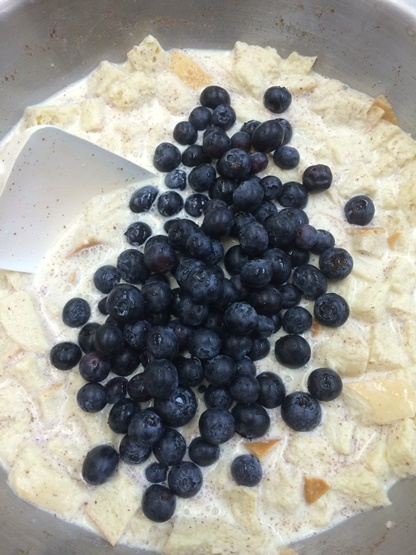 Carefully pour contents into the prepared baking dish.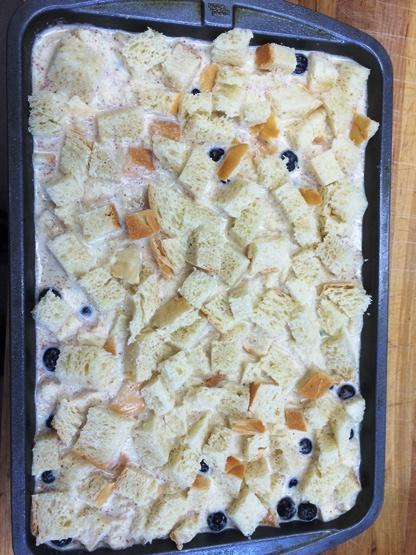 Scatter the remaining 2 ½ cups of bread cubes over the top in an even layer. Brush the top of the cubes with melted butter, using enough pressure to partially submerge the bread.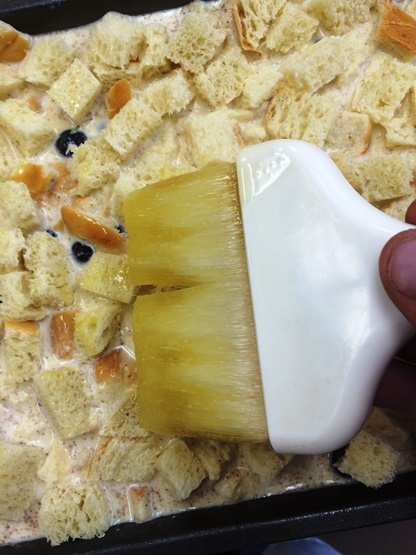 Sprinkle with cinnamon sugar.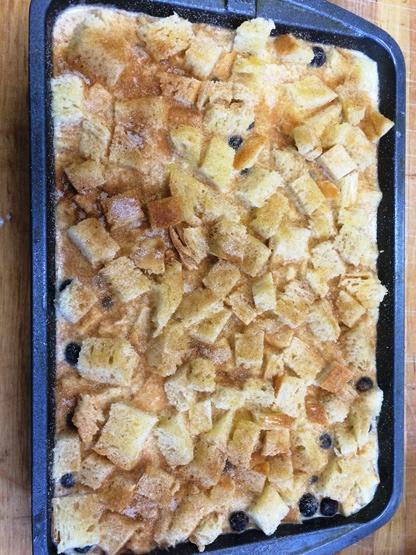 Place in preheated oven and bake 45-55 minutes until top is golden brown, pudding puffs up and it barely jiggles when the pan is shaken. A knife inserted into the center should come out with crumbs on it but not liquid.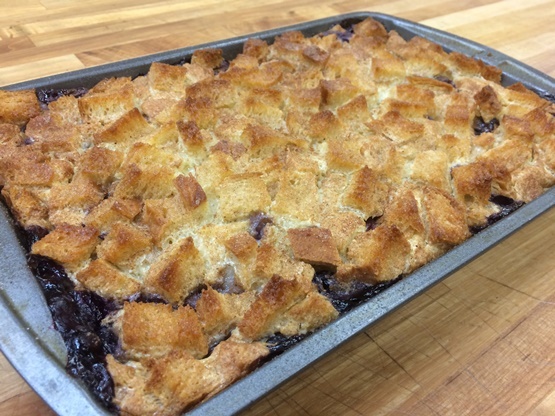 Cool at least 30 minutes before cutting but serve warm with whipped cream, a drizzle of maple syrup, and additional fresh blueberries if desired.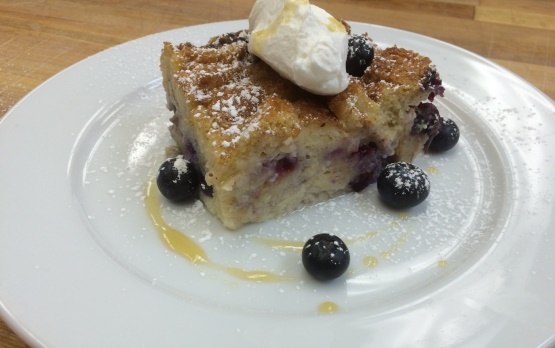 Let me know how it works out for you.
Before you go, I'd like to ask for your help in choosing my next recipe.
Let us know what you'd like to see next:
Don't miss the next recipe — subscribe to stay tuned!
Get more great recipe ideas from Great Harvest: