As the cold weather settles in, my thoughts always turn to rich satisfying foods that make me feel warm and cozy from the inside out. I often get a loaf of Great Harvest bread home and eat it for a few days as toast and sandwiches but when there is a half loaf left and I'm ready for the next flavor. What to do next? A savory bread pudding.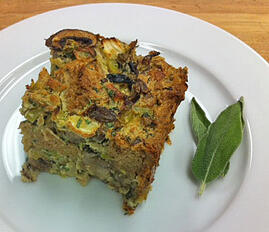 When most people think of bread pudding they think of a sweet dessert, but the concept works amazingly well in savory applications. It is great as a side dish, but is substantial enough to function as a meatless main course alongside a salad. It is easily adaptable to several different kinds of whole grain bread. Honey Whole Wheat provides a good blank canvas while Nine Grain and Dakota really add an interesting texture and more complex flavor.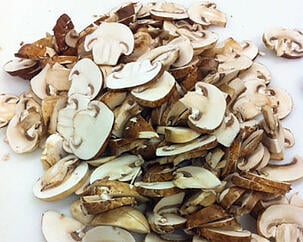 This recipe packs the dual punch of heady mushrooms and roasted fennel. A variety of mushrooms can be used for this dish such as white buttons, shiitakes, crimini, portabella, oyster, chanterelle, black trumpet or morel. The choice of what mushrooms to use is extremely flexible. Here in Dillon, MT, the grocery store only carries fresh white buttons, crimini, and Portobello, so to add some pizazz I used one package of dried mixed wild mushrooms that they had there from Fungus Amongus. I just soaked them in hot water for a half hour, drained them, chopped them, and sautéed in butter with the rest of the mushrooms. The flavor they added was remarkable.
Serves 6-8 as a side dish
Total time: 1.5 hours Active time: 30 minutes
Preheat oven to 450 degrees for fennel
*Bake Bread Pudding in 325 degree oven
Ingredients
½ loaf of Great Harvest savory whole grain bread, cut into 1 inch cubes toasted in a 325 degree oven for 5 minutes to dry slightly
1 bulb of fennel, stems trimmed and cut into quarters
Olive oil as needed
4 Tbs. unsalted butter
1 pound of mixed mushrooms, cleaned and sliced
Tip: Never wash fresh mushrooms with water, rather brush off with a damp towel or a vegetable brush.
1 1 oz. package dried wild mushrooms
1 onion, diced small
4 ribs of celery, diced small
1 Leek, white and green part only halved lengthwise, sliced into half-moons, washed and dried
4 cloves of garlic, minced
7 eggs, plus 2 egg yolks
3 cups heavy whipping cream
2 Tbs. chopped fresh flat leaf parsley
1 Tbs. chopped fresh thyme
1 Tbs. chopped fresh sage
1 tsp. plus 2 tsp. kosher salt
1 tsp. freshly ground black pepper
Method
Place fennel halves in oven proof sauté pan and drizzle with olive oil. Sprinkle with salt and pepper and roast in a 450 degree oven for about 20 minutes until it starts to soften and gets brown around the edges. Remove from oven, cool, and dice. Turn oven down to 325 degrees. Working in two batches, sauté mushrooms in large, preheated pan in 1 tablespoon of the butter mixed with 1 tablespoon of olive oil. Once the mushrooms hit the pan it is important not to move them around initially to help with browning and flavor development. Mushrooms are made up almost entirely of water and they will leach out a lot of moisture while cooking, resulting in soggy flavorless mushrooms. While mushrooms are sautéing, dry bread cubes slightly in the 325 degree oven for 5 minutes.Once mushrooms are golden brown and cooked through, remove to a large bowl.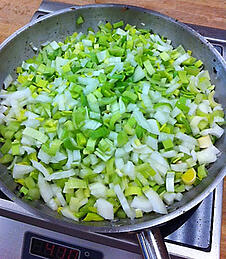 Return the pan to the heat and add the remaining 2 Tbs. of butter. Sweat the onions, celery, leek, and garlic over medium heat for about 8 minutes until translucent and soft. Add them and the fennel to the bowl with the mushrooms.
Whisk together the eggs, egg yolk, cream, herbs and salt and pepper. Place bread cubes in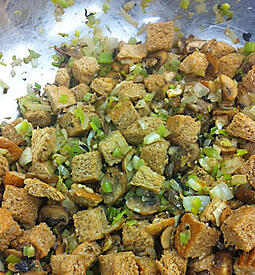 bowl with the vegetables and pour in the egg-cream mixture. Gently stir with a rubber spatula, taking care not to break up the bread too much. Allow to sit for ten minutes. Butter a 12" x 9" or slightly bigger baking dish and pour in bread pudding, smoothing out the top so it is even. Bake for 50-60 minutes until it has risen up, is golden brown, and just barely jiggles in the center. The cooking time will vary with the oven. A small knife can be used to check whether it is set in the middle. Allow to cool for at least 5 minutes before serving.
I hope you enjoy this incredibly comforting dish. It was popular here in Dillon when I made it for the staff, but I'd love your feedback too.
Enjoy more of Chef Scott's recipes here: