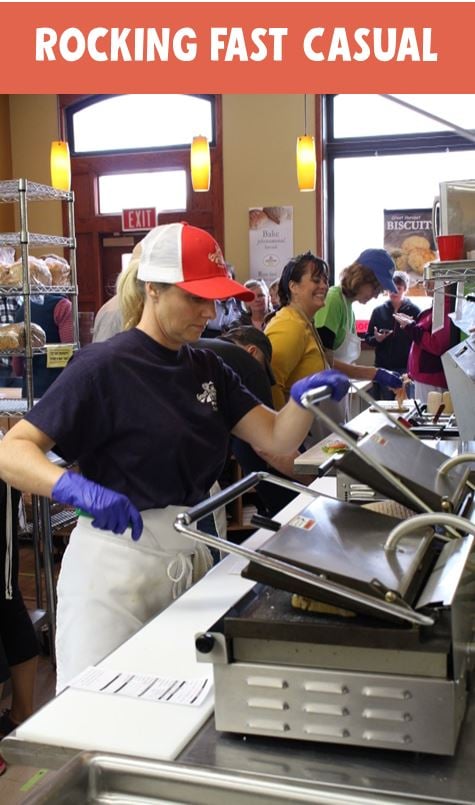 Years ago, there was fast food (think McDonald's, Burger King and Taco Bell) and there was casual dining (like Applebee's, TGI Fridays and Olive Garden). At some point in the 1980s, the "fast food" category started to evolve, and a distinction emerged between traditional fast food (now called quick serve restaurants, a.k.a QSRs), and new fast casual restaurants like Fuddruckers and Au Bon Pain.
These new fast casuals sought out the middle ground between fast food and casual dining — characterized by customers ordering at a counter, but with the staff providing limited table service, and typically no drive through (though that is changing). Fast casual stores are also broadly characterized by fresher, higher quality, made to order food, more complex flavors, and a more upscale design (relative to QSRs). Fast casual restaurants appeal to consumers who want efficient, timely service at an economic price point, and who want more than "junk" food. The average price per meal at a fast casual restaurant is typically in the $8 to $15 range, instead of $3 to $6 per meal for QSRs.
"Higher quality" can mean different things to different customers, and this opened the door for all kinds of innovation among restaurants that have entered the fast casual space over the past few decades. Some fast casual concepts have developed a reputation for their strength in a certain area of differentiation.
To give some examples of the range of choices in the fast casual segment, if a customer is looking for something in particular, here is where they might head:
Healthier menu choices? Zoës Kitchen
Fresh, local ingredients? Chopt
Unique flavors and ethnic specialties? Chipotle and Qdoba
Maximum customization? MOD Pizza
Upscale atmosphere (compared to fast food)? Sweetgreen
Better service? Shake Shack
Since 1999, fast casual concepts have experienced some of the best year over year sales growth in the restaurant segment of the economy. Their popularity further skyrocketed in the wake of the 2008 recession, when consumers tightened their wallets and were less likely to dine out at any other category of restaurant.
Comparing 2015 to 2014 sales, total sales for the Top 250 fast-casual chains were up 11.6%, a moderate decrease from the 13.5% growth rate observed in 2014. And unit growth was also impressive at almost 10%.
These growth rates are positive news, but can be a little bit deceiving, because the fast casual category is a lot smaller than the QSR group. According to Technomic, fast casual restaurants represented eight percent ($39 billion) of the full $466 billion restaurant industry in 2014.
Additionally, the summer of 2016 has been rough on the restaurant industry and even fast casual's year over year sales for July are down 2% compared to last year. The reasons behind the drop are not straightforward, because it's going against some typical trends, so it will be interesting to see what happens over the rest of 2016. It is worth nothing that top-performing brands like Shake Shack and Zoës Kitchen are beating the averages.
Even if sales growth continues to cool in the U.S., fast casual is still the strongest growing segment internationally.
"Consumers are shifting their dining preferences, especially in developed markets," — Elizabeth Friend, consumer foodservice strategy analyst at Euromonitor International
The distinction between QSRs and fast casual has long been considered ambiguous by industry insiders, and in time, it will only become more so. Fast casual concept growth has been fueled by brands' efforts to differentiate themselves, often by responding to the latest food trends, such as fresh, local, and natural ingredients and better-for-you preparation methods. QSRs had stood in stark contrast to that, but they are now also responding to some of these trends and the differences are becoming less distinct. For example, Wendy's is continuing to focus on salads and McDonald's has gone beyond store remodels to compete with fast casual — with some of their locations offering "Create Your Taste" custom burgers.
Fast casuals should learn from the past mistakes of casual dining restaurants. As the needs of Gen X and Millennials differed from the Baby Boomers, not all restaurant brands realized what was happening and made the needed adjustments. Their oversight created the opportunity for fast casual concepts to swoop in and blow up. Today, social media makes it easy to hear and see what your customers are talking about around your brand – if you are listening, of course. Smart brands will anticipate customer requests and adapt accordingly. Always remember: The customer is king.
Whether quick serve, fast casual or casual dining, some things are constant — customers want great tasting food, a pleasant experience, and value for the money they spend. Customers understand there are trade-offs between speed, convenience, price, and quality of ingredients. As the business owner, make sure you understand the trade-offs in your niche, and most importantly, that you are listening to your customers.
Great Harvest is evolving! See how we are meeting consumer and owner needs:
Read more about food industry trends in these posts: