The season of thankfulness marks the beginning of the best time of year (at least in my opinion)! It's the season when feasts abound. It's also a time when many worry about packing on the holiday pounds and start planning their New Year's resolutions to "start fresh" and "be healthy" again (after they overindulge).
What if I told you that Thanksgiving feasts could be a part of being healthy, and you don't have to wait until January 1, 2018, for that fresh start? Holiday eating doesn't have to be synonymous with overindulgence.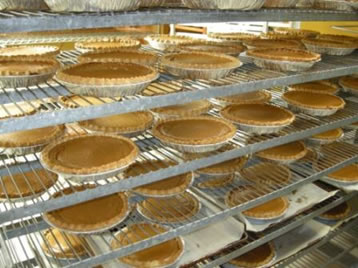 I know…we have all heard them many times, from others and ourselves, those unrealistic tips to avoid holiday weight gain. Things like "just don't eat the pie," or, "stay away from the rolls and stuffing," and "be careful not to eat the gravy." You begin to think, "Well, what can I eat?!" Don't worry; there is some middle ground between overindulgence and fasting. You CAN make your Thanksgiving Day nutritious and delicious—and even top it off with a slice of pie (which may be available at your local Great Harvest Bakery).
When I think of Thanksgiving meals, I think of heavy, hearty foods like mashed potatoes, gravy, turkey, green bean casserole, stuffing, scalloped corn, and pecan pie. These have been the main staples on my family's Thanksgiving table since forever. It is hard to veer away from them without leaving family members to wonder where the Thanksgiving meal went. So don't! You don't have to take your traditional holiday standbys off the menu. Instead, add some nutritious options.
What can you do to avoid feeling like a stuffed cornucopia come Thanksgiving evening?
Here are some realistic tips to enjoy your Thanksgiving feast in moderation:
1. Not Hosting?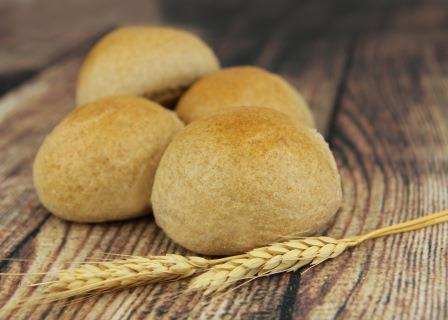 Want to add some more nutritious items to the feast? Politely ask the host or hostess if you can add to the feast with a dish made from your home. Now you have control over the nutrition of at least one item that will be served. Perhaps some whole grain rolls or specialty breads from your local Great Harvest Bakery Cafe?
2. Eat Breakfast!
Many of us have tried the "skip breakfast/save the calories for later" tactic. In the end, we usually end up consuming more calories by snacking on whatever is available when we are too hungry to make healthy choices. Use breakfast as a nutritious boost. Suppress your hunger with a wholesome option like an omelet loaded with veggies, whole grain oatmeal with berries, or slice of Honey Whole Wheat toast with peanut butter.
3. Know Yourself
Weakness comes for some at the dessert table. For others, it is second or third helpings of the main course. Or maybe it's filling up on appetizers before the meal is served. Regardless of what you find difficult, be aware of it and have a plan to work your way around it. For example, helping with meal preparation to avoid the appetizers, or helping with dishes after eating a small piece of pie to limit the temptation of eating more dessert. You might fill up on fresh fruits and vegetables before the meal so eating seconds and thirds doesn't sound as appetizing.
4. Create a Balanced Plate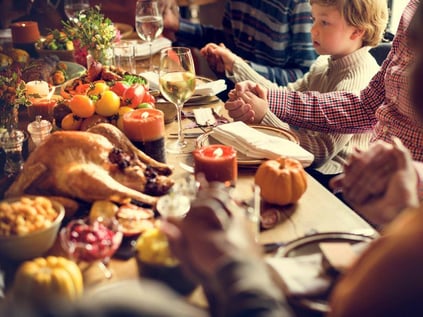 When I talk about a balanced plate, I am not saying make sure the weight is evenly distributed, so you are less likely to drop it in the buffet line. I am referring to a nutritiously balanced plate. Aim to fill half of your plate with fruits and vegetables (not including corn, potatoes, and peas), a quarter of your plate with meats or beans/legumes, and the last quarter of your plate with a starchy vegetable (corn, potatoes, peas) or grain (Honey Whole Wheat roll, wild rice, etc.). Also, while it might be a fun challenge, it's probably unwise to pile your food as high as the laws of physics may allow.
5. Get Outside and Breathe in Some Fresh Air
Trust me; your body will thank you! Some of the best holiday memories can be made doing things with family outside. It could be a pickup game of football, a nice walk around the block or in the woods (one of my personal favorites), or for us Northerners, perhaps a family snowball fight.
6. Leave the Leftovers and Spread Kindness
There is no better way to give thanks for what you have than helping others in your community who may not be as fortunate. Instead of sitting around noshing on leftovers, get out of the house and do something to nourish your spirit. You can find opportunities to volunteer in your community through organizations such as VolunteerMatch.org. Volunteering is a great way to bond with your family, do some good for others, and feel good too.
Remember, Thanksgiving is not just about the food. There is no better way to show some thankfulness to your body than to nourish it with good quality food—along with laughter, good company, and outdoor activities.
This Thanksgiving, be thankful for the amazing feast you are able to enjoy with your loved ones. Eat a small slice of pie. Put a little gravy on your mashed potatoes. And take a walk (or two) with those you are celebrating with. It's about balance. Know what works best for you and plan ahead! The holidays are a time to enjoy, so don't deny yourself or overindulge to the point where you are miserable the rest of the day.
What do you do to make your Thanksgiving delicious, nutritious, and memorable?
Get ready for holiday gifting with a Great Harvest gift card!
Read more about healthy Thanksgiving choices:
Image credit: Family celebrating Thanksgiving © Canva / Rawpixel