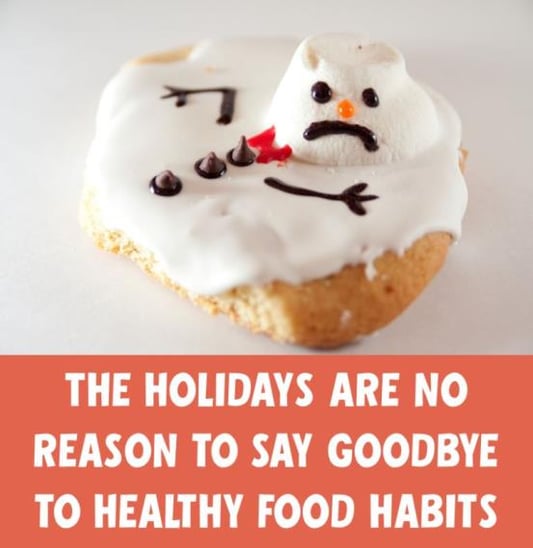 Even on the biggest eating day of the year, when overindulgence reigns supreme, it is still possible to make healthier choices. Certainly, by tomorrow many Americans will be looking for a return to healthy eating. With a winter forecast filled with leftovers and holiday parties, it is more important than ever to plan ahead for healthy snack options.
I was just talking with one of my very best friends last night on the topic of healthy eating. She was telling me how she had established some great eating habits and after a few weeks of keeping it up, she felt better than she ever has before. She works a very high-stress job with a long commute and an extensive work day. As a result, she has found it hard to maintain her routine in the past.
Like many people, she understands what she needs to be eating; it is just a matter of how to make that happen with a busy schedule. Even with a slow-paced lifestyle living in small town Montana, I find it can be difficult to make nutritious meals and snacks when trying to balance family, friends, keeping up a house, hobbies, working out and a full-time job. One of the ways I'm able to do that is by keeping my house stocked with the right ingredients to make healthy, flavorful dishes and snacks on the fly.
Plan to Eat Healthy with a Well-Stocked Pantry

Nuts and Seeds
Unsalted, sliced, peppered almonds and sunflower seeds to sprinkle on a salad or wrap.
Ground flax and hemp seeds, which are super easy to throw in a smoothie, cereal, salad, or on top of yogurt. These add a nice texture and earthy flavor as well!
Peanut and almond butters for sandwiches, toast, or to dip apple slices in.
Cinnamon, vanilla, and cocoa powder dusted almonds (100 calorie packs) for a grab and go snack. These satisfy my sweet tooth without all of the sugar! New flavors from Emerald Nuts include sriracha and jalapeno cashews if you prefer a more savory snack.
Low Maintenance Produce (No washing, peeling, coring, slicing or dicing required)
Pre-washed spring mix and spinach salad blends. There's no shame in spending an extra buck if it makes you more likely to down some greens! Pour them into a bowl, top, and dress. It's that easy to add a salad to your meal.
Speaking of salad . . . Bolthouse Farms' Yogurt Dressing is one of my go-to ingredients. I love scratch made salad dressings, but for some of us, that just isn't going to fit in the schedule. That is why I just love these pre-made yogurt-based dressings. They are the closest thing you can get to homemade! They also fit in the calorie budget and are made with some pretty decent ingredients.
Baby carrots and snap peas for noshing on raw or for dipping into yogurt dip or hummus.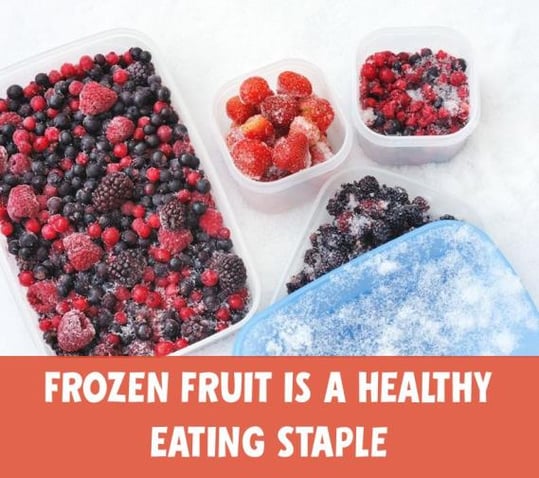 A blend of shredded carrots and radishes that is pre-cleaned and ready to throw on a salad, wrap, or sandwich in seconds.
Easy to eat and prepare fruit, including apples, grapes, tangerines, and bananas.
Frozen fruit, which is easy to throw in a smoothie or to microwave (or leave in the refrigerator) to thaw and swirl into yogurt.
Frozen vegetable blends so I always have something to add to whatever I am cooking (curries, stir-fries, soups, stews, casseroles, fajitas, pasta sauces, etc.). Another benefit of frozen? They have a much longer shelf life, and the freezing process preserves the nutrients!
Whole Grains
Quinoa is my go-to when I don't have a side planned for dinner. I cook the quinoa by simmering with no sodium added chicken broth for an extra savory flavor. Once cooked, I mix in some fresh Parmesan, garlic, pepper, and sometimes some herbs for an addictive, wholesome, and filling accompaniment to any meal. I also use quinoa as a substitute for white rice in virtually any recipe.
No sugar added oatmeal. Delicious, warm, satisfying, and very fast to make! You could even give overnight oats a try . . . yum! My personal favorite is OatFit brand. They are pre-portioned in 100 calorie packs, and while they have no added sugars, they still offer comforting flavors like Cinnamon Roll, Maple and Brown Sugar, as well as Apples and Cinnamon.
90-second brown rice, brown basmati, and whole grain medleys for when you literally need something. Right. This. Instant. A microwave and a pack can help you achieve a delicious and healthy side in 90 seconds with zero effort.
Whole grain pasta. One of the easiest improvements you can make to your diet. My husband, who is the meat-eating Montana mountain man type, doesn't even notice a difference.
Whole grain bread and dinner rolls made with fresh ground 100% whole wheat flour from the high plains of Montana. Yes, I'm talking about Great Harvest's whole grain flour which has nothing added, nothing removed. We have a variety of whole grain breads and rolls that make achieving the recommended whole grain intake a delicious experience. I use Great Harvest's whole grain breads for all of my sandwiches and always pair a roll with my soups, chilies, and stews. Brush or spritz with a little olive oil and sprinkle with some kosher salt, garlic powder, and bake in an oven until slightly crisp for the best garlic toast you've ever had.
Easy Lean Protein
Greek yogurt with low to no fat and no added sugar. This is delicious alone, but when you microwave some frozen berries and swirl them into the yogurt and then sprinkle with some cracked hemp seeds it is out-of-this-world good.
Reduced fat string cheese; it's easy to grab, easy to eat, and no cleanup! My husband likes to split these with our dog.
Individual Sabra hummus cups. Have you ever come home from work with hunger pains so bad that you decide to just inhale a bag of chips because you don't have time to wait for a freshly cooked meal? Well, here is your improved solution. These nutrient-packed hummus cups are perfectly portioned so you can take the edge off without overeating. They can tide you over long enough to cook a healthy meal. Pair with some whole grain crackers or veggies . . . and voilà! Instant appetizer.
Frozen chicken breasts, such as Kirkland brand, which has nothing but a little salt added. You can thaw them before cooking, or you can cook them straight from the bag frozen. When in a rush, I just throw a frozen one on my Cuisinart Griddler and season after a few minutes. The chicken will be moist and cooked through in less than 20 minutes. These can easily be added to pastas, salads, rice bowls, sandwiches, wraps, quesadillas, and the list goes on . . .
Low Sodium Cooking Sidekicks Flavors
Garlic, herbs, and Jane's Krazy Mixed Up Salt. I discovered this while at my husband's family cabin. It is not only incredibly flavorful because of the secret blend of herbs, spices, onion, and garlic that is added to the salt, but it also has less than 50% of the sodium as compared to regular and sea salts. It only contains 220 mg of sodium per ¼ teaspoon as compared to 580 mg and 500 mg in regular and Pink Sea Salt, respectively. I add this to just about everything that calls for salt. It is especially good on sweet potatoes!
Hopefully, this gives you some ideas for your next shopping trip. If you are looking for healthy ways to incorporate your Thanksgiving leftovers and nutritional information about turkey, view my post from last year. Do you have other suggestions for eating healthy? Please share them in the comments.
If you're looking for a healthy meal on the go, don't forget that many Great Harvest bakery-cafés around the country provide sensible and delicious alternatives to fast food when you need a quick lunch.
Find one near you:
Get More Ideas for Healthy Eating, Any Time of Year:
Image credits: © Can Stock Photo, © brozova / 123RF Stock Photo, both modified by text overlay.