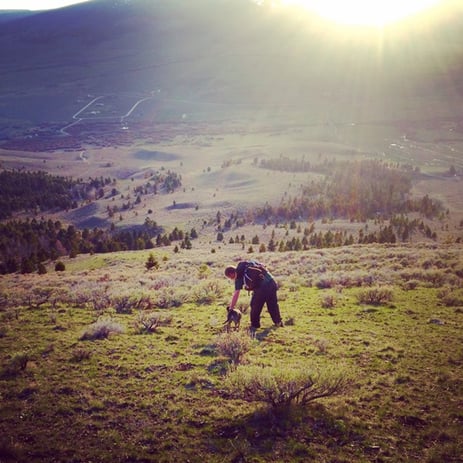 Despite a few snowstorms that hit Montana late this year and a strong recommendation to put a hold on planting flowers until Memorial Day, I have decided it is spring. The sun is shining, the grass is green, temperatures have been steadily creeping into the 60s and 70s, and I am already enjoying the fragrant aroma of the flowers budding on trees throughout town. Indeed, this is the start to my favorite time of year in Montana . . . and, as my dad noted from the skyrocketing seven week step count on my FitBit, it is a start to a new season full of activities!
My husband and I have switched gears from skiing (although not much this year due to a lack of snow) to gardening, trail running, horn hunting, hiking and fishing. Part of our routine before hitting the road is to pack outdoor-ready snacks. Naturally, as the only dietitian in the family, my husband always puts me up to that challenge. Allow me to share with you ten of my go-to snacks that we like to throw in our bags.
Top Ten Dietitian-Approved Tasty & Outdoor-Ready Snacks
1. Peanut butter & banana sandwich on two slices of Honey Whole Wheat
I always get excited to eat this sandwich. It is not only incredibly delicious, but it's also a nutritional powerhouse. This sandwich boasts 58 grams of fresh milled, heart healthy whole grains from just two slices of Honey Whole Wheat bread. The peanut butter contributes a healthy source of poly and mono unsaturated fats, protein, nutrients such as potassium and the antioxidant vitamin E.
Of course, we can't forget the bananas which are also rich in potassium and vitamin C. The potassium promotes a healthy heart and blood pressure, and helps your muscles operate ─ essential when doing something like hiking. Choosing slices of fresh fruit over jelly on your peanut butter sandwich reduces intake of added sugars while adding some killer nutrition.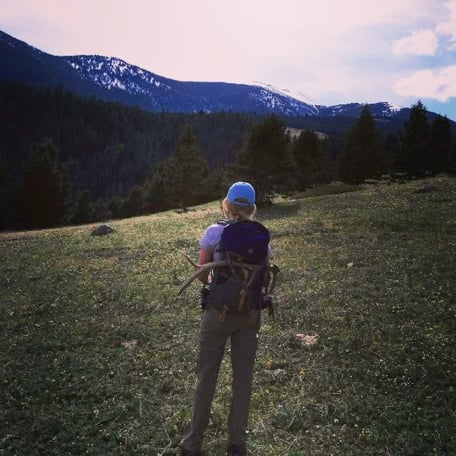 2. Light string cheese
String cheese is a great snack because it packs in about six grams of protein in only 50 calories, and it is also a good source of calcium. These nutrients are key for building muscle and maintaining healthy bones, two things which are promoted through physical activity. Choosing light varieties of string cheese over regular can make the snack more heart healthy by reducing the amount of saturated fat.
3. Almonds, pistachios, or other nuts
Nuts are a great on the go snack because they are easy to eat and can keep you feeling full longer. They provide protein, fiber and healthy unsaturated fats, packing in a wide array of nutrients and antioxidants. These are a very calorie-dense food, though, so pack them in about one ounce portions.

I personally am a fan of Emerald 100 Calorie Packs of Almonds. They come in a variety of flavors, too, from Cinnamon Roasted to ─ my favorite ─ the Vanilla Roasted. Pistachios are also a good choice because you usually have to crack open the shell to eat them, a task that helps you keep tabs on how much you are eating.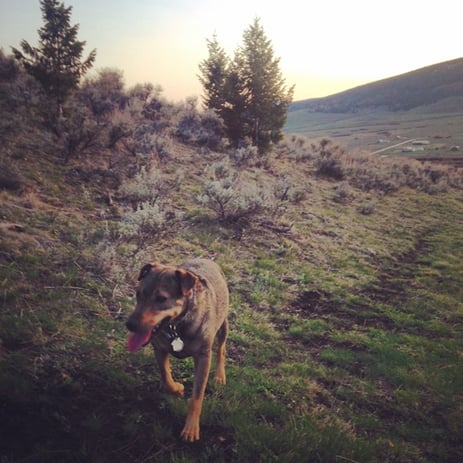 4. Fruit leather
I just recently discovered Stretch Island Fruit Strips. These are a great choice when trying to satisfy your sweet tooth, which I admittedly have. The strips are made with no added sugars, nothing artificial, and contains nothing but fruit puree from non-GMO fruit. They come in a wide variety of flavors and contain about ¼ cup of fruit in each strip.

5. Tangerines, apples, baby carrots, mini sweet peppers, or snap peas
Nothing like some good ole' fashioned fresh produce to offer you a little boost, nutrition and fiber. These are some of my favorites because they are the easiest to eat on the go and are usually pretty backpack friendly. Crisp apples are always good paired with a smear of almond butter and snap peas and baby carrots can be dipped in a small container of hummus. My favorite part about fresh produce is how refreshing it is as a snack.
6. Jerky
Jerky is another favorite. It's a savory and satisfying snack that is a great source of protein and is relatively low in calories. Look for varieties such as Krave Jerky that are lower in fat and cholesterol. Just keep an eye out for the sodium content as this can often be high. Another option is to try your hand at making your own jerky. This allows you to know exactly what is going into the jerky and to control the amount of sodium being added.

7. Unsweetened applesauce cups
TreeTop offers small 50 calorie cups that do not need to be refrigerated until opened, which makes them easy to throw into your pack without worrying about food safety. One container provides you with no added sugars, 100% of your daily value for vitamin C, and also counts as one whole fruit serving. My favorite is the one with a little added cinnamon.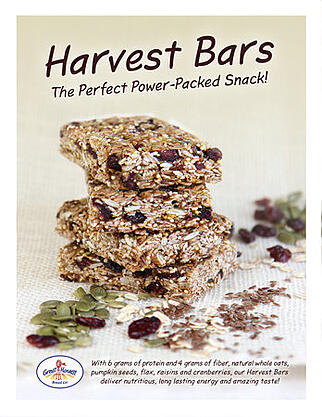 8. Popcorn
Yes, popcorn is a whole grain . . . and no, I do not recommend dousing it in butter and salt. Fit Pop is a favorite of mine because it is ready to go, easy to pack in a zip lock bag, and only 40 calories per cup. Not too shabby for a savory snack! This variety is non-GMO project verified and contains no artificial flavors, preservatives, colors, trans fats or high fructose corn syrup. Passing on the butter means you avoid the saturated fat and extra calories.

9. Bars
Protein bars and other nutrient dense bars like our Harvest Bar can be an incredible snack when hunger strikes. Just be sure to watch for excessive calorie and sugar content.
10. Water
Last but not least is water. While not technically a snack, it does fill you up. Be sure to sip water throughout the day to keep hydrated and healthy. When you are dehydrated you can experience headaches, increased body temperature, fatigue, elevated pulse and breathing rate, decreased exercise capacity and muscle spasms. Any of which can definitely hamper your day's adventure.

I even make sure my dog heeds this advice during an excursion! Choosing water is often a better option than sports drinks when you are able to eat throughout the workout (such as eating a snack during a hike). However, if you are enduring long bouts of strenuous activity without access to electrolyte-containing snacks, you may want to consider a sports drink.
What are your favorite healthy, packable snacks? Let us know in the comments.
Don't miss Melissa's next nutrition post on The Bread Business Blog!
We cover real people, real food and real business.
You may also be interested in these related posts:
• 5 Ways to Properly Fuel for Great Training
• Recovery: The Post-Workout Meal
• How to Fuel Your Workouts With Whole Grains, Protein and More
• Whole Wheat Bread Fuels This Ironman!
* Great Harvest would like to make clear that brand mentions in this post were not a result of any reward, incentive, promotion or other compensation on the part of those companies. The author mentions them strictly of her own initiative, having found them worthy of recommendation.