Swim for 2.4 miles in a freezing cold lake. Then change from your wet suit to biking gear and ride 112 miles up and down hills. But you're not finished yet. Get off your bike, put on your running shoes and run a full marathon, 26.2 miles. Who would voluntarily subject themselves to this? One of our very own employees at the Great Harvest home office – Amanda Flamm. She just completed an Ironman in Coeur d'Alene, Idaho, on June 26, 2011.
How was your most recent Ironman experience?
It was awesome! Crossing the finish line was one of those "life moments" I'll never forget. It was a long hard day, but so worth every step of the 140.6 miles I traveled to get there. I started at 7 am and finished at 11:27 pm.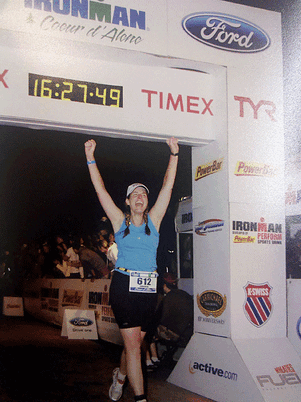 How did you get started doing endurance events?
I did my first 10K 10 days before my 30th birthday, then worked my way up with half marathons, full marathons and then ultras (anything longer than a marathon). I started getting bored with just running and started riding my bike for variety. That eventually prompted me to sign up for my very first triathlon, a Half Ironman in March of 2005. People thought I was crazy to start with such a long event (1.2 mile swim, 56 mile bike, 13.1 mile run), but not me – I just figured bring it on. It had been a secret dream of mine since high school to do an Ironman someday, but I'd never really thought I could do it until I actually did my first tri that year.
What motivates you during the long hours of training?
Crossing the finish line. Knowing my friends and family are there supporting me along the way. The sense of accomplishment. Reaching a hard earned goal. It's incredible. I feel that if I can do this, I can do anything. Most people are capable of a lot more than they think they are, but don't push themselves far enough to realize their dreams. Dreaming it and then doing it is like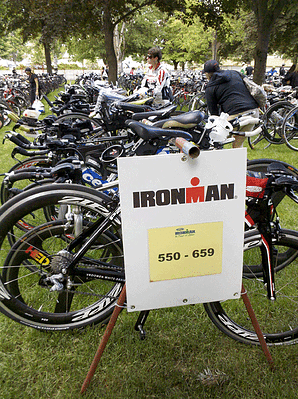 nothing else.
Also, for me, this time was even more meaningful as I finished the race in 2007, but it was 26 minutes after the midnight cut off. I had mechanical issues on the bike and lost a big chunk of time. I did finish, but it wasn't "official". It didn't count. At these events, all the athletes have to take what they're given – rain, wind, hills, humidity, cramps, mechanical trouble, nutritional issues, you name it -- and still get to the line in time. If you don't make it, you're not an official finisher and it's a huge disappointment. I couldn't walk away without getting the monkey off my back by doing it again and finishing before midnight. And thankfully that monkey is officially out of here!
What would you say to people who are considering an Ironman event, but haven't done it yet?
If you work hard enough, you can accomplish it. I'm pretty slow. I'm very steady though and have the gift of endurance, but I will never break any speed records. I always knew that when I finished, it would be close to the cut off time at midnight, but deep down I just knew I could do it, and the truth is, anyone can. If you have a dream or a goal that you feel is out of reach, there is no other feeling like working hard and achieving it.
Ironman training can take over life, so you have to be committed. In peak training times, you're putting in 15-20 hours a week of training. I'm a mom with a full-time job, so I had to make sacrifices to fit it all in, and so did my family...they were incredibly supportive. But it was worth the hard times. It made the reward that much sweeter.
What do you do to celebrate after finishing?
Lots of hugs from family and friends at the finish line! I had an incredible group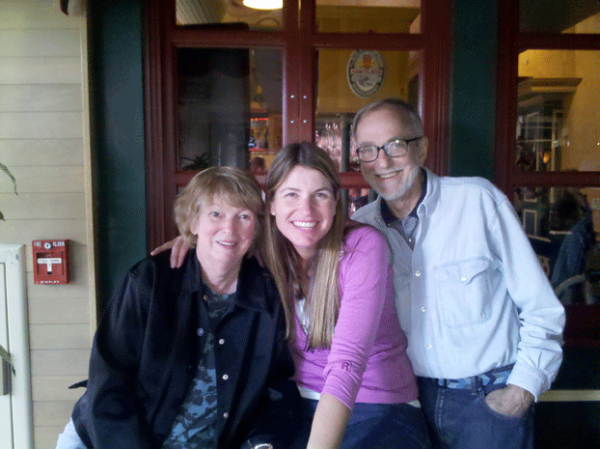 of people there cheering me on - my parents, my boyfriend and our son, my girlfriend who's been battling cancer (and was a great source of inspiration for me), friends from Dillon, some family friends from the area and their kids…I had a really great support team. Five days later, I'm still on a high from it. Hearing Mike Reilly (Ironman announcer at all events) say "Amanda Flamm from Dillon, MT, YOU are an Ironman!" as I crossed the finish line was just as amazing as I'd always imagined. Remembering that moment and having it ring in my ears is all the celebration I need.
What is your favorite Great Harvest bread?
I eat honey whole wheat bread with peanut butter before most of my training rides. It's the perfect snack to keep me going.