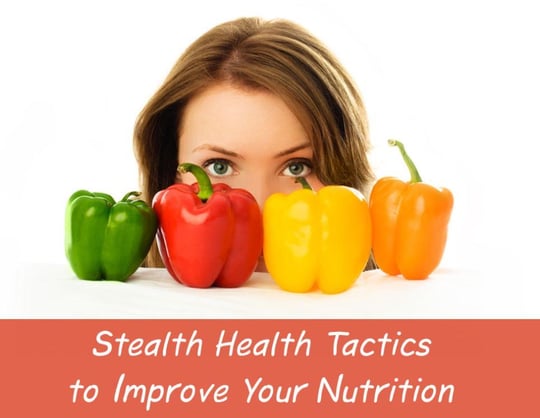 Growing up, I loved action shows in which spies and secret agents were sent on special assignment to squash evildoers and protect the world from mass destruction. I would watch anything from James Bond and Mission Impossible to Magnum P.I. and Get Smart.
These stories always made me want to be part of a mission in which I too would save the people from harm. Although that is technically not the career path I chose, as a dietitian, I still have an avenue to protect people. Now, with the trend of stealth health, (see EscoffierOnline) I too can employ some spy-style disguise skills for the better good.
Oftentimes, people cringe at the idea of trading in favorite foods like a hamburger and french fries for healthier alternatives. It may be your children, your spouse ─ or even yourself ─ who tends to refuse and resist when it comes to eating healthy. For many, this means that fruits, vegetables, legumes, whole grains, and other nutrient rich options are left completely out of the mix. How do you overcome this challenge?
Instead of avoiding these superfoods, try hiding them within your current recipes in ways that boost nutrition and preserve the flavor and texture you are looking for.
Here are ten easy ways you can use stealth health to make healthy eating Mission Possible:
1. Trade refined grains for whole grains. I'm talking pasta, bread, pizza crust, and even the flour you use in your favorite muffin recipe. Our bakers even make cookies with 100% whole grain flour! If you have picky eaters, try easing them into whole grains by using half white and half whole grain flour. Or try whole grain golden wheat flour like that used in our 100% Whole Grain Golden Wheat Bread (often referred to as "White Wheat.")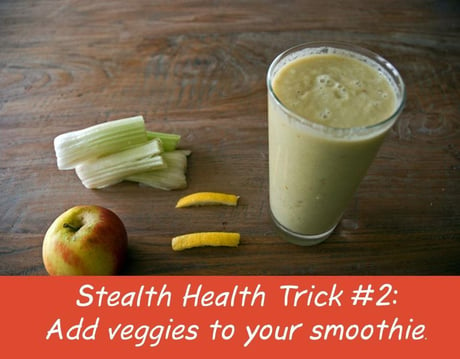 2. Throw veggies in your smoothie. Leafy greens like spinach or kale offer major nutrition but don't drastically affect the taste of your smoothie. Even try throwing in sweeter veggies like bright orange carrots.
3. Shred veggies like carrots, summer squash, radish, or broccoli and throw them into your casserole, sauté, lasagna, pasta dishes, soups, stews, salads or baked goods (think zucchini bread or banana muffins!). You can even top your pizza with a wide array of colorful produce.
4. Try tossing veggies like onion, mushrooms, squash or zucchini with olive oil, garlic, pepper and a little kosher salt then throwing on the grill. You can even put them on a kabob to improve the display. They will be hard to turn down once you realize how well they complement the main dish!
5. When using ground meat, it is really easy to mix in extra veggies.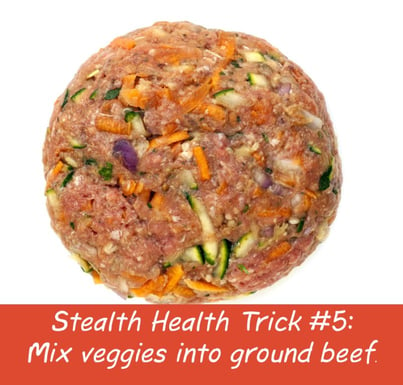 • For hamburgers, try a new take on mushroom swiss and dice up mushrooms and mix them up with the ground beef so the burger is half and half. This will reduce the fat, cholesterol and calorie amounts while boosting vitamin D, fiber and potassium intake.
• When cooking tacos, meatballs or sloppy joes, dice up onions, peppers, mushrooms, and/or any other veggie you may have on hand and throw them into the skillet with your meat.
6. Instead of mashed potatoes, try mashed cauliflower. It may surprise you with its creamy texture and delicious flavor! Here are some recipes to try:
• Creamy Mashed Cauliflower from Eating Well
• Mock Garlic Mashed Potatoes from The Food Network
7. Puree vegetables and freeze them in an ice cube tray. This makes it easy to boost the nutritional value of any dish. Pureed veggies work really well in soups, smoothies, sauces, and even baked goods! Pureed pumpkin or unsweetened applesauce make good substitutes for oil in recipes for baked goods. You can even use tricks such as mixing pureed butternut squash, yams, or carrots into dishes such as Macaroni and Cheese for kids.
• Here's a Pumpkin Mac & Cheese recipe from Relish you may want to try.
• Here are a few intriguing veggie popsicle ideas from Organic Authority.
8. Instead of cream cheese, ranch dressing or mayonnaise on a sandwich try avocado or hummus. This can add that creamy texture, loads of flavor, as well as incredible nutrition.
9. Replace heavy appetizers such as queso, cheese sticks or nachos with more flavorful options such as bruschetta on top of crispy pieces of baked whole wheat bread. Here's a Baked Bean & Ricotta Bruchettine recipe to try from the Australian Grains & Legumes Nutrition Council. You may need to convert some units of measurement which you can easily do with Food.com's calculator. Or try our own Roasted Beet Appetizer, pictured.
10. Incorporate veggies into your breakfast! Add vegetables such as tomatoes, onions, spinach and peppers to your omelet, egg scramble or quiche. You can even try interesting recipes such as this one from Hidden Fruits and Veggies which incorporates blueberries and spinach into pancakes!
A Final Note:
Sneaking vegetables into unsuspecting family members' meals may be necessary to add a boost of nutrition into their diet . . . but it is always more fun when you let your family in on the secret!
Showing your children that there are interesting ways to cook vegetables enlightens them to the fact that a wide variety of fruits and vegetables can be yummy, depending on how you cook them. This should encourage them to incorporate a greater variety of produce into their diets as they grow up and can also teach them that they really do like vegetables!
Please share some of your favorite ways to cook produce for your family (in stealth mode or otherwise) in the comments.
Would you like to learn more about how to boost your family's nutrition?
If you enjoyed these stealth health strategies you may also want to read:

Image Credits: © Can Stock Photo