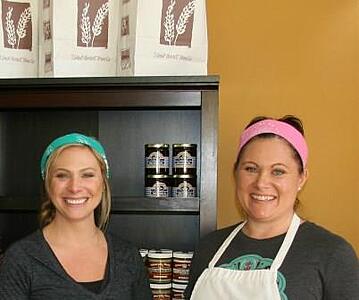 Sisters Julie Kampfen and Jamie Hughes grew up working in a multi-generational family business that was started by their grandparents. When that business sold, the two sought to purchase a local business in their hometown of Chico, CA . . . one where they could continue working together and pass along their family business experience and values to their own children.
Their search ended when they took ownership of three existing Great Harvest bakeries that came with a business model and products that they both really believe in.
Finding a Home with Great Harvest's Franchise Family
As customers of the bakeries for many years, the two already felt a connection with them. Julie says, "While it may sound cliché, Jamie and I owning the Chico Great Harvests was meant to be. We knew that when we made a sale to a customer, we wanted to feel good about what we're providing them. We researched other franchises and for one reason or another, they just weren't the right fit for us. When we talked about business ideas that were non-franchise, the business model we kept coming back to was always similar to Great Harvest. We really love that everyone in the Great Harvest family is as passionate as we are about the business."
Jamie added that owning a Great Harvest, "just felt so natural to us. A strong draw for us was the connection to the community. We love our community and love that Great Harvest has always been a strong supporter of our town."
Great Harvest's Franchise Model Aligns with their Family Traditions
Get them talking about their Italian heritage and family tables and the sisters can't stop smiling.
"Our family's table has always had garden-fresh produce, freshly baked goods, local meats and local nuts, often from our grandparent's orchard," Julie says. "We love that we mill our own wheat using berries from family farms, that we offer our customers a product with ingredients we can pronounce and that our bodies recognize. And, we love that we can stand at the breadboard and greet people with a smile and a friendly hello as they walk in the door and hope that they know how much we genuinely appreciate that they took the time to stop at our bakery."
Business Partnership is Second Nature for this Dynamic Duo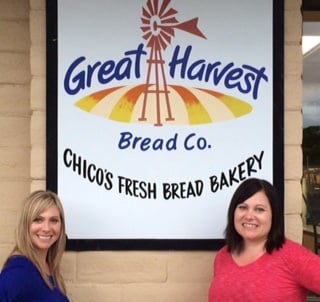 What's it like to work with your sister side-by-side every day? Some might imagine sibling rivalry or a constant need to outshine the other. But both women give rave reviews to the partnership.
Jamie says, "Being sisters, we can read each other pretty well and know how the other one is feeling; whether it is a feeling of being overwhelmed, excited about something or not so excited about something. We know each other's boundaries, strengths and weaknesses. We support each other, trust each other and I feel we make a great team. I can't imagine being in business with anyone else!"
Julie agrees. "We knew going in what each other's strengths are and are able to draw from those strengths without even having to think about it. I guess to us, working with family is part of who we are."
Looking Forward, Looking Back
Great Harvest, like the sisters, has solid roots in Chico. The first location opened nearly 17 years ago. "Great Harvest is a very well-known and respected business in Chico," Jamie says. "It is something that we feel very lucky and proud to be a part of."

When you are in Northern California, stop by one of their three bakeries and see what's baking!
Get more information about bakery ownership with Great Harvest here:
Read more about dynamic duos and family-owned businesses: