When I think of successful multi-generational small businesses, the
Okemos Great Harvest Bread Co.
immediately springs to mind. The Okemos founder, Bill Beck, Sr. was one of the first bakery owners I got to work closely with on the road, almost 20 years ago. We were part of the opening training team for a brand new
Great Harvest in Westerville, Ohio
. Bill was there because the Westerville owners were nervous about having me (a rookie doing my first opening) on the team and wanted to balance that out with some solid experience. The practice of combining franchise office trainers and existing bakery owners to form a team ended up being a model for all future opening trainings that continues to this day.
Bill and his wife, Teresa, opened their Okemos Great Harvest 22 years ago in the summer of 1990. They were successful and very busy from the beginning. Their son, Bill Jr., was a teenager and enjoyed helping his parents with the business. As the holidays approached one of those first years, they talked Bill's girlfriend, Angie, into leaving her waitressing job to work in the bread business. And the rest is history…Bill & Angie married, slowly took over the business completely, and involved their own kids and siblings along the way.
(Family photo: Bill Jr, Vaughn, Angie and Veronica Beck)
I interviewed Angie recently to get the inside scoop on their successful family business.
What are your favorite parts of owning a local small business?
We are constantly learning and improving our business, so it becomes easier each year. We have the best crew of employees ever right now. It's a great lifestyle – I set my own schedule and come and go as I please. I'm not tied to a desk and I get to wear what I want to work. I schedule myself to work at the front counter a couple hours almost every day, because I enjoy talking to customers and it's important that the owner of the business is visible. My husband and I work great together, even though we approach things differently. We each take care of different parts of the business. He loves the hands on aspect of making all our products from scratch. He sees everything with making the bread and I see everything with selling the bread. And then we are always home for dinner together with our family each evening.
And on the flip side, what are the hardest aspects of business ownership?
Managing employees and employee transitions are always difficult. As the owners, we're the back-up when someone doesn't show up to fill their shift. I think every small business owner would agree this is the toughest part. We have a great crew right now, but we'll have turnover in the future and have to rebuild it.
The holidays are always a super busy time. It's great to sell a lot of products and important for our business, but exhausting as well.
How did you work through the ownership transition with your in-laws? Did that lead to any awkward family moments?
Bill and Teresa were great about letting us run the Okemos bakery. They were focused on expanding with additional Great Harvest stores and were glad to let us take over the first bakery. They let us make our own decisions, but were a great sounding board when we had questions. And Bill Sr. always helped with equipment maintenance when we needed him. They structured the financing so we paid them off slowly, over 10 years.
What are the main differences in running the business if you compare today to when you started at the bakery?
It's more difficult to train new employees because there is just more that they need to know. For example, customers are asking more questions about nutrition and ingredients, and each employee needs to be able to give accurate answers. We make more products than we used to, so it's a steep learning curve. We have them study and then take a quiz to learn the information. I'm constantly reinforcing my training and giving our employees feedback.
Your new interest is mountain climbing – how did that happen?
We just love Washington state and were intrigued by the mountains, so we decided to challenge ourselves. It was really hard to train in Michigan and the actually caused some problems on Rainier. It was hard to get used to the altitude coming from sea level. We climbed stair steppers and road bikes, but there isn't anything to prepare you for those climbs. We have climbed two glaciers so far: Mt. Baker and Mt. Rainier. We are trying to hit most of the highest peaks in the 50 states. I don't know if we will ever get there, but it will be fun trying. We are headed out to Colorado in August to hike some of those 14,000 footers.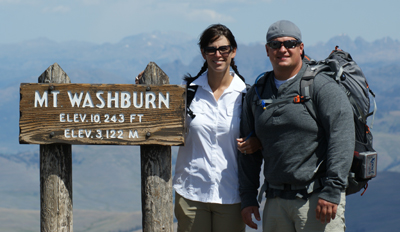 Knowing the Becks, I have a feeling they'll reach that 50 state goal!
Do you have a goal of owning your own business?
Discover bakery cafe ownership with Great Harvest: