Here are five different ways that five sets of Great Harvest Bread Co. owners were able to realize their dreams of owning a bakery or bakery cafe. They run the gamut from predictable to creative, and will inspire you to find a funding solution that allows you to do the same.
Dennis and Marian had a dream. And a problem.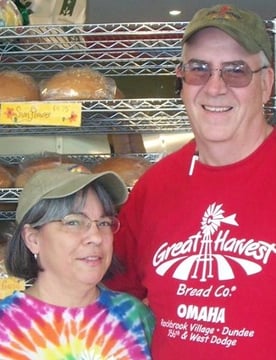 They had both quit their jobs in Kansas City and moved back home to Omaha in August of 1994 to open their very own small business — a Great Harvest bakery, of course ;-) They wanted to invest their savings in their business, not spend it on living expenses waiting for their doors to open. They set a goal to open by Christmas. And they needed a bank loan to make their business dream a reality.
Even before the move, they put together a solid business plan. Then Dennis stocked up on bread from the Kansas City Great Harvest and presented their plan, plus a nice loaf of Honey Whole Wheat, to a bunch of Omaha bankers. Unfortunately, most of the banks weren't interested. Until they met Scott Bradley.
Scott asked them two important questions:
1. How are you going to market this bread?
2. How are you going to pay me back?
He obviously liked their answers because he made the loan and within a month the Cihaceks had the funds they needed.
A cash + commercial loan combo helped them grow from 1 bakery to 3
Marian and Dennis met their goal to open the Omaha Great Harvest Bread Co. in December, but that first year in business was a struggle as the couple worked hard to introduce their bread and their business to as many people in Omaha as possible. One of the people that helped get them through that tough period was Scott.
As Marian says:
He was a great resource and very good to bounce ideas around with. It was a two-way partnership. He had a vested interest in us succeeding and his guidance was invaluable. He continued to be a "business advisor" for us, even after our loan was paid off. We visit from time to time and get good business advice from him. Needless to say, he is a successful banker.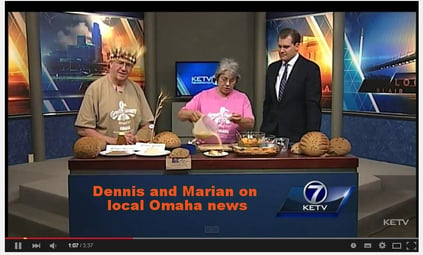 After business took off, the Cihaceks paid back their loan within seven years. They also opened two more bakeries in Omaha and were able to apply the lessons they learned from their first bakery to these new stores. They lowered costs by buying used equipment (the tight timeline hadn't allowed them to do this with the first store) and applied creative solutions to use more standard and less custom fixtures.
This solution of cash plus a commercial loan is fairly traditional (aside from lucking out with an amazing banker) and it worked for Dennis and Marian. But as you'll see, other Great Harvest owners have resorted to more creative solutions to fund their new business.
Read more about Dennis and Marian here.
Mike & Jo Anne: a little bit of everything + a SBA loan
Mike & Jo Anne Nikodem combined several sources of funds when they purchased the Naperville, IL, Great Harvest Bread Co. A bank loan was part of it, and since they were purchasing an existing business, they had the benefit of showing the seller's historical positive cash flow as part of their business plan.
The Nikodems went with a 7-year term SBA loan, which took about 6 weeks to finalize. They spoke to three different banks and received two offers. Like Dennis and Marian, they went with the bank that asked great questions and really sought to understand Mike's business plans for the bakery. Once the loan was in place, they were 60% of the way there.
The rest of the funds came from:
Retirement savings (22%)
Cash value of a whole life insurance policy (10%)
Selling "two drop dead gorgeous Harleys" (8%)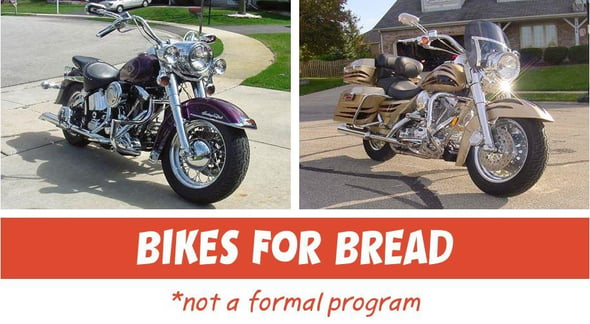 Once the funds were in place, Mike says, "We held our breath for a few years and it all worked out." Of course, he's being humble ─ they ran the business well, watched their finances, paid off the loan and sent three kids to college.
Mike admitted that cashing out their retirement savings and paying that tax penalty was a bit painful. Today there is an option that allows you to use retirement money to invest in your own business without tax penalties.
Michele and Melissa: withdrawing from retirement funds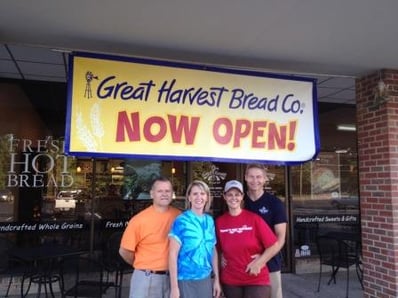 Former teaching partners Michele Jones and Melissa Taylor opened the Goldsboro, NC, Great Harvest in 2013. They were able to secure approximately 75% of the funding for their new bakery cafe by tapping into their retirement funds. The other 25% came from a bank loan which was used for equipment, and a bank reserve for emergencies.
Michelle says:
We used a company called Benetrends to withdraw on our retirement accounts without penalty. The good thing is that we had instant cash and the company has been great at helping us file paperwork to keep the IRS happy. The downside is that we had to set up as a C Corporation and will be paying Benetrends a monthly fee until we can pay back the retirement.
Note: Another similar company that many Great Harvest owners have used successfully for this type of funding is Guidant Financial.
Melissa and Michele did approach one bank to explore financing. This was a bank that they and their husbands all had personal accounts with already. Because Michele and Melissa were financing a large majority of the startup costs themselves, the bank had no problem providing them with a supplemental loan.
Read more about Michele and Melissa here and here.
Kim and Gregg: self-financed + family money (and support)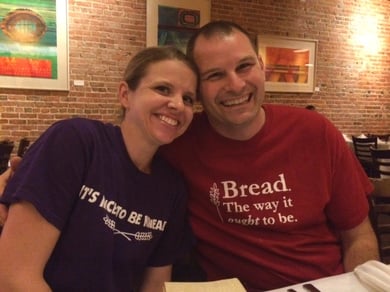 Drive just 45 minutes from Michele and Melissa's bakery and you'll meet Kim and Gregg Green. They opened their bakery cafe in Greenville, NC, just this month and are doing a great job rising to the challenge of feeding their town. The store has been busy (they set a single day record for sandwich sales during an opening), but thankfully Kim and Gregg have the support of their family to help.
They financed this business with a combination of personal funds and money provided by close family— Kim's parents. And it's not just financing. Kim and Gregg's family are providing valuable support. In fact, when I called to ask a few questions about their financing, Kim's mom was busy washing dishes after the sandwich rush (which didn't end until 3 p.m.!)
I first met the Greens when they came to our Dillon headquarters a few months ago for training. Again, the family support was evident as the Greens arrived with three generations together— the grandparents took care of Kim and Gregg's young children during the long days of Great Harvest University. And with years of successful business experience, Kim's parents are also supportive advisors for these new business owners who are just getting started.
Read more about Gregg and Kim here.
Matt and Kath: a line of credit works for their bakery
Matt Monson and Kath Younger, owners of the Charlottesville, VA, Great Harvest bakery, opened their
doors almost 4 years ago. Matt shared a helpful tip about the benefits of securing a line of credit, which could work in combination with any financing scenario.
I highly encourage other business owners to seek a line of credit (LOC). While the interest rates will be higher on the LOC, the ability to delay payments when cash is thin or to make large payments when it's plentiful is great. Furthermore, it gives a buffer for future large expenditures like new equipment or even opening another location. If you're expanding locations, it would be nice not to have to go through the loan process again.

If your bank will allow it, tying the LOC to your bank account will allow you to keep even less working capital on hand. Sure, you may "overdraft" your checking account occasionally when several large expenditures line up, but the LOC will kick in and refund. Of course, you'll want to make sure your bank doesn't charge a penalty for this activity. You'll incur a small interest fee for the money borrowed, but depending on your financial situation it may be worth it to you to keep less money in the checking account.
Matt goes on to explain that an LOC can work particularly well with Great Harvest's business model:
…."[with Great Harvest] we have the ability to order a bunch of ingredients, turn them into product, and sell it before the bill for those ingredients even comes due. This means that there's no limit to our rate of growth when it comes to cash flow. Of course, the downside is that we have to be extremely attentive to inventory levels, ingredient freshness, and future demand. Big surprise -- business ownership is a balancing act!"
Read more about Matt and Kath here and here.
There is more than one way to Great Harvest, and financing is no exception.
Each of these bakery and bakery cafe owners stitched together their own solution to realize their dream of owning a small business. Each one came out a winner by following the Great Harvest model to build a successful bakery business for themselves— their way. There is no single best way to finance your bakery cafe. There is only what works best for you.
We'll help you make good on your investment.
Learn how we train new owners with our proven recipe for
small business success.

Read more about financing your bakery: