October is National Farm to School Month (officially designated so by Congress in 2010). At Great Harvest, we support local family-owned farms and healthy, nutritious food, so farm to school is easy for us to get behind. We are an intermediary link in the Farm to School equation. In literal terms, our wheat goes from farm to Great Harvest to school.

What Farm to School Month is About
Farm to School Month is about strengthening the connections between children and fresh, healthy, local food. Farm to school programs strive to improve child nutrition, support local economies and educate children about the origins of food. Typical Farm to School Month activities may include gardening, cooking, agricultural and nutritional education, and other "real food" activities that promote awareness of where food comes from.

Supporting Farms in Montana and Beyond
Though there are now hundreds of locally-owned and operated Great Harvest bakeries across the country, the heart and soul of the Great Harvest franchise is our headquarters in Dillon, Montana. Recently, we've tried to do a better job of spotlighting the family-owned farms here in Montana which are responsible for growing our most important ingredient: premium, top of the line wheat.
Here's a noteworthy fact about Montana agriculture from Grow Montana's Food Systems Factsheet (pdf):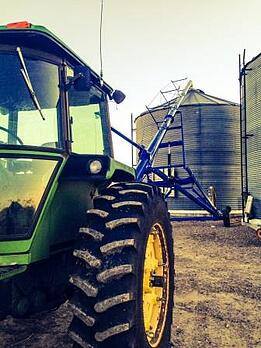 Just a small amount of money (that you are going to spend on food anyway) can make a huge difference when you spend it in the right places. If you don't live in Montana, use the resource links below to find out how you can support your own local farmers and ranchers and discover what an impact you can have simply by choosing to buy products that support your local economy.

When schools get in on supporting local agriculture, it has a huge positive impact on the local community, in terms of economic benefits and better nutrition for kids. I've written before about strengthening our relationships with food at home during Family Meals Month, and many of the same concepts could also apply in the school context, with similar benefits. After all, unless you home school, school is where your kids spend most of their waking hours. Here in Montana, our public schools spend an estimated $19 million per year on Montana-grown products including beef, milk, lentils, wheat, cherries, melons and raspberries.2 At my daughter's school, the hamburgers are all made from locally raised beef. What does your local school district do to support farm to school and local agriculture?
What Great Harvest is Doing
Great Harvest is proud of our relationships with local farmers. It's easy to choose local farms when we have the good fortune of being located in proximity to some of the best wheat fields in the world, in Montana's famed Golden Triangle. Supporting local, family-owned farms is something we are deeply committed to all year round, not just during Farm to School Month. Of course, the term "local farm" is more accurate here in Montana where we source our wheat than it is for our bakeries in other states ─ but each Great Harvest bakery still mills their wheat into fresh flour on site every day, using slow food methods to make healthy breads locally in their own communities. Many of them also incorporate other locally-sourced ingredients.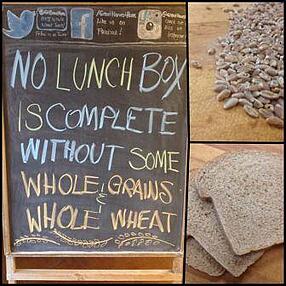 On the other side of the farm to school equation, independently-owned Great Harvest bakery franchises across the country have offered tours and educational programs to school-aged children. In nearby Helena, Montana, Great Harvest bakery owner Ray Clum has been providing educational programs to local school groups to help get kids excited about healthy, nutritious, delicious whole wheat bread. We recently had the opportunity to speak with him and get a better understanding of what he does.
Depending on the size and age of the group, Ray may bring dough into the classrooms for the kids to make into shapes based on their creative instincts, which he'll then take to the bakery to bake. Past bread creations have included pyramids and top-secret formations that ─ while hidden to the untrained eye ─ have actually represented all sorts of creatures, from Batman to sharks.
Smaller groups are able to come in and tour the bakery, so they get to knead the dough and make little loaves just like Great Harvest bakeries do every day. While their bread is baking, the kids can check out the huge, oversized mixer and the stone mill used to grind wheat berries into fresh flour every day. The bake time is relatively short, so they get to see what goes into the oven and then eat it when it comes out just a few minutes later.
During the tours, the kids get to learn about where Great Harvest's wheat comes from, not far from their own backyards. They see the steps that are needed to turn wheat berries into the bread in their lunchboxes. And they learn why whole grains are important to help them stay focused, and give
them the energy they need to get through the school day.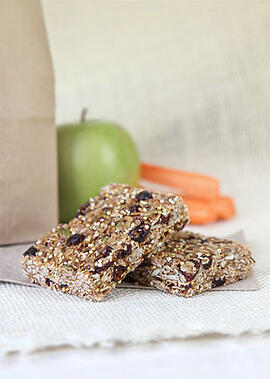 Ray says it's a lot of fun to do the bakery tours, and he feels strongly about being able to "give a little part of the bakery" to the kids. (Who knows? Some of them may grow up to bakery owners one day!) After the tours, he sends the kids home with a pamphlet for their parents which explains how Great Harvest's bread is made from pure-and-simple ingredients without preservatives, giving it superior taste and nutrition. The pamphlet includes a coupon for a free loaf of Great Harvest's 5-ingredient Honey Whole Wheat bread, so the parents can upgrade their kids' schools lunches. Often, Ray gets thank you letters from the kids, and when he sees the kindergartners at school they come up and tell him that "Great Harvest rocks!" It's a compliment of the highest order, coming from a five year old.
Learn More About Farm to School Initiatives
How You Can Get Involved
Related Posts On The Bread Business Blog:
Interested in a bakery tour? Contact your local Great Harvest and see if they offer one!
References:
1. The linked pdf document (available at: http://growmontana.ncat.org/wp-content/uploads/2014/06/GMT_fact_sheet_042414.pdf) cites this information "Based on 357,296 households. Montana Office of Rural Health. Retrieved from http://healthinfo.montana.edu/msu/MTstate.html."
2. See Grow Montana Food Policy Council's fact sheet on Farm to School Programs here (pdf) http://mhfci.ncat.org/wp-content/uploads/2014/06/GMT_f2s_fact_sheet_042414.pdf