It's Farmers Market Season! Summer is a season where all you of the outdoorsy type get to switch from skiing to water skiing, from ice fishing to fly fishing, and from snowmobiling to boating.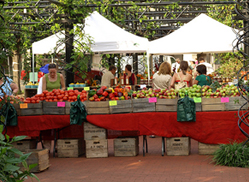 Other's find joy in the colorful summer dresses they get to wear, the shoulders they get to bear, and the feeling of sun on their legs. Whatever it may be you like about this unique sun-shiny season, one things is for sure: If you like fresh, local, and truly delicious food you undoubtedly love the Farmer's Markets that start to pop up in sync with the spring flowers in your garden.
Farmer's Market's are an absolutely fun way to support local producers, reinforce a sense of community, increase fruit and vegetable intake, avoid the negative effects of processed foods, swap recipes, and to network with other foodies and farmers. Your typical carrot has to travel about 1,838 miles to your dinner plate, a strawberry has to go 1,830 miles, and spinach has to travel 1,815 miles to be a part of your salad. (1) That's a lot of unnecessary miles and carbon emissions. Not to mention a lot of time for the quality of your produce, fresh herbs, and baked goods to deteriorate. By going local you can help to eliminate this circumstance and reduce your carbon footprint having an impact on not just where you live, but the earth as a whole. If you really want to show how green you are try pedaling or walking to your Farmer's Market. If this travel results in at least 10 minutes of elevated heart rate it can count towards the 30 minute minimum of daily exercise recommended by the American College of Sports Medicine.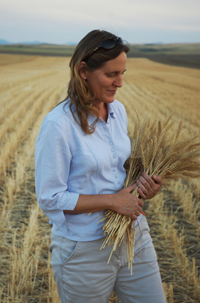 Once you get there you may be thinking, 'What should I be shopping for?' Look for fresh fruits and vegetables, whole grain products including your local Great Harvest muffins, bread loaves and rounds, granola, and fresh ground mixes. Almost all products sold at a farmers market nix the processing. This is because these products don't need to be shipped far, packaged, and stored extensively in your grocery store. As a result, they don't need chemicals or processes to preserve flavor and increase shelf life. They were grown, made, or baked fresh by people who have a passion for their product and care about what goes in to their foods. Seeing this and talking to the farmers and bakers instills an appreciation and understanding for the path food takes to get from farm to table for both you and your family. Farmers Markets are also a wonderful opportunity to introduce you to new produce and fresh whole grains. This can develop taste preference towards more healthy foods, inflate antioxidant and nutrient intake by increasing a variety of whole foods and bright colors in the diet, and maybe even get that picky eater in your family to actually like fruits, veggies, and whole grains! To boot, local markets are a great time to experiment with new fresh herbs and spices which allows you to make fun flavorful dishes without all that sodium. The farmers who sell the herbs and spices are most often highly knowledgeable about their product and full of ideas on how to incorporate them into recipes.
Buying fresh also means you'll cook fresh at home resulting in more family dinners, cutting back on calories, fat, sodium, and preservatives all the while increasing the nutritional value and flavor of your meals. It's also a way to bond with your husband, children, friends or relatives as you share recipes,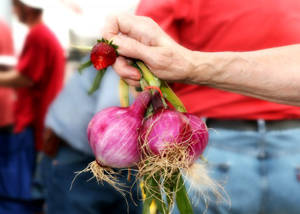 cook, and enjoy a fresh meal together. Try rotating your recipes to match up with the fruits and vegetables during their individual peak seasons. When you use vegetables wash them; don't peel them to maintain the fiber and nutrients. Use such methods as microwaving, steaming, roasting, or grilling instead of boiling when cooking veggies to maintain nutrients. If you do decide to boil, save the nutrient rich water as broth for soups. Fresh fruits, un ripened and unsliced, are safe to store at room temperature. Refrigerating them once they become ripe is recommended to maintain freshness and avoid mold growth. Vegetables should be stored in the crisper of your refrigerator to prevent molding and rotting as well. Dense veggies including potatoes and onions can be stored at a cool room temperature. Also, keeping your refrigerator between 38 and 40 degrees Fahrenheit maintains produce quality and is energy efficient.
Make a Farmers Market your next fun weekend event and discover the bounties of your region! Enjoy the most fresh and delicious fruit, vegetables, and whole grains. Keep an eye out for Great Harvest's beautiful whole grain loaves, berry filled muffins, crunchy granolas, flavorful hot cereals and cookie mixes and much more made from freshly milling our own 100% whole grain flour daily. Slow down your life starting at the dinner table and enjoy making fresh meals from fresh ingredients with your friends and families. Acquire a higher taste, recognize the functionality of food and what it has to offer, and most importantly instill long lasting healthy habits and fun memories into your children's lives.
Pirog, Rich, and Andrew Benjamin. "Checking the Food Odometer: Comparing Food Miles for Local Versus Conventional Produce Sales in Iowa Institutions." Leopold Center for Sustainable Agriculture, July 2003.