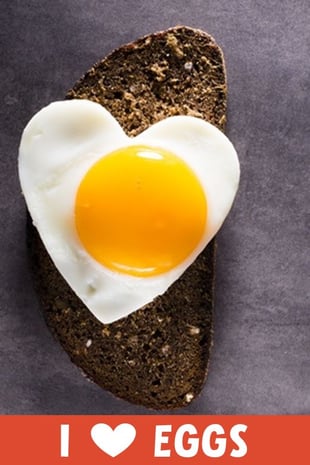 I think all chefs love eggs. Ok, maybe not Guy Fieri, who has an almost spastic gagging reaction when forced to try eggs on his famed show Diners, Drive-ins, and Dives (ironic, considering eggs are pretty much the foundation of traditional diner cookery). Eggs are one of the most diverse foods on the planet, being a staple ingredient for use in baking, in sauces, and as a binding agent. They are also one of the sexier center of the plate items, with the ability to bath a dish in their natural, creamy, golden sauce. I absolutely love them.
Obviously, at Great Harvest, we go through an awful lot of eggs for our baked goods and egg washing the tops of certain breads to get that beautiful golden hue. But I love eggs for their pure deliciousness and versatility on the plate as much as I do for their magical properties that we harness in cookies, cakes, muffins, scones, and brownies. Eggs have experienced quite the comeback in the culinary world these last few years — and with good reason. They are a sustainable source of fairly inexpensive protein, they have a long shelf life, come in a convenient (although semi-breakable) package, and they pack a serious dose of vitamins and nutrients.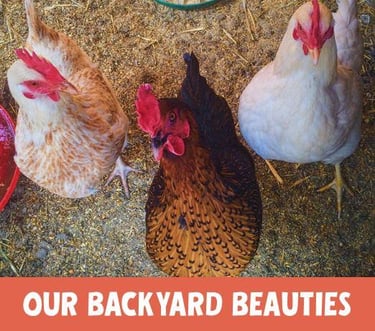 I love eggs so much we even have our own chickens. With just three gals in our backyard coop, we get enough eggs to eat as many as we could possibly want and spread them around to our friends. These are not your typical supermarket eggs. Our hens forage in the yard for bugs, grubs, grass, and other delicious vittles and are fed a purely organic soy-free feed that makes their yolks a deep golden-orange hue and their whites thick and substantial once cooked. Eggs have an extremely high biological protein value containing all the essential amino acids necessary to build protein. Eggs are an excellent source of choline and selenium, and a good source of riboflavin and phosphorous.
Eggs got a bad rap for a while — I remember as a kid they were the evil indulgence alongside bacon that you could only have once a week after church for brunch. But hey, that was when everyone was touting the benefits of trans-fat margarine and butter was taking a back seat.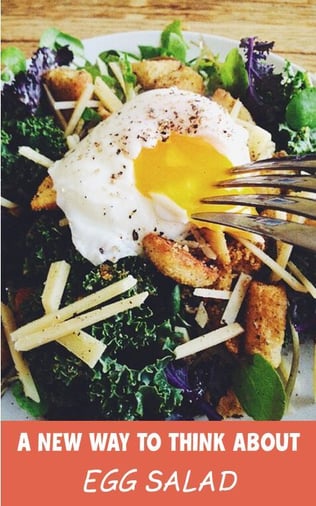 Nowadays you see deliciously runny eggs on everything from cheeseburgers to grain bowls, wood-fired pizza to kale salads. One of my absolute favorite lunches on earth is a salad made from hearty greens like kale, frisee, or chicory topped with a poached egg, croutons, and some shaved cheese dressed with a light vinaigrette. When you break into the yolk with your fork, it melds with the dressing and creates an unctuous, almost Caesar-like sauce that coats the greens and the palate.
I love eggs for breakfast. Lightly scrambled, they become a vehicle for whatever leftover vegetables we have from the night before. Whoever is up first in our house puts a pan on before the coffee, goes out to the coop and gathers the day's eggs so we can have a protein and vegetable filled start to the day. My favorite combo is twice the whites and half the yolks — for two of us, I use four egg whites but just two of the yolks and give the other two to the dogs on their morning kibble.
When scrambling, giving the eggs a serious whisk is essential to add body and fluff to the final product. Everyone always asks me why my scrambled eggs are so much better. The key is the aggressive whisk until the eggs are completely homogenous and slightly foamy. My other secret? I use extra virgin olive oil in the pan to scramble over fairly low heat. The combination of the gentle cooking and the golden oil seem to create the perfect pudding-like souffléd folds that the best scrambles have.
Eggs are truly magical and one of the greatest culinary gifts. What are some of your favorite ways to enjoy fresh eggs?
Inspired by the idea of a backyard chicken coop? Read about family farms:
Read more:
Image credit: © gitusik / 123RF Stock Photo; modified by text overlay.