In my many years in the restaurant business we always called this time of year "brunch season." I started my culinary career cooking at a French bistro in Wilmette, IL at the age of fourteen and one of my main responsibilities was working the incredibly busy brunches that were served every Sunday. Easter and Mother's day were by far the biggest brunch days of the year. We would extend the hours to almost all day and serve hundreds of customers in big family groups. I poached thousands of eggs and made endless amounts of hollandaise sauce for the incredibly popular eggs benedict in the four years I worked there. My mom absolutely loves eggs benedict and I often make this for the family on days such as the upcoming holidays. This is the perfect dish to make someone feel special!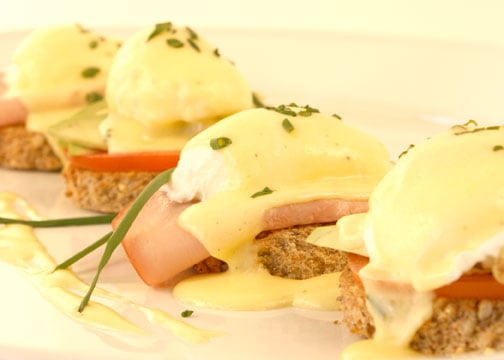 Eggs Benedict is a dish whose success hinges on timing. The sauce must be made ahead of time but kept warm without overheating, the meat must be hot, the bread toasted, the eggs perfectly poached. This can be intimidating, but well worth the effort. Try varying your meat choices, using the traditional Canadian bacon, crisp belly bacon, sliced smoked ham, smoked salmon, or even sliced ripe tomato and avocado.
Total Time: 45 minutes Active Time: 45 minutes
Serves 6
For the Sauce
Hollandaise sauce, while simple in ingredients, can be a challenging one to make. You are essentially making an emulsion, which is one liquid suspended in another. Be careful not to get the mixture too hot, or it will break (the egg yolk mixture will separate from the butter). If it gets too cold it will seize up (the butterfat will become a semi-solid). The sauce can be made up to 30 minutes in advance and kept warm in a double boiler setup with the heat turned very low while you are preparing the rest of the ingredients. Cover the container with plastic wrap to avoid a skin forming on the top. It is useful to have another person to help assemble at the end.
Ingredients
4 egg yolks
1 tablespoon warm water
½ pound melted butter (2 sticks), warm
¼ teaspoon Worcestershire sauce
Juice of half a lemon, or to taste
Several drops of Tabasco sauce
Kosher salt and freshly ground pepper
Method
In a medium size metal mixing bowl whisk together the yolks and warm water. Hold warm melted butter in a heat proof glass measuring cup on the side of the stove. Place a medium size saucepan with 2 inches of water on the stove and turn to low. When water is steaming, but not quite simmering, lay a folded damp towel over the pan and place bowl on top.
Begin whisking mixture vigorously until it begins to thicken, doubles in volume, and forms a smooth ribbon from your whisk. Begin to drizzle in butter slowly while whisking. Be careful not to go too fast or the sauce will break. Continue whisking until all the butter is incorporated and the sauce has thickened back up again.
Add lemon juice, Worcestershire, and Tabasco. Season with salt and pepper to taste. If you do not want black flecks in your yellow sauce white pepper may be used or eliminate the pepper entirely. At this point adjust the consistency with warm water if necessary. Keep sauce warm as described above.
For the Eggs Benedict
Ingredients
12 slices Great Harvest Dakota or Nine Grain Bread, approximately 3 inches wide, from your local Great Harvest bakery
12 slices Canadian bacon or other meat of your choosing, kept warm
12 large eggs, room temperature
2 tablespoons sliced chives
Method
Place a large straight-sided skillet half-filled with water (at least 3 inches) on the stove. Heat the water to barely simmering. Add 1 teaspoon white vinegar to the water.
Toast bread until lightly brown, but still soft. Carefully crack eggs into water, making sure that the tops are submerged. Poach until yolk is still runny and whites are set. Remove from water with a slotted spoon and drain well. I often put a couple of folded paper towels in my other hand and blot the bottom of the spoon to remove excess water before placing on the bread slice.
To Assemble:
Place bread slices on plates, top with meat and a poached egg. Spoon sauce over the top and sprinkle with chives.