By early April, there will be brand new Great Harvest Bread Co. stores in two lucky communities – North Miami, Florida, and Hoffman Estates, Illinois, in the Chicagoland area. These whole grain bakeries will be opened by Claude Juneau and Chris Wu, respectively.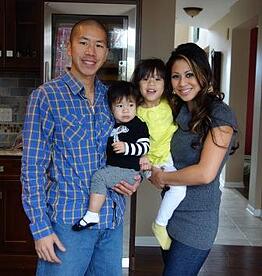 Chris Wu grew up just outside of Boston, and his wife Heather was raised in the North suburbs of Chicago. They met while attending the University of Illinois at Urbana/Champaign. Chris and Heather moved to NYC right after graduation where Chris spent the next eight years practicing as a structural engineer, consulting on building design and construction. Heather worked in the microbiology field before eventually transitioning to become a veterinary technician. They moved back to the Chicago area in 2011 to be closer to family as they raise their two young daughters, Janessa and Aubrey.
Heather and Chris love to stay active, mostly running and swimming, and are also big sports fans. They like to volunteer at the local food pantry as well as the local land conservation organization. Chris and Heather are looking forward to owning their own business and plan to open in late March. You can monitor his progress on the Hoffman Estates Great Harvest Facebook page.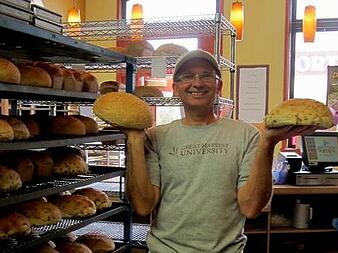 Claude Juneau grew up in Montreal and was raised in a French Canadian family. His wife is a physician and in 2010 was offered opportunity to work in Miami, so they made the move to the United States. Claude has two daughters – one is studying in Architecture in Miami and the other is in Fine Arts in Montreal. Claude has a degree in finance and a certificate in accounting. He worked for 29 years as a CGA (Certified General Accountant) in different organizations and has past retail experience as he was involved with consulting store owners and managers for a grocery chain and a hardware chain.
Claude is passionate about volunteering and has spent time coaching soccer and volunteering his financial skills to various not for profit organizations including a soccer association, child care center, a foundation providing support to African immigrants and a museum. Claude says, "One of my favorite errands is to get my fresh bread from a traditional bakery. It is missing in south Florida and Great Harvest is just the good concept to fill that need. I always desired to open my own business so it's a dream coming true." Claude also hopes to have his whole grain bread business open by late March. More information is available on North Miami's Facebook page.
Although Chris and Claude have different backgrounds – one thing is true: they are both looking forward to the freedom to run their own business, but with a supportive community of people doing the same thing and a proven business model with a national brand. They're also both looking forward to the side benefit – the joy of baking great tasting whole wheat bread!