The easy answer to this question is an absolute yes. Of course you can!
That is what becoming a Great Harvest franchisee is all about and one of the reasons to join a learning community that has been training people of many ages and backgrounds to bake whole grain breads and sweets from scratch for 37 years.
As we say at the franchise, the students arriving here to begin their journey through Great Harvest University need not even have baked so much as a potato in their lives to be successful. In fact, often times a lack of experience and prior baking knowledge is preferred so that we may fill your "empty cup" with our systems and best practices.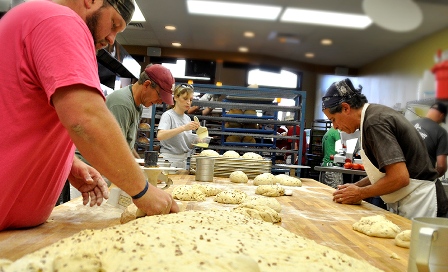 Our whole grain bread is made with a proprietary process that is incredibly unique – in fact when I arrived to take the job of Corporate Chef and began my own Great Harvest learning process I saw very quickly that Great Harvest bread was produced very differently than any bread I had made in my 20 year culinary career. Our recipes and techniques are what allow us to make bread from whole grain flour that is among the most addictive on the planet.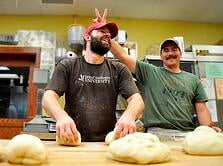 Over the last two plus years I have been with Great Harvest, I have taught the majority of new owners during the week-long section of Great Harvest University that focuses on intense bread and sweets training in a safe environment in our lab. I have taught almost 50 of these new owners in "Bread Schools" and one thing is very clear to me: the system works. These folks came from all sorts of different backgrounds, age groups, and experience levels. But when it's 5:00 AM and we fire up the oven to begin the long days of 100% experiential learning, success or failure almost entirely depends on attitude, not experience.
I have taught engineers and schoolteachers, college professors and stay-at-home moms, ex-military officers and a used car salesmen. Almost every single one of them remarks by Thursday that they cannot believe how far they have advanced since first thing Monday morning when we pull that first pound of yeast out of the fridge to begin the first batch of Honey Whole Wheat bread. Even though we have an excellent structure to the week we are flexible enough in our approach to accommodate all sorts of personalities and aptitudes.
Is learning to be a baker in Great Harvest Bread School easy? No. It's hot, it's hard, and it is fast-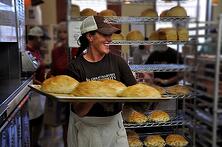 paced. There are long days and frustrating moments when working a 140 quart mixer, kneading two loaves of bread at a time with both hands, and managing a giant oven that holds 150 loaves of bread at a time can seem intimidating. But through it all we crank the music up LOUD, we sweat, we laugh and joke, we drink coffee and Gatorade by the gallon, and by Friday we all feel like family.
With the training systems we have in place I am confident I can make a phenomenal bread and sweets baker out of almost anyone. There is something incredibly romantic and satisfying about being a baker. It is a primal art and a noble craft.
Do you feel the calling? Click below for our franchise packet!