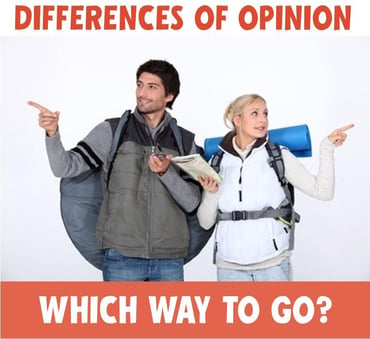 How do people agree to disagree? If two rational people look at the same set of facts and draw different conclusions, then they have to disagree either on the interpretation of the facts or the logic itself. If you look at two plus two and don't conclude four, it means either you disagree with one of the twos or the process logic.

Such differences of opinion occur in business all the time. For example, the ability to set your own menu at a local level is one of the time-honored staples of the Freedom Franchise. Our franchise owners look at the same recipe catalog and conclude different things every day.


Some of our stores are 100% whole wheat, while most have some white flour products .For example, I personally believe Cinnamon Chip Bread tastes best when it's made with white flour, but some stores choose to sell a whole wheat version. Other stores don't sell sandwiches ─ even though it is a rapidly growing market. Some stores are open seven days a week, while others close on Sunday.

Most of those differences are product based and come from the same set of facts. Yet, when considering them, the owners reach different decisions. How? Perhaps they assign different meaning to the facts, or are considering the facts in the context of different circumstances. A reason to choose one flavor of bread over another, or to include GlutenX products might depend heavily on your local community's preferences. For whatever reason, owners look at the same information but draw divergent conclusions.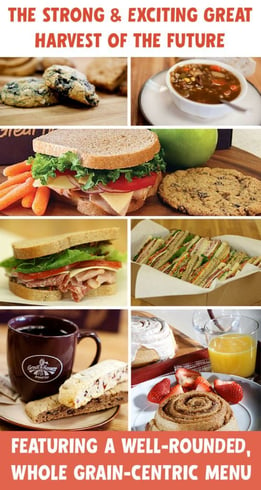 Increasingly, I see the stores that are not limiting their menus (where owners are not afraid to sell sandwiches or limited white flour products) as the most likely to be growing into vibrant cafés. Also, we see our stores gettting bigger in terms of square footage. As we sell better and make more sandwiches, a comfortable seating area is important. As is what we are calling a "casual corner." That is a place to relax, perhaps while enjoying a slice over tea or coffee. Think about a big comfy chair and sofa.

In business, we need to constantly innovate. What that innovation looks like is dependent on how individual owners draw their conclusions from a set of facts. In the Freedom Franchise, we are always sure to get different conclusions...

Increasingly, we are seeing standout stores featuring a healthy, diverse bread menu that is whole grain-centric, featuring sandwiches and breakfast goodies to create a solid, well-rounded menu. Soups and salads fill in the blanks nicely on a seasonal basis. The "strong and exciting" bakery of the future is emerging as a bakery-café.
When is the last time you visited your local Great Harvest? Find a store near you and stop in to enjoy a free slice.
Where will the next strong & exciting Great Harvest take you?

Related posts on innovation and divergent approaches to change:
Image credit for lost couple: © auremar / 123RF Stock Photo; modified by text overlay.