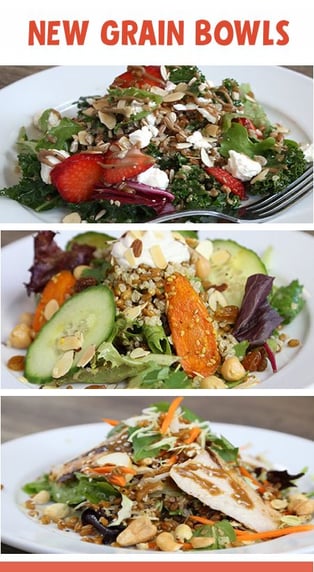 Short answer: very possibly.
If not ever, then at least since sliced bread.
I recently got to release a new product line for Great Harvest that I am more excited about than almost anything I have worked on in the last five years as the Corporate Chef. How often do you get to say that about something at work???
Whole Grain Sandwich Alternative: Check
The idea was simple and staring us in the face for a long time. At our core, we have been a whole grain company since the very start and are incredibly passionate about the health benefits and deliciousness of whole grains. People love to enjoy our sandwiches on freshly baked, whole grain Great Harvest breads. But, most people don't want to eat a sandwich every single day.
We would love to see our customers more frequently and be able to feed them wholesome meals. For those of us in the Bread Business, the perfect solution was to use the whole grains already in our bakeries, but in a fresh new way. So we put them in a salad-like format that allowed us to combine amazing flavors, interesting textures and explosive colors.
Once we started developing our salads last summer, it was a natural progression for us to create our new line of Great Harvest Garden Grain Bowls — which we are coining The Greatest Thing Since Sliced Bread. The grain bowls are packed with plant-based protein from Great Harvest's wheat berries and the ancient and uber-healthy quinoa. I am kind of in love with these things; I'm not going to lie.
I have written before about my involvement with the Menus of Change organization and the Culinary Institute of America and their mission to move animal protein to the side of the plate or off of it completely. They recently released a fantastic new Protein Flip infographic/white paper that outlines ways for foodservice to shift their thinking about how they incorporate animal protein in their menus. I am committed to helping Great Harvest do its part to provide tasty alternatives that do exactly that.
Our new Garden Grain Bowls are a perfect example. Four of them have no meat whatsoever, although they do have small amounts of dairy in the form of cheese or yogurt as a garnish. The one bowl that has chicken utilizes it in a supporting role, with less than two ounces of it appearing in the dish. Instead, we rely on vegetables, grains, and spices for flavor and protein.
Delicious and Healthful: Check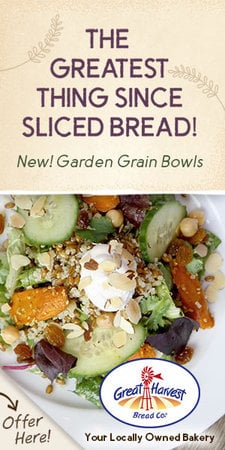 The Roasted Carrot Tahini Bowl is a delicious combination of sesame, spice, honey-roasted carrots, meaty chickpeas, nuts, and a creamy lemon tahini yogurt. Flecked with chewy wheat berries and fluffy quinoa nestled on a bed of mixed greens, it is a meal worthy of celebration.
We are also offering a Fresh Seasons Bowl that will have kale, sunflower seeds, and almonds paired with a rotating combination of fruit and cheese, depending on the season. Think strawberries and feta in the warmer months and apples and blue cheese in the fall and winter, all bathed in luscious balsamic vinaigrette.
Rounding out the Garden Grain Bowl line-up is a Sesame Bowl that offers a choice of chicken breast or roasted Portobello mushroom, along with crispy julienned carrots, cabbage, cashews, peanuts, cilantro, sesame seeds, and an addictive honey miso dressing.
Better for the Whole World: Check
The big deal about the Garden Grain Bowls is not only are they absolutely delicious and healthful, but their ingredients have a smaller environmental footprint, which is consistent with the Menus of Change initiative. Consider that one calorie of whole grains takes just about two cups of water to produce whereas one calorie of beef requires 2.7 gallons. So do your part and try a grain bowl for lunch tomorrow if they are available at your local Great Harvest Bakery Cafe. If they are not available at your usual location, then ask when they are coming!
Read more about Menus of Change and the Future of the Food Business: