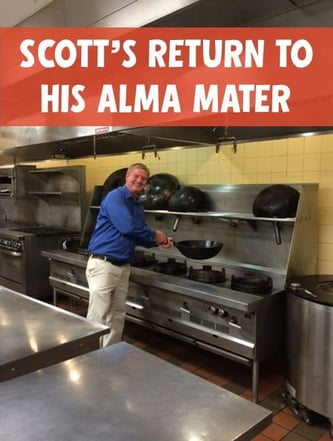 In the world of business – even the food business – there are conferences, and then there are Conferences. Over the course of three days last month I had the pleasure of joining many other chefs, food-industry executives, academics, policy makers and journalists at the third annual Menus Of Change Conference for a whirlwind discussion about the state of our industry and its impact on climate and health. As an added bonus for me, it was held at the Culinary Institute of America's New York campus where I went to school in the late 1990's and had not been back since!

Between reconnecting with former chef-instructors that are now among CIA leadership, seeing the myriad of buildings and improvements added since my student days, and having dinner with former protégés of mine that are now charting their own course as students there, it was truly amazing to be back. I am thankful every day of my successful career for the CIA's impact on myself, others, and an industry that has exploded since I graduated in 1999. Some of my best conversations of the week were with fellow CIA alum who have made their way into the ranks of multi-unit operations like myself. I had a great talk with Tom Gumpel, class of '86 (and a former CIA dean and instructor) who now heads up bakery operations for Panera Bread, about the challenges and rewards of being in businesses such as ours.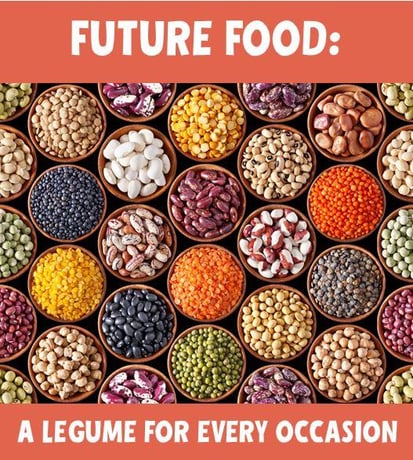 There is no doubt that we are in a changing food landscape when it comes to ingredient sourcing, public perception of quality raw and processed ingredients and an exploding world population that demands an ever-increasing supply of food that is taxing the environment in unprecedented ways. For those of us attending Menus of Change this year, these issues were at the forefront of discussion and much debate. Water usage, practices of raising livestock for human consumption, salt and sugar intake, decreasing red meat consumption and increasing the consumption of whole grains, legumes and easily renewable ingredients like mushrooms were all hot topics.
At a time when many large companies have committed to cleaning up their supply chain and the pedigree of their local ingredients, this year's conference was particularly poignant. It seems like every day we are seeing an item in the news about another operator that has made the decision to eliminate a host of ingredients or practices from their restaurants ─ and it is due as much to personal beliefs as it is to overarching public demand for better-for-you and better-raised food.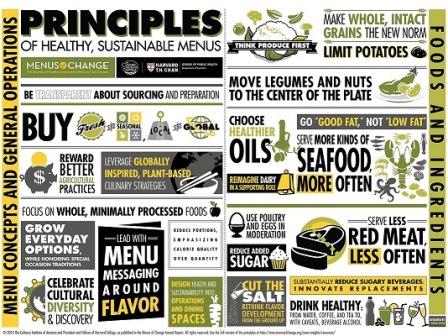 Make no mistake however, that at the end of the day the food industry is still very much a business. A business that needs to make money for its stockholders and owners, and be around for the next generation of customers and employees. So, like many at the conference who have some range of influence and input over complex menus and distribution channels (ever more complicated in our Freedom Franchise model), my number one question for the week was: How? How do we make better choices as food service operators to do our part to alleviate climate change, impact the health and wellness of our customers in a positive way while making repeat customers and brand ambassadors for us, while at the same time function within an existing foodservice industry that operates on an almost unfathomable scale?
That's what we were there to figure out.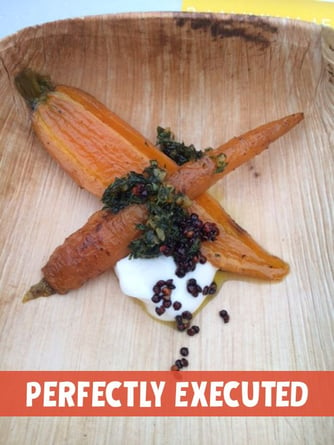 The answers are not easy ones. But three days of intense presentations, meetings (and of course, lots and lots of tasting of delicious food items) helped generate ideas and influence commitment to change.
The irony was not lost on anyone in attendance that even while we are seeing vegetables and grains being embraced by chefs as the centerpiece of their restaurant concepts and menus, we also have the perfection, elevation and glorification of the burger (Shake Shack, Five Guys, SmashBurger) and the seeming explosion of fried chicken sandwiches (Chick-fil-A, Fuku, Streetbird).
But is it any different than the 1960's when we had the elevation of fancy French food here in America at the same time we had hippies making their own yogurt and sprouting their own grains? Or the 1970's when lighter, healthier Nouvelle cuisine was making waves at the same time McDonalds was arguably at its peak?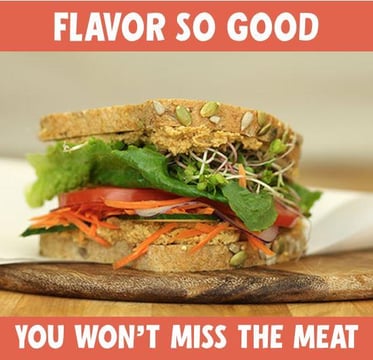 Can a perfectly roasted fresh carrot, sheathed in caramelized glazy goodness be just as satisfying as a medium-rare ribeye? Is a grain bowl flecked with amazing fresh herbs and produce or a brothy portion of perfectly executed legumes studded with just a few crispy chunks of bacon as satisfying as a pork chop? Can a Great Harvest Veggie 3 Seed Hummus sandwich on Dakota bread be even more tantalizing than a run-of-the-mill turkey sandwich? Of course, the answer is yes in all three cases because it is all about flavor and execution.

At Great Harvest we are certainly committed to this movement of better-for-you and better for the environment food, but like others we have work to do as well. Because we feature whole grains grown on Montana family farms in our flagship products, Great Harvest is uniquely positioned for the new world food order. I look forward to helping Great Harvest find its place in this changing landscape.
We will continue to keep you updated on our efforts to reduce fat and sodium, create delicious and better-for-you products and always keep the state of the environment in mind when making choices. We certainly never want to sacrifice taste and flavor, and we have to keep cost in mind. What an exciting time to be in the food business!
If you enjoyed this post you may also want to read Scott's takeaways from the 2014 Menus of Change conference.
Learn more about Great Harvest's commitment to health and real food:

Image credits:
Principles of Health, Sustainable Menus graphic ©The Culinary Institute of America and President and Fellows of Harvard College, as published in the Menus of Change Annual Report.
Legume graphic: © Can Stock Photo / andriigorulko