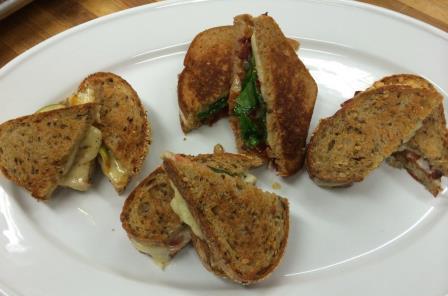 I think every chef on the planet has a soft spot somewhere for the humble grilled cheese. Many a late night —after finishing a busy shift on the line at a restaurant— I would take whatever prepped ingredients I could find, pile them on a couple of slices of leftover bread, and make a cheesy sandwich. I would eat it hunched over my clipboard while planning for the next day, dipped in Tabasco with hot melted cheese dripping between my fingers. Satisfying, craveable, addictive.
What's not to love about something that is golden brown, crispy, lusciously savory, and oozes comfort in every bite?
With grilled cheese as with pizza, even when they are bad they are pretty darn good. When I was a kid in the eighties, almost every Saturday my dad would make us grilled cheese sandwiches from the ubiquitous loaf of orange Velveeta "cheese" that always lived in our fridge in those days— sliced with a special wire cutter that seemed to have no other use. Grilled on Home Pride's Butter Topped Wheat Bread slathered in margarine, they were pretty darn delicious.
However, it wasn't until I went to work at age 14 in the local French bistro that I truly tasted the potential of a great gourmet grilled cheese or as Alton Brown makes clear to us— a "griddled cheese." For Sunday brunch we served a classic Crouque Monsieur which is slices of baguette slathered in béchamel sauce and strong Dijon mustard, topped with shaved smoked ham, Gruyere cheese and toasted in foaming butter. My first bite was a taste memory that has lived with me forever. I have been a diehard devotee of the gourmet grilled cheese ever since. In fact, in August every year I buy a case of tomatoes at the farmer's market and make gallons of roasted tomato soup for the freezer just so that I have it all winter to dip my grilled cheeses in. It is my go-to post snowboarding dinner when I am exhausted.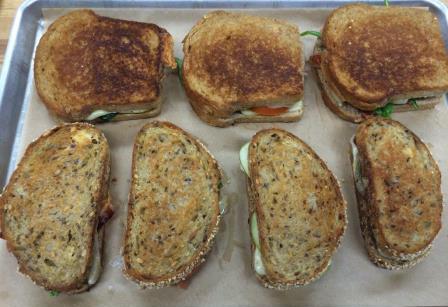 Great Harvest's bread might just be the most perfect vehicle for a grilled cheese on the planet.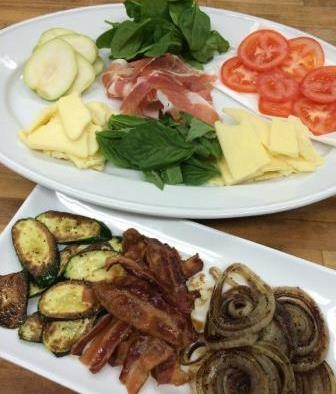 Great Harvest's breads are hearty, wholesome, and hold up beautifully to the pressure of being piled high with ingredients and flipped in a skillet. There is no limit to the possibilities of what can go inside. They can be savory, they can be sweet, or —in the best variations— a little bit of both. I just finished making a variety of grilled cheeses on our Honey Whole Wheat and Multigrain Sourdough bread here at headquarters and the staff went nuts for them. I am talking grilled cheese sandwiches of EPIC proportions.
You can make any of these combinations, or get creative and incorporate your own ingredient ideas. A "build your own" grilled cheese party can be a great winter event with your family or friends.
Here are some of the combos I put together today:
Prosciutto, Havarti, Sliced Tomato, Fresh Basil

Aged White Cheddar, Bacon, Roasted Balsamic Onions, Fresh Basil

Aged White Cheddar, Apricot Jam, Sliced Pear

Jalapeño Pepper Jelly, Bacon, White Cheddar

Roasted Zucchini, Baby Spinach, Havarti
Some Tips and Tricks for the Perfect Gourmet Grilled Cheese
Have all your ingredients prepped and ready to go ahead of time, including softened butter (mise en place).
Slice your bread as evenly as possible, or use a pre-sliced loaf from your local Great Harvest bakery.
If making multiple sandwiches, a sheet pan and a 350 degree oven is your best friend. You can assemble the sandwiches ahead of time, cook them a couple at a time in the skillet, and blast them all in the oven at the last minute so they can all be served at once.
Place the cheese directly on both sides of the bread for maximum meltability (if using a jam or mustard, put them between the bread and cheese).
Slather the outside of one piece of bread before placing the sandwich butter side down in the skillet, then butter the other side – much less mess that way.
Use a medium heat; too hot and the bread will burn before the cheese is melted.
Make sure to season the inside of the sandwich with kosher salt and black pepper.
Struggling to find that perfect cold weather weekend lunch, or a quick but cozy weeknight dinner? Make some gourmet grilled cheeses and bring smiles to the faces of your friends and family. Or just make one for yourself, late at night, like I do. What are some of your favorite grilled cheese combinations?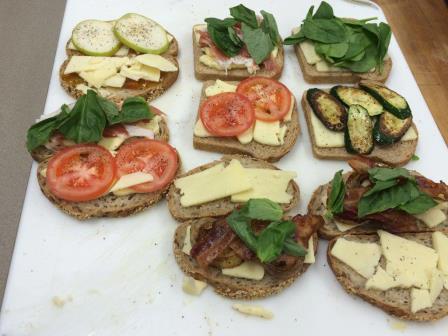 Got cheesy bread on your mind? Explore these other posts from Chef Scott:
• Fresh Bread and Cheese Fondue: Perfect Holiday Appetizer
• Baked Brie with Berries to Complement Whole Wheat Bread
• Caramelizing & Roasting Tips to Create Delicious Fall Comfort Foods
In search of a great roasted tomato soup recipe? Here are a few you can try:
• Roasted Tomato Basil Soup (from Ina Garten, Barefoot Contessa)
• Roasted Tomato Soup (from Tyler Florence, Tyler's Ultimate)
• Fire-Roasted Tomato Bisque (via Food & Wine)
Pick up a loaf of Great Harvest bread to serve as the canvas for
your next great grilled cheese creation: