It being National Small Business Week, I thought that I would write about the business I have been entrenched in and passionate about for over twenty years: the foodservice business. It is a career path that can be incredibly exciting, lucrative, filled with frustrations, amazing opportunities and some of the most interesting people in the world all at the same time! The foodservice industry is where I have found my home since the age of fourteen, filling people's lives with joy and delicious things to eat. This is truly a magical business that can transform people's lives and offer an ever-changing environment for personal and professional growth.
Food Businesses Are Small Businesses
I have worked in bistros, run catering operations, worked everywhere from 5-star chateaus to butcher shops and they were all small businesses. Now, as the Corporate Chef for Great Harvest Bread Co., I have the privilege of consulting with over 200 small, family-owned businesses around the country. Each one of our bakery locations is the perfect example of a small business – one built on great products, phenomenal service, and the energy of enthusiastic owners.
A made from scratch bakery business touches people in a way that few retail operations can. Just imagine inhaling the aroma of baking bread, seeing sandwiches handcrafted to order, and salivating over the cooling trays of decadent goodies. A visit to a Great Harvest bakery is a multi-sensory experience that makes people feel warm and fuzzy and keeps them coming back for more!
3 Keys to Success in Foodservice that Apply to Every Small Business:
#1: Adaptability Strengthens Success
One of the keys to success in the food business is adaptability. Great Harvest is a 39 year old brand that has remained relevant by changing with the times and providing the experience and products that customers want. A whole wheat bread bakery was revolutionary in 1976, but nowadays that isn't quite enough.
Today, we increasingly find ourselves filling the lunchtime void in neighborhoods where healthy, delicious, and made-from-scratch is hard to find. Our sandwiches are hard to beat and we are seeing them become an absolutely essential part of our stores' revenue streams. We've added bold, exciting new flavors to our sandwich menus in the last year that are contributing to us breaking the sandwich sales record at almost every new store we open. Our expectation that selling 100 sandwiches on opening day was a success has evolved to 300+. Now that is some revenue!
#2: All Businesses ─ Especially Small Businesses ─ Must Be Customer-Centric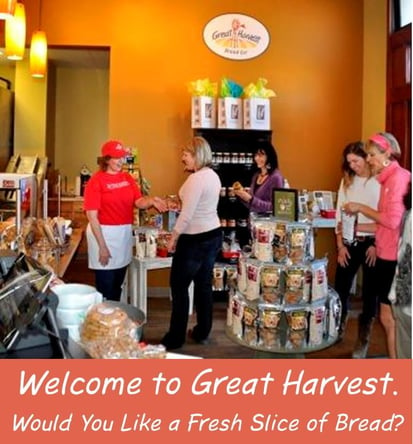 A second key to success in the food business is being customer-centric. You have to constantly think about the customer experience from the moment they walk in the door to the moment they leave. The best businesses in any industry function this way. Within our franchise, the top performing Great Harvest bakeries also offer the greatest customer experience, hands down.
Large companies like Marriot (which I have blogged about before) and Amazon focus on this relentlessly. But customer centricity is something small businesses tend to excel at, because they can't afford a bad review or a lost customer. When every customer matters, you have to go above and beyond. For example, the local Ace Hardware store here in Dillon, Montana easily has some of the best customer service I have ever seen. When I walk in the door I always get an enthusiastic greeting and the employees are some of the most helpful people I have ever met. That is no accident. The company goes to great lengths to create that great experience and have even started the Ace Center For Excellence to teach other companies how to replicate it.
#3: Don't Just Hire Anybody ─ Hire Great People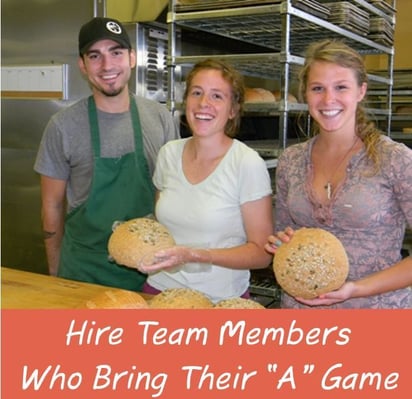 The third key to success in the food business is to surround yourself with amazing employees. In our industry, pennies matter. Labor needs can be high when things are made from scratch, and you absolutely have to be picky about who you hire. Here at Great Harvest Franchising, I am constantly talking about the need to hire excellent employees that move fast, think smart, and can have fun while they are doing it. I have worked with some amazing cooks, dishwashers, wait staff, and busboys over the years and when you find that perfect mix in a person it can mean the difference between the business's success and failure.
One of our best bakery owners, Mike Scheel in Salem, OR, made it very clear to me one time when he said the two key things to think about when you are hiring is:
Who do you want to work with when you are there?
Who do you want taking care of your business when you are not there?
Makes perfect sense to me. Find the players that make your team the most successful and fun while you are working together and who ALSO have the ability to execute your vision when you are off enjoying the life part of your work-life balance.
Takeaway:
Here are three key ingredients for a successful foodservice business, all of which can apply more broadly to any small business:
Adaptability
Customer-centricity
A team of great people
Go out and support your local small businesses, this week and every week! You can find your local Great Harvest here.
Read more about small business success in the foodservice industry here: