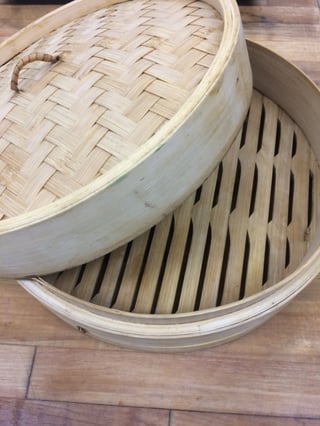 I often wonder what to write about for this blog. What might be interesting or useful to you, the reader? It occurred to me recently that some of the everyday kitchen tools I adore and use all the time might not be on everyone's radar. So I've decided to share how I use some of these tools and why I think they are so great. This is sort of an addendum to the foodie gift list I blogged about a few weeks ago.
First up? It has to be my bamboo steamer. Why do I love my bamboo steamer? Because it is a quick, healthy, no-mess way to create a nutritious and delicious dinner dish in minutes.
The bamboo steamer might just be one of the greatest culinary inventions of all time — after cast iron skillets and heavy-duty aluminum foil. And it's extremely low tech. A woven bamboo basket and a pot of boiling water; it doesn't get any more basic than that. Sure, there are other steamers out there — you can even just put a strainer over a pot and cover with foil — but there is something about the way food tastes and looks steamed in bamboo. The water does not wick off the lid of the steamer and drip back onto the food; it is slowly released through the woven top.
There is an almost Zen-like feeling that comes with cooking with one of these.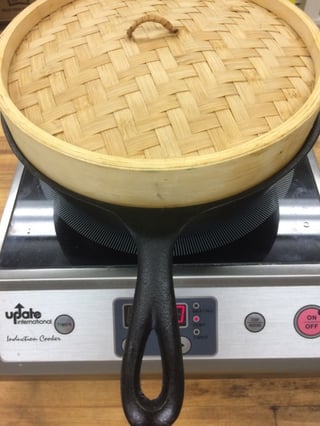 At least a couple of times a week, I load ours up with vegetables and aromatics, steam, and wait mere minutes for a healthy and perfectly cooked meal. I never boil vegetables anymore as some of the nutrients end up in the water. Steaming locks in the flavor and nutrition . . . and it is just a much cooler way to cook!
One of my favorite winter combinations right now is broccoli, carrots, sweet potato, kale, and Brussels sprouts flavored with slices of sweet onion, ginger, and garlic. I toss a couple of lemon slices and a small grip of fresh herbs right on top, and it is amazing how much flavor is concentrated by the steam. A couple of small pieces of fish (try wild salmon or mahi-mahi) can also be nestled in with the vegetables to create a perfect meal.
Cook fast. Cook fresh.
All that's needed at the end is a light drizzle of high-quality extra-virgin olive oil or flax oil (my newest obsession) and a light sprinkling of kosher or sea salt and black pepper. If you like just a touch of acid, sprinkle a few drops of fresh lemon juice or probiotic cider vinegar over the top.
The varieties of vegetables can change with the season or tastes. Asparagus, fresh green beans, Swiss chard, snap peas, parsnips, collard greens, cabbage, baby turnips, and zucchini all work wonderfully. I also change up my aromatics to suit my mood or meal as well. Try orange slices, scallions, galangal root, sesame oil, hot chilies, or different herbs.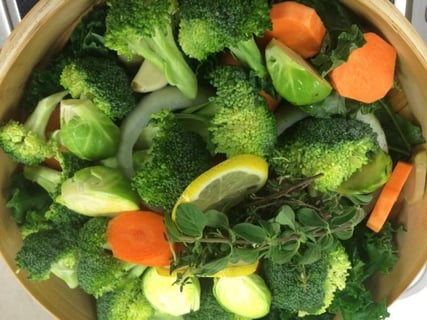 There is something magical that happens when you open up the lid, and that first puff of aromatic steam hits your nostrils. You can even take the lidded steamer basket straight to the table and unveil it there for a dramatic presentation.
Bamboo steamers were designed to be used with a wok, but I find my cast iron skillet is a perfect base pan for boiling the water. Other similar-sized pots work great too.
Tips and tricks:
Be sure to cut vegetables based on how long they take to cook (bigger pieces of broccoli and thin slices of things like sweet potatoes).
Layer your steamer with leafy greens like kale and chard on the bottom and nestle bigger pieces on top.
Do not overcook the vegetables (or fish) as they will change color and get mushy fast. The combo I did today took about 6-8 minutes is all.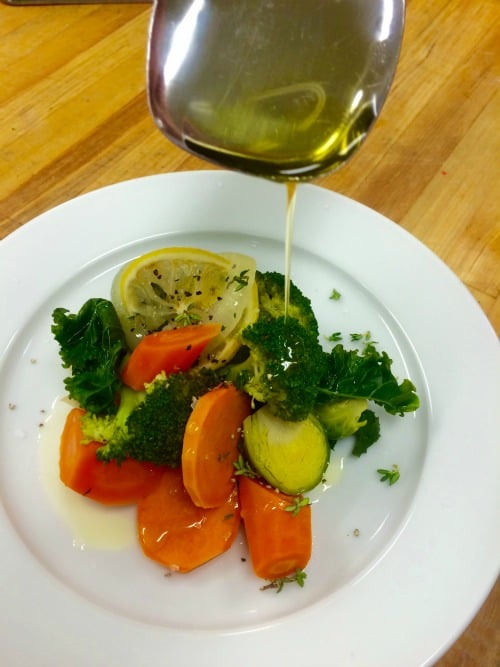 You can order a bamboo steamer here. You will not regret it! Get steaming!

If you enjoy eating healthy, you may also enjoy these posts:
When we talk about health, it often involves whole grains. Learn more about whole grain nutrition: