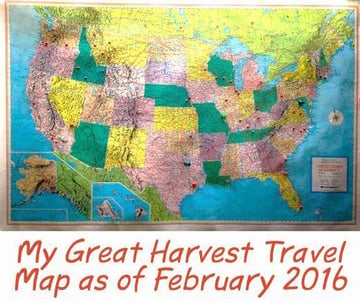 From Miami to Fairbanks, I've traversed the country visiting Great Harvest bakeries. I'm one of about twelve travelers who get to work not only in our Dillon, Montana headquarters but also in our community of 200+ bakery cafes. In five years, I've visited 52 bakeries and logged 229 business days on the road — spending roughly one year of my Great Harvest career in the field.

Recently, in the midst of a bakery trip on the eve of my five-year Great Harvest anniversary, I had an earnest conversation with an employee. It started with a simple question. Though it's one I've been asked many times, on that day it inspired deeper reflection. His question was: "Why do you like traveling for Great Harvest?" I had earlier let on that I was in the middle of a pretty busy stint, and he was wondering if the romance of travel was wearing off.
I won't pretend that it's always fun to travel. Airline delays, sparse hotel rooms, and long hours — compounded by missing family and things familiar — are taxing. Also, as most business travelers know, even though you may travel to interesting cities on work trips, work trips are just that — work. While we try to visit local points of interest, mostly what we see is the back of a bakery. That said, I was reminded that from the back of a bakery, I've witnessed and been a part of some very fulfilling things.
Great Harvest People Are Good People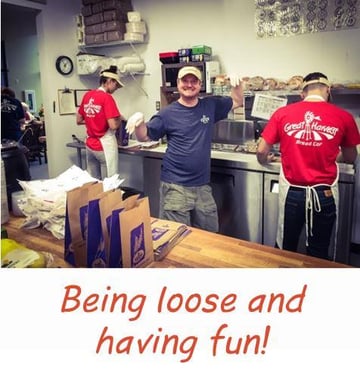 Our take on who is and isn't "good" is very personal; but, I believe that Great Harvest people are uniquely good people. I've observed that Great Harvest owners, employees, customers, vendors, delivery truck drivers and franchise employees are a tremendously kind and sincere group. There's the delivery truck driver who helps unload 60 bags of wheat when it's not in his job description. There's the new employee who works until 10 p.m. the day before opening to ensure things are perfect for the next day. Everywhere I look, Great Harvesters tend to be generous and thoughtful with their efforts and time.
While in many settings it can take "one bad apple to spoil the whole lot," in Great Harvest the bad apples somehow come away sweeter. I don't know the reason behind that phenomenon, but it's a great thing to be a part of — especially when you're on the road and out of your daily comfort zone.

I've also observed that Great Harvest customers are great customers. I have the unique perspective of being a professional who often trains and works in non-professional roles in the bakery. Working alongside teenagers and new employees at the front counter of our bakeries, I've observed that across the board, our customers generally treat our retail staff with huge amounts of respect. As someone who has witnessed the opposite phenomenon in other businesses, I think this is something our customers should be tremendously proud of.
We Do Cool Things
This is perhaps a great oversimplification of what we do in the field — but as a traveler for Great Harvest, I get to visit bakeries across the country, training people how to cook and bake. We teach people to make phenomenal bread, cookies, goodies, gourmet sandwiches, salads and more.

I believe cooking and baking for people is an expression of love. Training others how to make food from scratch and watching the care they take as they learn and grow in their craft is incredibly rewarding. It's one of the reasons why I love what I do.
Seeing Someone Achieve Their Dream Absolutely Rocks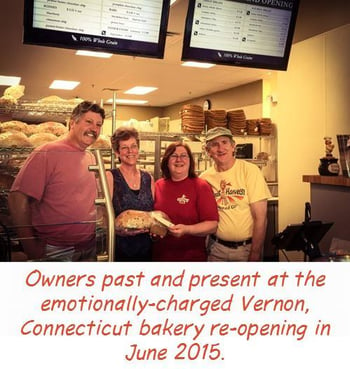 I often work at bakery grand openings. One of the most electrifying experiences of opening day is watching an owner turn on their "open" sign for the first time and ring up their first sale. This moment is the culmination of months of work and, often, years of dreaming. It is filled with hope, joy, fear, excitement and pride. To observe and help someone realize a dream is an honor — and I've shared tears with owners during this moment more than once.
The dream of owning a business lives on beyond opening day. Visiting bakeries and learning from owners who are trying unique things and growing their business is also tremendously rewarding. As a traveler, I get to be like a bee – the things I learn from one bakery, I use to pollinate ideas in another and help both our franchisees and the Franchise office stay relevant.
I Get to Come Home to an Amazing Place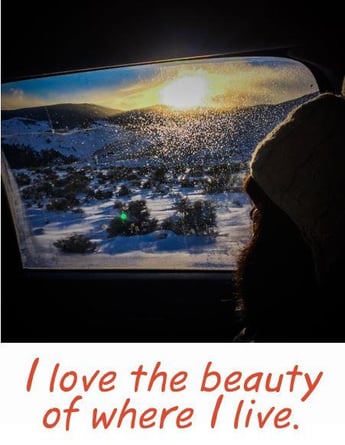 At the end of a long trip, I get to return to Montana – affectionately known as the "last best place." While home may seem unconnected to the travel, coming home to Montana is a wonderful thing. On a broader level, Montana is simply a great place – we have kind people and incredibly beautiful scenery. I love flying into the Bozeman airport and watching flight attendants step off the airplane and take photos of the mountains.
But, as a Great Harvest traveler, it's more than just the mountains. At the end of the day, we get to come home to the same state that produces the high-quality wheat Great Harvest disperses across 43 states — from Hawaii to New Hampshire. Ultimately, that raw connection to our core product is a fulfilling and rewarding thing. It makes you understand that you are a part of a greater cycle of life — and business.
Five years have taught me a lot. I've grown and so has the company. I've learned so much from the back of a bakery during work trips — but, at the end of the day, its great people that make Great Harvest great. I look forward to meeting more great people in the next five years.
Do you love the idea of working with great people every day?
Do what you love with Great Harvest:
Read More About Working With Great People and Loving What You Do: