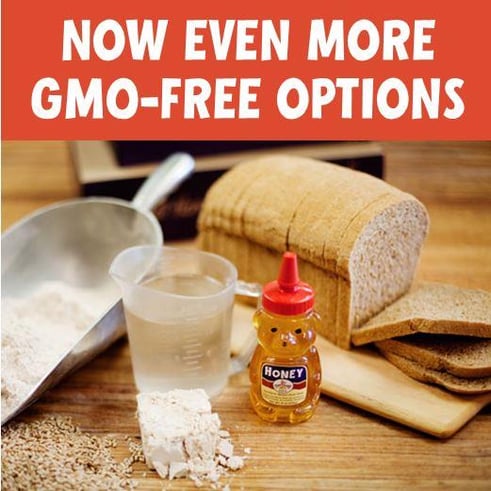 A couple of years ago, we started testing our wheat to make sure it is free of Genetically Modified Organisms, or GMOs— even though there is no commercially-available GMO wheat in America. We do this because the Great Harvest name was built on the quality of our freshly ground wheat and because we have committed to full disclosure about the cleanliness of our wheat.
There are three ingredients in virtually everything we do. Wheat. Yeast. And honey. Because they are so widely used in our products, we need to be aware of what is going on with GMOs in these three ingredients above all others.
We recently made a GMO-free yeast available to Great Harvest bakery cafe owners. We are rolling it out as quickly as our supply chain will allow. This is something we are very excited about. And we think you will be too.
Which leaves honey out of our "big three." To our knowledge, there is no such thing as domestic GMO-free honey in commercial quantities that isn't organic. We have found a Brazilian source for GMO-free honey. However, given the choice to ship a very bulky, heavy product halfway around the world (with all of the carbon implications from that), we are staying with domestic honey.
We will continue to test our ingredients and work on making more non-GMO ingredient options available to bakery cafe owners. Stay tuned to the blog, where we will continue to share updates and keep you posted.
Subscribe the Bread Business Blog for the latest updates:
Read more about our non-GMO ingredients and wheat chemical testing: