Here are some more tips on how to improve your diet with simple cooking strategies:
Make the Switch to Whole Grains
Swap out your white breads for 100% whole grain options. Try the 'white whole wheat' options as well if you are struggling with this change. The 'white whole wheat' is made with a milder sweeter type of wheat that still provides all of the same benefits when it remains as a whole grain.
Switch to whole grain pasta as an easy way to improve the nutritional profile of a meal.
Instead of making risotto using refined Arborio rice, try replacing it with quinoa or short grain brown rice. It tastes just as delicious!
If you're too rushed in the morning to cook oatmeal on the stove and you're not into microwaving, try this deliciously healthy recipe for 'overnight oats' that was created by one of our very own bakery owners Kath, from Charlottesville.
Cut the sodium
Instead of always cooking with salt or sodium packed seasoning blends try lower sodium seasonings or even better make your own! Try blends like this taco seasoning except try leaving out the salt or cutting the amount added in half, this Cajun Seasoning Mix, this Italian Seasoning, or even try just using lemon and pepper or garlic and pepper when grilling.
Try making your own broths as well to cut out the sodium content or if you're in a rush keep a low sodium broth like Pacific Organic Free Range Low Sodium Chicken Broth on hand. It only has 70 mg of sodium per cup of broth!
Drain and rinse canned vegetables or beans before adding to a recipe as an easy way to bring the sodium content down. Draining can reduce sodium by 36% while the rinsing can reduce the sodium content by up to 41%. (1)
You may notice the recurring theme of 'make it yourself' when it comes to reducing sodium in your diet. This is because typically restaurant and grocery store savory items are loaded with salt for flavor and preservation. When you make things from scratch or cook at home you can really get control of how much sodium you are adding to your meals. If you already have a great recipe collection at home try seeing what you can do
Choose lean proteins
Replace your typical scrambled eggs or omelet with three egg whites with one full egg and a little skim milk to maintain the protein and nutrition content without the extra saturated fat and cholesterol.
Use boneless skinless chicken breast in place of higher fat chicken such as chicken with the skin or dark meat in recipes such as buffalo chicken "wings"
Choose lean or extra lean cuts of meat such as the round, chuck, flank steak, sirloin, or tenderloin. Cuts of meat that include the word 'round' or 'loin' are lean cuts.
And remember, you can always trim off any visible sign of fat before cooking.
Incorporate plant foods such as beans, lentils, tempeh, nuts, or quinoa as a lean, high fiber, nutrient dense way to cook.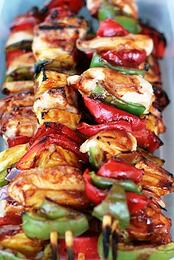 Healthy cooking methods
To keep your meal lean use methods such as grilling, baking, or broiling which require little to no added calories or fat.
Stir frying is also a great option if you opt for lighter sauces and also a great opportunity to introduce a variety of vegetables.
Incorporating such foods into a stew or soup is also a great way to cook and keep it lean. Just be sure to stick to broth based recipes with little added cream.
For Additional Tips: See Part 1, Part 2 and Part 3.
What are your favorite ways to improve the nutritional quality of a meal?
Interested in learning more about nutrition? Check out our previous nutrition blog posts:
Works Cited:
Shadix, K. Reducing Sodium in Canned Beans—Easier than 1-2-3. Today's Dietitian. 2010; 12(1): 62.
Photo Credits:
Whole Grain Pasta: photo credit: kton25 via photopin cc
Spices: photo credit: marfis75 via photopin cc
Grilled Kabobs- photo credit: melodramababs via photopin cc