Each Great Harvest Bakery owner has their own take on the concept of "giving generously to others" from our Mission Statement. For the MacFadyen family, it's all about doing the right thing.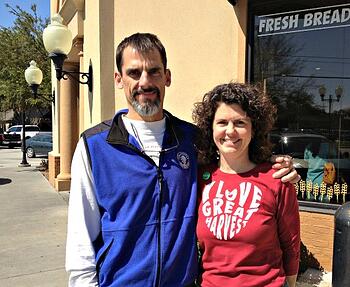 JP and Michelle MacFadyen own the Great Harvest Bread Company in Lafayette, the first green-certified restaurant in the state of Louisiana. Michelle says that came about when they had an "Ah-ha" moment. They decided that the way they live personally should be reflected in their business life.
Putting Principles Into Practice
"At home, we are teaching our children about taking care of the earth," Michelle says. The family garden helps them to learn where food comes from and how it is grown…the best being the food that is grown closest to home…in their own backyard! They also prepare foods with the kids from their local CSA so they are exposed to other unique vegetables. The family has "energy fast" days where they use no electricity or energy (except the refrigerator so food doesn't spoil). And, rather than have a refrigerator full of plastic bottles, each kid has their own uniquely decorated water bottle to refill without the waste.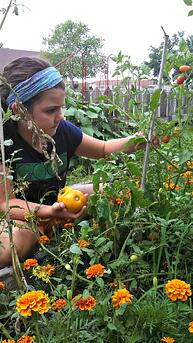 To translate this into their business life, the couple worked with the Green Restaurant Association (GRA), an organization striving to create an environmentally sustainable restaurant industry, to become certified. JP says they could have just gone about doing it themselves, but having an organization that could help them make the right decisions and monitor their progress was critical. "We wanted to know that we were doing everything we could and staying on the right path." To maintain their certification, the MacFadyens must have continual improvement each year.
What Are Some Things They've Done for Green-Certification?
Installed energy-efficient lighting and kitchen equipment.
Implemented a full scale recycling program.
Use non-toxic cleaning chemicals and soaps.
Outfitted sinks with low flow faucet aerators (which are 75% more efficient than conventional options) to help conserve water.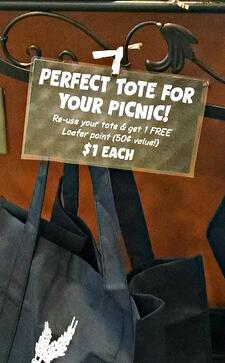 For day to day operations at Lafayette's neighborhood bakery, it's about conservation across the board when it comes to waste, water and electricity. They purchase unbleached and recycled packaging, but no Styrofoam products. Reusable Great Harvest totes are available for just $1. Each time a customer uses their tote, they get a free punch on their bread card which is a $ .50 savings. They also buy as many local products as possible and most of their sandwich and salad produce comes from Fresh Pickins, just across the street.
The GRA audits the bakery each year to check for green processes all the way down to reviewing invoices to make certain of the products they buy. "It's a good bit of work to pull it all together, but we think it is worth it." He says, "They understand we are a small business, so they help us where we can make progress in ways that we can handle."
When new employees come on board at the bakery, JP explains the philosophy of the bakery and it starts with one simple statement:
"Do the Right Thing."
He says "For us, that is what it is all about: just doing the right thing. The right thing is not always easiest… not always the cheapest…but you know when it's right and that it's what you should do."
Michelle says, "We are optimistic that the seeds we are sowing with our family, the business, the community and our employees will grow and help preserve the earth for future generations."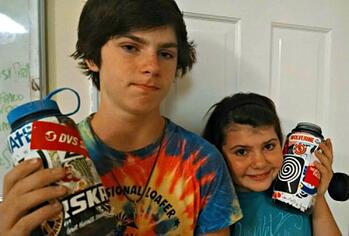 If you enjoyed this blog post, you may also be interested in reading these:
Learn more about the creative and inspiring ways Great Harvest owners are making a difference through bakery ownership in their communities here: