On April 22nd of every year since 1970, our nation has celebrated Earth Day. Similar to the Great Harvest Bread Company, Earth Day originated in the midst of the hippie and flower-child culture in the United States. According to www.earthday.org, the idea for Earth Day came to their founder Gaylord Nelson (then a U.S. Senator from Wisconsin) after witnessing the ravages of the massive 1969 oil spill in Santa Barbara, California.
Inspired by the student anti-war movement, Nelson realized that if he could infuse that energy with an emerging public consciousness about air and water pollution, it would force environmental protection onto the national political agenda. On the 22nd of April, 1970, twenty million Americans took to the streets, parks, and auditoriums to demonstrate for a healthy, sustainable environment in massive coast-to-coast rallies. Thousands of colleges and universities organized protests against the deterioration of the environment, and Earth Day was born.
Earth Day's Ideals Seep Into the Mainstream
As these students grew into adults, the principles of Earth Day and environmentally-friendly practices grew with them and slowly have emerged in the mainstream. Our culture has evolved into one that incentivizes and rewards "green" and sustainable practices. These practices are particularly visible at Great Harvest bakeries, which attract people (owners and customers alike) who value health and wholesome goodness.
Green practices are aligned with the values of many Great Harvest bakery owners from Missoula, Montana to Lafayette, LA and everywhere in between. This April 22nd, many of our bakeries will be celebrating Earth Day — but more importantly, they will be implementing green business practices throughout the entire year.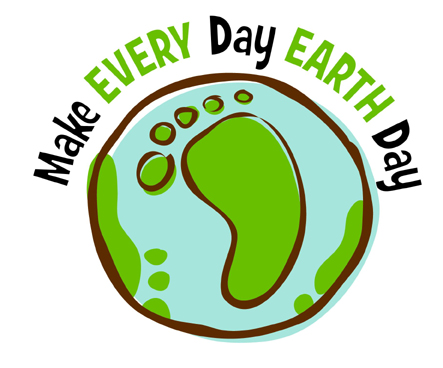 Here are two stories about how Great Harvest owners are implementing green practices in their bakeries:
Ray and Juliann Clum – Helena, Montana

"We try to incorporate sustainable practices into everyday bakery operations. We have recently received green certification through our county. The process required writing up our policy, sharing some ideas on how we are working to be more environmentally conscious, and getting a free energy audit.
"We had already accomplished the 'easy pickings' in and around the building and the auditors were hard-pressed to suggest any feasible upgrades to increase our energy efficiency. Some of the biggest energy savers are the regular maintenance schedules that we have for the oven, furnace, and other equipment (even the auditors were impressed by these!).
"Our employees fall right into the habit of recycling and reuse and make suggestions where they can. You can link into our Environmental Action Policy at: http://greatharvesthelena.com/category/yes-lets-do-it/ . The policy includes a list of the types of green activities that we are doing in our bakery."

Dion and Laurel Williams – Cedar Rapids, IA

"It was one of our stated objectives when we planned the bakery to be as green as we could be. We use as few disposable products as possible (melamine plates and bowls, glass tumblers, ceramic mugs, etc.). We reward customers with price breaks for using reusable travel mugs and tumblers. We have recycling receptacles out for the plastic and glass bottles from the grab-and-go cooler for people who drink in the store. We have cloth napkins for use in the store dining room, and the customers love them. I bought seer sucker fabric and surged the edges. They are 100% cotton and very absorbent and lovely and naturally wrinkly. People ask me all the time if they can buy them.

"We installed hand dryers in the bathrooms and have never put in paper towel dispensers. Obviously, we have paper towels at all our hand sinks in the production area. Using a dishwasher for most of our dishes cuts down dramatically on water use, and our clothes washer is high efficiency. We were able to save a lot on garbage because our dumpster is half the size it would have to be if we used all disposables. We recycle everything we possibly can from our production area, and our employees have settled into that nicely. The savings from less dumpster waste is truly significant, and we really do care about this issue. Our recycling dumpster is always more full than the garbage dumpster.

"Also, whenever possible we use vinegar for cleaning (wiping down the counters, sneeze guards, etc.) and have been told several times by our customers how much they appreciate our using non-toxic cleaning liquids near food."
There are many more stories from Great Harvest owners on Pinterest:
So, what will you be doing today to celebrate Earth Day?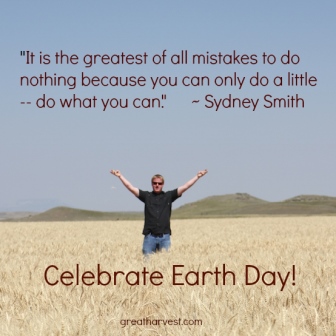 Not sure where to start? Here are a few ideas:
Participate in a local event (find one at epa.gov or earthday.org). If you can't attend, perhaps donate sandwiches or pastries?
Commit to implementing just one of the ideas outlined above (for example, switch to cloth napkins, or vinegar for cleaning).
If you are interested in making your business "green," see these resources from energystar.gov.
Feeling creative? Mine Pinterest for Earth Day crafts, food, activities, and other ideas.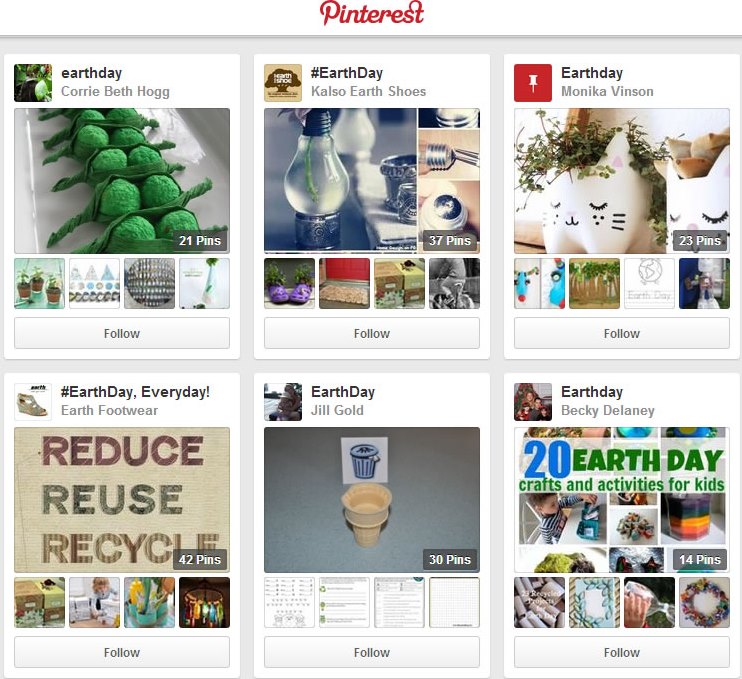 Have more ideas? Please share them in the comments below!
Did you know? Since 1990, Earth Day has been celebrated in 141 different nations around the world.