In the midst of the third week of the government shutdown in January 2019, Sarah Burtch, a Great Harvest Bread Company franchisee in Lawrence, Kan., was feeling emotional about the stories of federal employees on furlough or working without pay. So, she decided to do something to give back to her community. Sarah set up a "Shutdown Shelf" in her bakery, offering free bread to federal workers and contractors in need.
As the shutdown dragged on and word got out about Sarah's Shutdown Shelf, Great Harvest franchisees across the U.S. started providing their own Shutdown Shelves to help the federal employees in their communities. By the time the government work stoppage came to a close, more than 70 Great Harvest locations had Shutdown Shelves available.
This is a perfect example of the power and flexibility our franchisees have to make their own decisions through our Freedom Franchise. Typically, these types of charitable acts would be highly restricted and controlled by the franchisor. But, as a Great Harvest franchisee, Sarah had the freedom to come up with a solution to a problem, and act right away to start making a difference for the government employees in her community.
What is a Freedom Franchise?
At Great Harvest, we combine the advantages of a traditional franchise with the independence, innovation and creativity you'd enjoy at your own startup business. We give you extensive, industry-leading, best-in-class guidance and support, but when it comes to running your store, you call the shots and choose to implement as few or many of our suggestions as you want.
That means everything from your menu offerings and pricing to the color you paint your walls is your call. Even your local community involvement – whether that's through charitable giving or participating in local farmer's markets – is up to you.
Our Franchisees Support Their Local Communities
In addition to the recent Shutdown Shelves, our franchisees give back to their communities in numerous ways. For example, before the Shutdown Shelves came to be, every Great Harvest location was already donating their "extra" bread to local food banks or charities daily. We only offer fresh-baked bread at Great Harvest, so after 24-36 hours, any unsold bread is donated to charity at the discretion of each local franchisee.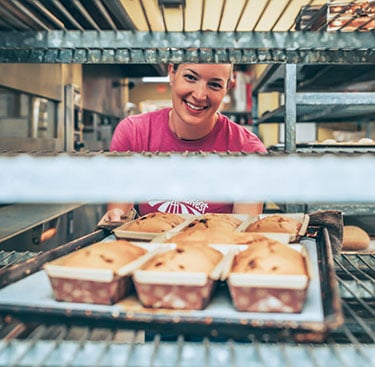 Great Harvest Bread franchisees also have the freedom to sponsor local events, support community causes, and even participate in local farmer's markets – something the majority of franchise businesses are not allowed to do.
But because our Freedom Franchise gives our franchisees the power to locally source their ingredients and make their own menu, pricing, and design decisions, their bakeries are truly local businesses, and therefore they are welcome at farmer's markets in their communities.
Whatever way our franchisees wish to get involved in their local communities, they call the shots and have the flexibility to jump into action to meet the needs of their customers, neighbors and friends.
How We Help
Because of the Freedom Franchise agreement we have with our franchise partners, we can't dictate that every franchisee participate in our latest initiatives – charitable causes or otherwise. However, when we see one of our franchisees who is making a difference in their community with a great idea, we can certainly help spread the word and encourage more franchisees to get involved.
As soon as we heard about Sarah's Shutdown Shelf, we recognized it as an excellent way for our franchisees to give back. So, we shared Sarah's idea on our internal message boards to inspire our other franchise partners to launch similar initiatives in their own stores.
Thankfully, the government shutdown has come to a close. But we are still proud of the way our kind, generous franchisees in more than 70 locations across the nation stepped up to help their communities – one loaf of bread at a time.
Are you interested in a franchise that gives you the tools you need to make a difference in your community while still giving you control over your business? Contact us today to learn more about franchising opportunities with Great Harvest.
Contact Us