As a child, I liked to think I was an expert cookie "test taster," messy kitchen maker, and gingerbread man decorator…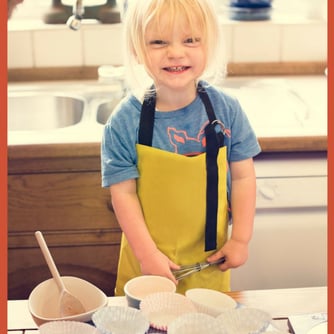 Over the Christmas holidays of my childhood, hundreds of cookies were baked, "taste tested," packed, distributed, and enjoyed by many. My mom, sister, and I would spend hours in the kitchen during the holiday season, with our aprons on, baking and singing to Christmas music. From the classic gingerbread man to my favorite triple chocolate ganache cookies (yes, I kind of love chocolate — remember I wanted to grow a chocolate chip tree), we made hundreds of tasty treats.
To this day, I look fondly on the hours I was able to spend in the kitchen with my family baking and cooking. It became a tradition for my sister and me to cook our family's Christmas breakfast. I still do not know if this was because my parents wanted to have a break, or if my sister and I finally realized this would allow us to get to open our presents faster…
We would prep ingredients the night before and wake up extra early to finish off our baking and cooking. And thankfully, after working up an appetite from opening our presents, the fresh homemade whole grain cinnamon rolls, bacon, and cheesy scrambled eggs usually came out delicious for the family to enjoy.
If you don't have plans to bake with kids this holiday, consider this your official reminder!
This holiday season, make time to spice up the kitchen with the help of your favorite kids. Use a heap of imagination and a dash of singing to flavor their baking and their cooking expertise! Let them get creative, messy, and have some fun. It's not just about the food; it's about the experience. Too often, we get stuck in the rut of mom or dad doing the cooking and the kids just enjoying the food.
Get the kids involved in cooking up something delicious for the family and start some traditions. Maybe even have them contribute to the family Christmas breakfast or dinner? You will not only be having fun with the kids, but they will be benefiting in many ways by being in the kitchen!
Here are three reasons why kids should spend more time helping in the kitchen:
It helps build healthy habits. When kids have a voice in what gets made and have a hand in preparation, they are more willing to try new foods. Being able to help provides them with a sense of ownership and accomplishment. It causes them to increase the amount of nutritious foods they eat and builds skills for lifelong healthy living.
It teaches math, science, small motor skills and responsibility. Baking and cooking give kids a chance to practice counting, measuring, and to see food change. This is a fun way to incorporate math and science learning. The kids also build small motor skills when they use their hands in the kitchen. For example, decorating a few gingerbread men! Lastly, kids learn responsibility in the kitchen through clean-up tasks and knowing what their part is in the baking or cooking process.
It builds self-esteem, independence and closer bonds. When cooking with your kids, you give them jobs they can complete. At the completion of the tasks, they will be proud they finished by themselves, which gives them a sense of independence. They may need some help for more complex tasks, which creates a fun learning environment for bonds to grow between parents and children.
(Sources: the Mayo Clinic live training, Childhood Obesity Journal, and KidsHealth from Nemours Children's Health System)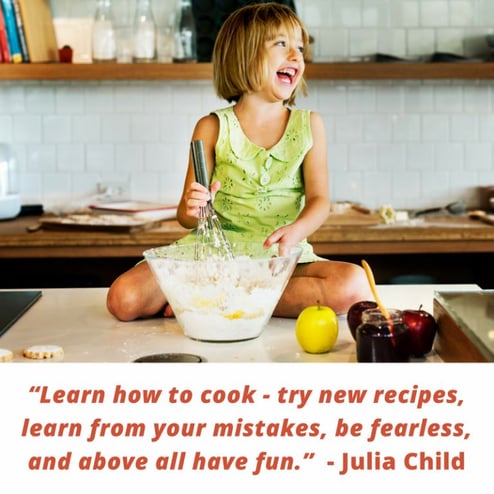 It might be a little frightening to let the kids do the cooking, but I can tell you it is worth it. They are quite talented! I have seen kids willing to try more of the foods on the table than their parents during kid cooking classes I have helped with. The kids then encouraged their parents to try more things as they took ownership of the foods they made. That is rewarding.
Give your kids a baking or cooking task to take ownership of for this holiday meal. See their faces light up when they make it a success — or help them through it if they are struggling. Overall, make it the most enjoyable experience and start a new tradition.
Wondering what kitchen tasks might be appropriate for your child? View this infographic from eatright.org to help identify age-appropriate tasks for your kids.
Remember, it's not just cookies you are making. Holiday baking is the glue that holds memories together!
Cheers to happy holiday baking and cooking!!
Reminder: When you don't have time to make it from scratch, Great Harvest has you covered for your holiday feasting needs. Don't forget to pre-order your rolls and desserts from your local store to avoid disappointment. Most stores stop taking advance orders on December 20th.
Read more about the benefits of getting in the kitchen with kids:
Image credits: cooking with kids © Canva/ Rawpixel