Last week I helped bring a baby lamb into the world. Call it a stroke of luck or just darn good timing, but it turns out that if you show up on the farm to pick up your lamb on the Friday before Easter, you'll find ewes giving birth to the next crop of babies.
Circle of life: helping one lamb to the table; another into the world
For the second year in a row I have bought a whole lamb from Dave and Jenny Scott of Montana Highland Lamb in Whitehall, which is a short and stunningly gorgeous drive from Dillon, Montana. They practice high-intensity rotational grass grazing practices for their herd, which I really value in the raising of meat. Dave is a well-respected and prolific contributor to this amazing way of raising animals. Their 42 acre family-owned farm offers the ideal setting, if you think about where you want your food to come from.
After packing my eighty-plus pounds of beautiful lamb meat into my cooler, I was asked if I wanted a tour of the place. Dave's wife Jenny showed us around the farm and introduced us to a bunch of the pregnant ewes. Then we went on to the birthing barn where we found newborn lambs . . . and more on the way! One ewe was about to give birth to her second and was having a little trouble finishing. Jenny asked if I wanted to help pull it out, which I proceeded to do. For a boy raised in the suburbs of Chicago it was an amazing thing to witness. This was truly a farm-to-fork experience if there ever was one.
Lamb is trending and the best is natural lamb
There is no question that lamb is a hot ingredient in the culinary world right now. Call it the lamb renaissance if you will but it is gracing the menus of fancy restaurants, casual bistros, food trucks, and every food magazine that seems to come in my mailbox. Where we live in Dillon, Montana there are lots of ranches raising lambs and sheep and I honestly think that the Scotts are some of the best at it.
Since it was Easter weekend, after I got the lamb home I prepped a leg roast for Sunday dinner. Then I set about roasting the bones ─ from the leg and others leftover from the butchering process ─ to make a stock for my reduction sauce. I am a firm believer in using as many parts of the animal as possible; in fact, I often appreciate the bones, organs and off-cuts like the neck, ribs and shanks as much as the more popular rack and loin chops.
Rich red meat and red wine reduction sauce
I have written about chicken stock before, but when you make a stock from roasted lamb, beef, veal, or even venison bones . . . well, it's a whole different animal. After you let the stock slowly bubble away for 16 to 18 hours, strain it and reduce it with some wine and aromatics ─ it becomes truly one of the most savory, lip-smacking, delicious substances on the planet. This is the dark unctuous sauce you have on your plate at the finest restaurants when you order red meat and you find yourself obsessively wiping the bottom of the plate with a piece of bread. Red wine reduction sauce really isn't that hard to execute – it just takes time. Once made, it can be divided and kept in the freezer for several meaty dinners.
Here are the steps I took:
First, I took my lamb bones, placed them in a roasting pan with a touch of oil, sprinkled them with a touch of salt, and roasted them in a 450 degree oven for about 20-30 minutes until they were well browned.
I then placed them in a deep stockpot, covered them with water, added a bay leaf and some peppercorns and brought it to a simmer (you might get some foam rising to the top – simply skim it off with a ladle and discard.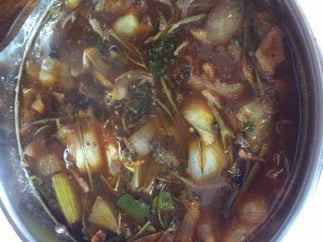 In the same roasting pan (those brown bits on the bottom are like gold!) I then roasted a couple of rough chopped onions, a few stalks of celery, several chopped carrots, and a few cloves of garlic.
Once those were nicely browned I added a couple tablespoons of tomato paste, stirred it around, and let that brown for a few minutes.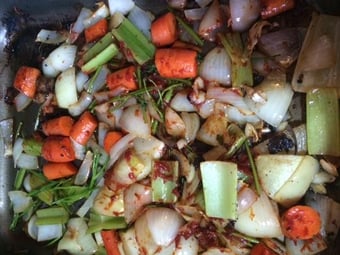 I deglazed with a couple cups of red wine, and let that reduce for a couple minutes while scraping all the delicious bits off the bottom.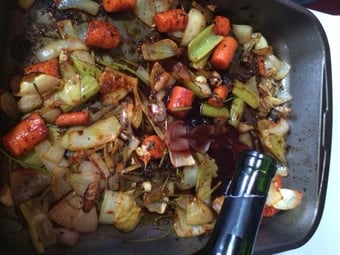 I then added the whole thing to the stockpot and let it just barely simmer all night long.
The next morning, I carefully strained the stock and let it cool in the fridge.
Once it's cool, you can skim off any fat that has accumulated on the top.
In a large pot, add half a bottle of red wine and reduce over medium heat until about a third of the liquid is left.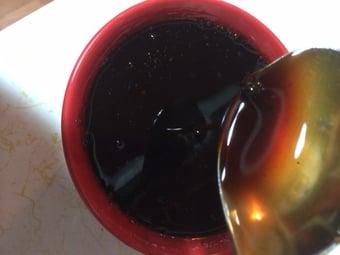 Add the strained stock and let it reduce until it thickens enough to coat the back of a spoon (when you swipe it with your finger the line should remain intact).
For my four pound leg roast, I made a quick paste of chopped garlic (about two tablespoons), chopped parsley, Dijon mustard, cumin, coriander, and fennel seeds. I slathered it all over the inside of the lamb leg along with salt and pepper, tied it up and roasted it at 425 degrees for 30 minutes to brown it well.Then I turned it down to 325 degrees to finish roasting for about 2 hours total – until it reached an internal temperature of 135 degrees for medium rare.

I always let my roasted meat rest for at least 30 minutes before carving and serving. Finally, I drizzled the meat with the red wine reduction sauce. It was truly an amazing way to celebrate spring. Flecked with herbs and spices, rosy pink and with a beautiful crust on the outside ─ it was stunning.
What are some of your favorite ways to celebrate the flavors of spring? Let us know in the comments. You can also get recipe ideas from Great Harvest fans and share your favorite recipes with us on our Customer Recipes page.
Don't Miss Our Next Post!
Read more about family-owned farms in Montana:
• Winter Calving Traditions on a Whole Grain Farm
• Sustainable Farming through Combined Grain and Cattle Operations
• Get to Know the Farms in the Farm-to-Table Movement
Sources:
Read more about the Scotts' family-owned sheep farm and compost enterprise here in Montana State University's Big Sky Small Acres: Rural Living in Montana Magazine (Spring, 2011) (pdf).