NBA fans may remember the "NBA Cares" campaign of a few years ago. (If you missed it, it's been described as, "Tall People Doing Community Service." And it is.)
The NBA has had an —undeserved in my opinion— image problem for as long as I can remember (see, for example, this 2005 article in the Washington Post). Don't get me wrong, it's great that players are giving back to their communities. In fact, "giving back" is something near and dear to my heart. However, having players tell me that the NBA cares won't change my view of the NBA unless I want it to.
Telling vs. Showing: Delta's Example
Here's another case in point. People who fly Delta today are greeted by an onboard video that has their CEO telling us about the greatest employees in the world at the greatest airline in the world. They are telling us that they care. But do they?
No. And the reason is simple. Brands and companies aren't real. They can't care. People care. I know I am splitting hairs . . . but not really.

Delta has made some strategic choices in the last year that have dramatically hurt their performance. (Among those: devaluing SkyMiles, as described here on bizjournals.com). They may be making more money but it comes at a great cost to service. Delta saying they value me as a customer rings hollow in the context of a conversation about my third cancelled flight within six months. Each time resulting in me having to spend the night in a town I hadn't intended to visit. What can be done? Always, actions speak and words are empty.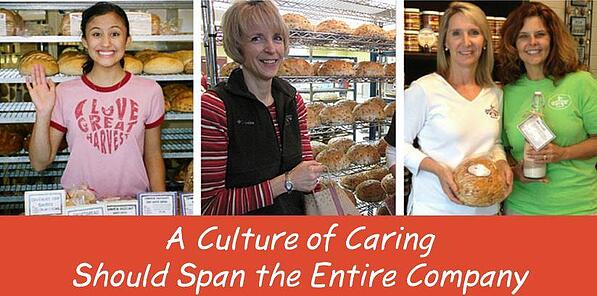 Corporate Culture Can Support Employees Who Care
This is where a strong corporate culture comes into play. Companies can't care. But they can be caring through the actions of the people that make up their culture. If you want the brand to have a conscience, then you have to have a culture that has a conscience. How do you do that? Hire like-minded people. Set an example from the top. Fund caring where appropriate. Make sure it is not just an item that is talked about but one that is supported by behavior. Actions and examples. Not words.

A corporate culture of caring is deeper and wider than trotting people out to talk about how great they are. Even if that person is the CEO, or a really tall, really famous person. It has to be baked into the organization from top to bottom.

Here is the ironic thing about my Delta example. I think the people really do care. When a service manager tells me they appreciate my loyalty —even after telling me for the third time in six months I wouldn't be making it home that day— I genuinely believe they mean it. But the brand doesn't.

Maybe the brand used to care, or maybe it just got lucky and hired people who happen to care in spite of the current corporate priorities. However, individuals can't compensate for a brand. When a brand is on course to sacrifice customers for greater profits, it's clear the brand itself doesn't care. Brands that behave that way die over time no matter how much that service manager cares.

Consider the following combinations and their financial implications for businesses:
Individual

Company
/ Brand

Result
Repeat Customer?
Cares
Doesn't Care
Poor outcome with a smile
Not likely if other options available
Cares
Cares
Positive outcome with a smile
Likely
Doesn't Care
Doesn't Care
Negative experience and negative outcome
Only if no other options available
Doesn't Care
Cares
Negative experience that you must complain about to a higher-up for effective resolution
Questionable
People Can't Compensate for Brands, But Can Build Companies that Care
People pass on but brands and companies can be perpetual — if they want to be. Delta, and many other companies with their issues, have been around a long time. They have the resources to right their current trajectories. I wouldn't count them out yet.

A brand that cares about its people can go on forever if it sets up repeatable processes through which key people are valued, namely employees and customers. People who care may not go on indefinitely, but their legacies may continue through the companies they build and the brands they shape.
Learn more about Great Harvest's business approach here: