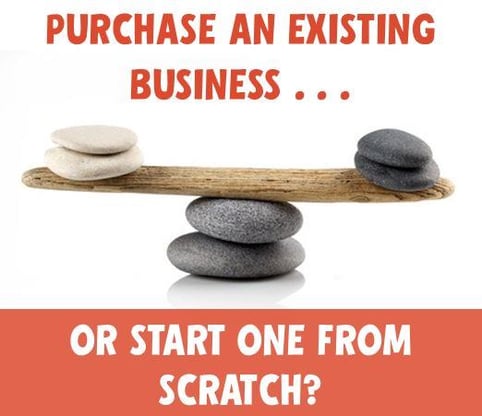 There are a number of advantages to purchasing an existing Great Harvest store rather than starting your own bakery cafe from scratch. Seven of the most obvious advantages are listed below.
The benefits of purchasing an existing business are not without trade-offs. For example, an existing business already has an established brand identity, and there is less opportunity to immediately put your imprint on it. However, over time you will be able to improve on the business and make changes that reflect your individuality and preferences.
Here are seven key advantages of purchasing an existing business:
1. Timeline: Starting a business from scratch takes a lot of time. In our experience at Great Harvest, it generally takes at least one year from the time someone signs a franchise agreement until their opening day. You must factor many unknowns into your expected timeline to open the doors for your new business, such as length of time to:
• Find a location
• Negotiate a lease
• Complete buildout
• Complete training (if you are purchasing a franchise)
• Hire and train employees
On the other hand, when you purchase an existing Great Harvest location, the business is already operational. Once you complete negotiations and any legal requirements and/or franchise requirements, you step into a fully operational business. This reduces the timeline to begin operations by months.

2. Existing customer base: An operational business already has a customer base. You are not starting from ground zero. As a new owner, you will want to expand and build on the existing customer base, but you do have regular and repeat customers. Usually, the previous owner has spent years and invested significant resources into building up this customer base.

3. Brand awareness: You will benefit from any existing brand awareness. In most cases, the previous owner has invested time, energy, and money over the years to establish strong brand awareness within the community. Relationships have been established and developed that will potentially make it easier for you to open doors to new customers and accounts. You will be able to leverage that brand awareness in your marketing efforts going forward.

4. Existing employees: Hiring and retaining quality employees for your small business may be one of the biggest challenges you will face. When purchasing an existing Great Harvest location, you will typically inherit a trained and proven crew.

5. Cash flow: When you purchase an existing business, there is often an opportunity for immediate cash flow. Because you have had the opportunity to review the financials, you know what to expect. You can more easily determine what you will be able to pay yourself and what you can expect in terms of your bottom line. Even if you are implementing changes that will increase your profits over time, you have more potential for positive cash flow from the time you take over ownership.

6. Financing: Historical financial records don't just make it easier for you to determine your potential sales and earnings. When you buy an existing business, historical financial records also make it easier for a lending institution to determine whether or not they will be able to extend you financing.

7. Price: There is not a set price. An existing owner may have an asking price, but the price will always be negotiable. Purchasing an already profitable business may ultimately cost you less than starting one from scratch — offering compelling value.
Read more about purchasing an existing Great Harvest location:
• Is It Better to Buy an Existing Franchise or Start One from Scratch
• How to Grow Sales After Purchasing an Existing Business
• 5 Best Ways to Manage an Existing Crew When You Buy a Store
Image credits: © vetre / 123RF Stock Photo, modified by text overlay and resizing.