The bakery cafe foodservice industry segment has grown by 7.7 percent since last year, with $8.1 billion in aggregate Latest-Year U.S. system-wide sales, according to Nation's Restaurant News. Of that $8.1 billion generated in the bakery cafe industry, Panera Bread accounted for 68 percent of the sales. If you are a multi-unit franchise owner, don't you think it's time you got a piece of that pie?
Think about it – can you name Panera's key competitor? If it takes you more than 3 seconds to come up with one then that may be one of the main reasons for Panera's success. They have no primary competitor! That could be you.
The Great Harvest Bread Company franchise opportunity gives you multi-unit owners a chance to be the main competitor to Panera in your territory. We have been in the business of baking the best, freshest bread for more than 40 years with proven processes and a track record of success – even when within 1 mile of a Panera.
With an established brand and proven concept positioned to help entrepreneurs compete in this space, Great Harvest is an ideal investment for multi-unit, multi-brand franchisees. Here's why:
Go Where Your Competitors and Other Franchises Can't Go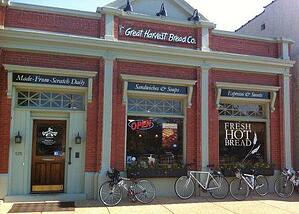 No other bakery franchise grinds their own flour daily to make their bread genuinely fresh every day. We only source our grain from family-owned farms in the Golden Triangle of Montana, where the highest quality wheat in the world is grown. That wheat is milled into flour fresh on-site every day. Our superior bread taps into market demands for local, made from scratch healthy alternatives to fast food.
In addition to bread that simply can't be beat, our Hub & Spoke model also allows you to put cafe locations in high traffic, downtown locations with smaller space availabilities – where Panera is unlikely to go because of their space requirement. This makes it easier for you to compete with them in your territory.
Within our model, the main bakery cafe is the Hub, and additional, smaller cafe stores are the Spokes. The smaller spokes allow you to reach customers in high-traffic, downtown areas where competitors can't.
Your "Franchise within a Franchise"
Our Freedom Franchise® gives you the flexibility to customize your store for maximum profitability in your market. Our stores can be as turnkey as you'd like them to be, but we also give you room to make your own decisions based on the needs and demands of your local market.
You make the local decisions you have always wanted with your other franchise brands. Locally, within your stores you pick your own menu choices and pricing, decide your hours of business and localize your stores' design and décor in order to shape your territory into your own versions of Great Harvest.
Your "franchise within a franchise" combines the reliability of franchising with all of the best parts of being an independent business owner by offering flexibility unlike any other franchise concept.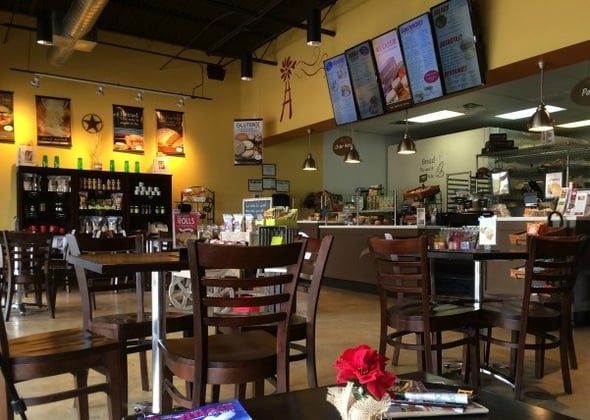 Lower Cost per Store
By milling flour and baking bread at the bakery Hub location and delivering fresh-baked product to the Spoke cafes daily, you reduce the amount of equipment needed in each store. Our cost-effective Hub & Spoke model allows two of your three stores to require less equipment and less square footage, which lowers your cost per store.
In addition, after you purchase your bakery Hub location, the franchise fees for every additional store will be discounted from $35,000 to $15,0001, which makes multi-unit ownership even more attractive. And, it's easier to compete with Panera with multiple Great Harvest locations in your territory.
The Numbers Speak for Themselves
Our multi-unit Hub & Spoke franchises average $1,563,162 in annual sales, with a 17.36 percent annual average profit margin2.
Our franchisees are successful because they have multiple opportunities to generate revenue with our menu that serves all dayparts, modern store designs with ample seating and our Hub & Spoke model.
Our Hub & Spoke model ensures you get maximum productivity from your bakery equipment and allows you to share resources between your Hub bakery and Spoke cafes to reduce your costs and maximize profitability.
A Brand That's Positioned for Growth
We have found more than 2,000 locations across the United States that have above average potential for Great Harvest locations. We've identified markets across the nation in which our brand is poised for success, including Philadelphia and the surrounding area which has potential for nearly 40 stores. In addition, we have determined that Oklahoma City, Tampa and the entire northeast region of the U.S. are ripe for expansion.
We have done the work to identify the markets – both big and small – where our brand will be successful, and we know exactly where we should be opening our next 200 stores. With a thoughtful, purposeful plan for growth, we are well positioned for expansion.
Great Harvest Bread Company's unique Freedom Franchise, Hub & Spoke model, proven system and commitment to growth allow you to be a true competitor to Panera and make us a perfect complementary brand for multi-unit franchise portfolios.
Are you interested in expanding your portfolio with an authentic, established business with a history of success? Contact us today to learn more about franchise opportunities with Great Harvest Bread Company.
Contact Us
1 Actual fees may vary. Please contact us for a copy of the current FDD for more details.
2 Based upon actual experiences, as disclosed in Item 19 in our 3/2/18, amended 7/1/18, FDD, for new concept Hub & Spoke operations, of which there are 3 pairs. Of the 3 pairs, one or 33% exceeded the average combined sales of $1,563,162 (for the calendar year 2017); two or 67% exceeded the average operating margin of 17.36% (for the calendar year 2016.)