To love what you do to make a living is rare these days.

But love is what's kept me in my field job with Great Harvest for 25 years.

And the local Great Harvest bakery owners often tell me that creating a neighborhood gathering place and touching the lives of people in positive ways is what they love about owning a bakery. On a recent trip across Wisconsin, I experienced the "greater" Great Harvest community and saw firsthand the passion those owners pour into what they do.

These individually owned stores are definitely unique communities unto themselves.
My trip started with Jon Rasmussen and his crew in Delafield, where I worked with them to learn hard crust breads. Within a few days, these people were family, as if I'd known them for years. The Delafield store is beautiful, filled with extraordinary touches that's Jon's brought with him from his past life.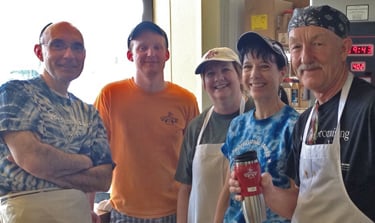 From Delafield, I moved on to visit Jon Cerny in Elm Grove, WI. There I had the pleasure of hanging out, listening to Jon joke and talk with all the "regulars" just like a Cheers show. His energy and enthusiasm filled the store.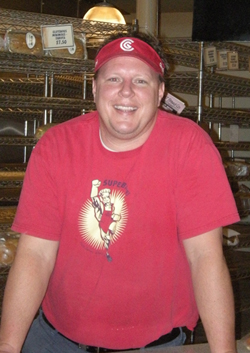 Visiting Neenah and Appleton, WI stores, owned by Kevin and Melissa Lisowe, I observed the hard work and passion of a young couple taking on the challenge of two stores. Anyone who has run two hands-on businesses, much less one, understands the hard work involved. Only passion can drive that kind of work, and if anyone has that passion, it's Kevin and Melissa. I've never seen people work harder than they do, or with as much enthusiasm.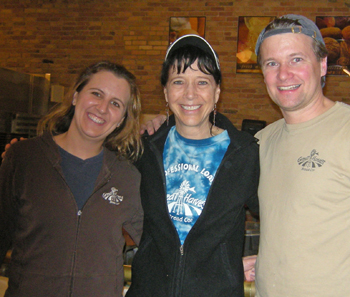 On my next stop, DePere, WI, I ran into owner and friend of 20 years, John Skyrms. John's manager, Brent Felchlin, runs the day to day business, while John spends time with family and grandkids. Brent's love of running the bakery is apparent. You can feel it from the product quality to the customer service. (By the way, John's grandkids are Kevin and Melissa's kids, so there is some synergy here!)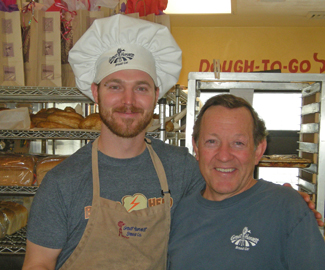 While standing in the lobby of the DePere Great Harvest taking it all in, a lady eating lunch with her daughter said to me, "I really love your franchise." I was so surprised! How did she know I was from the franchise office? I always try to blend in with the rest of the crew. She proceeded to tell me she recognized me from a picture posted on the Appleton/Neenah FaceBook page during my visit the day before. She likes to visit all three stores, Appleton, Neenah and DePere when she's in the vicinity.
Now anyone who's been to multiple Great Harvests knows no two are alike. We definitely value authenticity above uniformity, but what is that special magic that makes someone "love" your business?
Products of course are important. The integrity and quality of what you sell will always have its place. But the nebulous piece of getting customers to fall in love with you has everything to do with how they "feel" when they walk in your store. It's the look and feel of your business, the authenticity, and what speaks ambiance and authentic louder than the people? It comes back to the people connection. Bottom line, the reward of life comes from our relationships. It's about what we've done to enhance the lives of people, and in return, how those relationships have enriched us.
People are the heart of a healthy and holistic business!