Have you ever been at opening day of a new business?

The energy and excitement is amazing. I always love visiting whole wheat bakeries, but opening days are truly special.

On my last trip to Minnesota, Bob and Natasha Fleischman opened their bakery in Stillwater to rave reviews and very happy customers. One of their goals with the new store, located at 2510 Curve Road, is to bring "a savory blend of whole grain goodness with a dusting of old-fashioned bakery hospitality" to Stillwater. From what I observed at their opening, they most certainly hit the mark!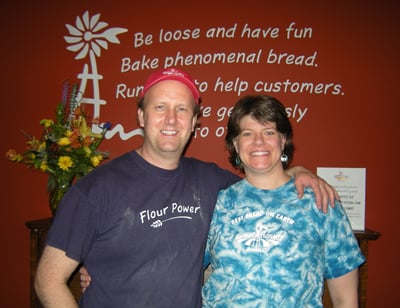 A few years ago, Bob and Natasha bought the Woodbury, MN Great Harvest. While they brought new energy to that store, their hearts were still set on opening a whole wheat bakery in Stillwater, close to where they live, are involved, and have lots of friends. They intend for their new store to be a community gathering place that offers a great alternative to fast food. They have no sugar-added drinks in the store, but offer natural drinks and vegetable and fruit-infused water at their "hydration station". As a result of partnering with Lakeview Hospital PowerUp Program, they offer "Real Meal Deals" that include the hydration station drinks and sandwiches on their wonderful whole grain breads.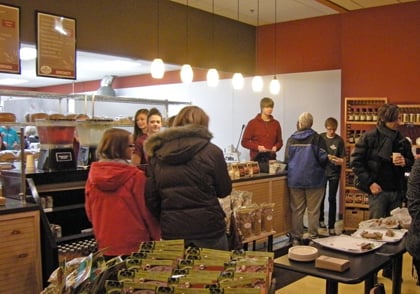 The Open House, held the evening before they opened, provided an opportunity to thank friends and people who got them open, but it was also a great attraction to passers-by and enticed lots of drop-ins to be part of the festivities. Attendees had the opportunity to taste their delicious made-to-order sandwiches, a variety of sweets and bread, and fresh-made coffee from Stillwater's River Moon Roastery. The bakery serves a full line of espresso coffees from River Moon, along with all their other delectable fresh-made bakery products and sandwiches.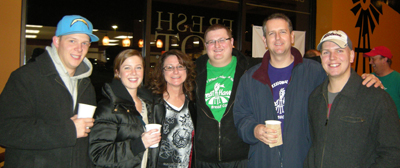 I find it fascinating to learn how people get involved with Great Harvest. Natasha grew up in Minneapolis and enjoyed trips for whole wheat bread to the Great Harvest bakery as a teenager with her mother. I met her mother at the Open House. She was a delightful lady and so excited for Natasha, Bob, and their boys Peter and Simon to open the Stillwater bakery. She told me she had been going to Tom and Sally's bakery on Upton Avenue for almost as long as the 30 years they've been open. It was partially her influence that convinced Natasha and Bob that a Great Harvest would be a good business for them. While The Fleischmans weren't initially pursuing franchises, they loved Great Harvest and found the freedom aspect of the franchise extremely appealing.
Before buying the Woodbury store, Bob was the Vice President of Marketing & Communications for a division of U.S. Bank. Natasha teaches Adult Basic Education courses to provide an opportunity to people who haven't yet had that chance. She loves her job, and loves the bakery, too, and helps out as much as possible in the store. Their sons Peter and Simon help out when they can as well. Bob & Natasha are very involved in the community through their kids' schools; Natasha helps with WomenHeart: the National Coalition of Women with Heart Disease. As a family, they enjoy hiking, biking, canoeing, fishing, sailing, camping, weekends at their cabin, swimming, cooking, eating, and music.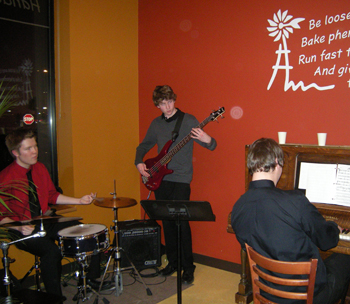 Their love of music is displayed beautifully in the piano set in the lobby of their store! The High School Jazz Ensemble that played for the Open House put the piano to good use and broke it in for future players. Anyone who feels like entertaining the crowd is welcome to play, and will most likely end up with a free beverage for their endeavors. And of course, everyone gets a free slice of fresh bread when they walk in the door!
We wish Bob and Natasha the very best! Their creative personalities, warmth and laughter are a perfect fit for the neighborhood bakery business. We know they will bring good vibes as well as great fresh baked products to Stillwater. If you're in the area, be sure to stop in.
Does your town need its own Great Harvest Bread Co? Maybe this is the right business for you: