It's almost that time of year again when we feast and give thanks for our many blessings. I'm always in awe at how many hours it takes to prepare the Thanksgiving meal and then in a matter of minutes it's over! I really enjoy cooking this meal for my family and friends, but I'm also a big fan of making the day organized and less stressful.
I created this recipe below to be prepared the day before Thanksgiving. Everything is to be prepped, pulled together, and refrigerated the night before. Then all that needs to be done on Thanksgiving Day is the bake. Doing what you can the day before makes the day of go much smoother (especially if you have limited kitchen or oven space).
Enjoy!
Cranberry Sage Stuffing
Ingredients
1 loaf of Great Harvest White Bread- torn into small bite-sized chunks
1 (16 oz) package Italian Sausage
1 Stick of Sweet Cream Butter
½ Medium Yellow Sweet Onion- diced
2 T Fresh Sage- chopped
1 T Fresh Thyme- chopped
2 T Fresh Basil- chopped
2 Cups of Fresh Cranberries
2/3 Cups of Orange Juice
2 Cups Chicken Broth
2 Medium Sized Honeycrisp Apples- diced
Directions
The Day Before Thanksgiving:
Put the bite-sized bread chunks in the oven on a sheet pan at 200 degrees for 2 hours. Once done, remove from oven to cool.
In a large saute' pan, brown the Italian sausage. Once fully cooked, remove from pan and set aside. Add 1 stick of butter to the same saute' pan and put on medium/low he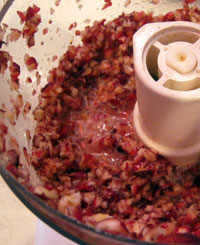 at. Add the diced onions and cook for a few minutes until just transparent in color. Next, toss in the sage, thyme, and basil. Remove from heat and set aside.
In a food processor, pulse the cranberries and orange juice about 10-15 times.
In a very large mixing bowl, add your dried bread chunks. Next, pour in the 2 cups of chicken broth. Using a spatula or large spoon, toss well. Add the diced apples and toss again.
Next incorporate both the sausage and the onion/herbs you set aside earlier. Finally, toss in the cran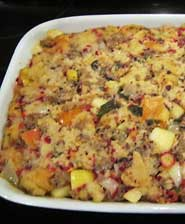 berries/orange juice and give it a quick stir.
Spray a 9x13 casserole dish. Put everything into the casserole dish and even out with a spatula. Cover with foil and refrigerate overnight.
Thanksgiving Day: remove from refrigerator and bake covered with foil for approximately 45 minutes at 350 degrees. To brown the top, remove foil and bake an additional 15 minutes.
Don't forget about the left-overs! Check out this turkey sandwich recipe I posted last year.
Happy Thanksgiving to you and your family. We are very thankful for our Great Harvest fans!