The Slow Movement started with Slow Food back in the 1980s by a group in Italy dedicated to preserving the traditions of local, quality food enjoyed slowly with friends and family (read more at slowfood.org). Other industries — like travel — embraced and extended the Slow Movement. As the world around us speeds up, our desire grows to slow down and savor time, experiences and food.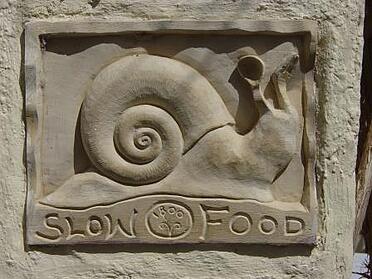 A current leader of the Slow Movement is Carl Honoré. He has a wonderful TED talk on the subject (view it here). He spoke at a conference I attended last year, and I was really impressed. He did a great job of explaining the movement and the paradox of slow -- your business can actually get better faster by slowing down.
"If you want to go fast, go alone. If you want to go far, go together." ~ African proverb
Think of it as doing things at the right speed. Some tasks absolutely must be fast, like greeting customers as soon as they walk in the door. But others, like allowing the flavor of your bread to be developed by a slow fermentation process, require patience and vigilance against the temptation to speed up for efficiency's sake.
3 Slow Movement Takeaways for a Small Business Owner:
1. Your customers crave a place to relax for a few minutes in their busy days.
This is easy to understand anecdotally, but research also supports this. A recent Mintel survey of U.S. diners found that 92% of people say, "It is important not to feel rushed." Your customers also understand and appreciate that quality often takes more time.
We asked customers in a nation-wide survey, "Why do you shop at Great Harvest?," and received replies like this:
"Because the products are amazing. Because the owners are amazing. Because, for a few minutes, time slows down, the hustle and bustle fades away, and I enjoy a real connection with my local baker."
2. Your company-owned or Big Box competitors understand it and are trying to capitalize on it already.
According to research completed by Mintel, 3,106 global product launches in 2013 included some type of claim about relaxation, compared to only 1,442 in 2005. Arby's restaurant chain aired a 13-hour commercial of slow-roasting meat to highlight their process (missed it? It was only aired in Duluth, MN).
3. You can do more (in life, and in business) by slowing down yourself.
We can all get caught up in the fast pace. As a small business owner, you always have a mile long to-do list. But remind yourself why you left the corporate treadmill to be your own boss.
Was it to get some control over your schedule and stop spending your time on ill-conceived plans written in the C-suite?
Share the load and involve your employees. Ask for their input to help solve the problems and set new goals. Yes, the time spent gathering feedback before a decision is made may feel like slowing down, but can save time after the new program rolls out. By ensuring your team is on board and understands why the change is happening, everyone can pull together in the same direction on launch day.
Carl Honoré has some wisdom to share here too: "Go fast at the right time." Getting input helps you solve unanticipated problems, make better decisions and then execute faster because everyone understands why the change is needed and had a hand in the solution.
Or to help teach your kids about work and life?
Now that you are in control of the priorities, be sure that you are modeling what you want them to see about hard work and the importance of family.
Or be part of your community?
Slowing down is about taking the time to forge the meaningful relationships with your neighboring businesses, customers and community members.
Or create an empowering and positive work environment for yourself and your employees?
Teach your crew about the benefits of slowing down in order to save time in the long run. How many times does a rushed task just create more work down the road? I learned the hard way when I first learned to bake bread that cleaning as I go slows me down a bit, but definitely saves time in the long run – wet dough is way easier to clean than dried-on dough.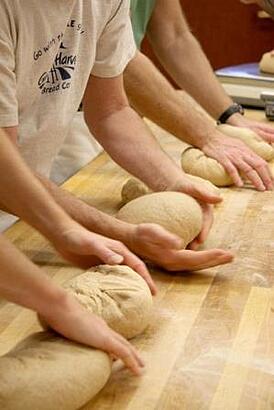 There is a time and a place for everything. In today's world, we have the option to go as fast or slow as we want, and we make those decisions according to our priorities. The challenge is to avoid being overwhelmed by the never-ending onslaught of options and information (and junk) that comes with a high-speed, high-tech world. The key, as always, is to maintain a sense of balance.
For most of us, that means picking a few things worth slowing down for. Like our meals. It's no coincidence that the Slow Movement started with food. For many, meals are a time to hit the pause button on outside noise and make genuine connections. Here at Great Harvest, we slow down for bread. We make our bread the right way, because most people don't have time to anymore. (However, we do not hand-churn fresh butter every day, so you will have to look elsewhere for that).
Whatever local retail business you are in, think about how the trend towards slow might present an opportunity for you to improve your value proposition by picking something to slow down for and do exceptionally well. Something your customers can really count on you to do─ not the fastest, but the best.
Where do you slow down and hit the pause button? Let us know in the comments.
Want to learn more about the Slow Food Movement? Start here:
You may also be interested in these related posts on The Bread Business blog:
Image credit: "SlowFoodThera06676". Licensed under Public domain via Wikimedia Commons.