When Joan Ramotar went looking for a part time job in her neighborhood, she had no idea that she was making a life-long career decision. 31 years later, she is still smiling and baking away at the Great Harvest in Minneapolis.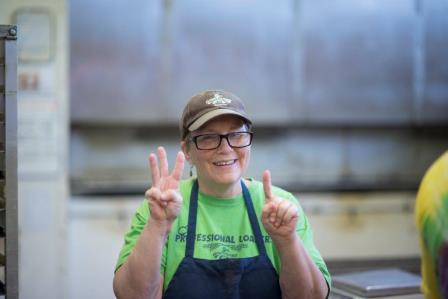 Joan had previously been a key punch operator at Sears & Roebuck in the catalog department. As she put it, "That tells you how long ago it was! And, it was so boring. My second son was six months old and I heard about an opening at Great Harvest. I thought…this might be fun."
Back then, the Minneapolis bakery only made two varieties of sweets each day – one cookie and one muffin. Joan wanted to do well and studied the recipes at night. "After the first couple of weeks, I knew I loved it. I knew this was what I wanted to do." She kept at it, became a full-time employee and has never looked back with anything but fondness.
Joan and the rest of the bakery crew are a long way from the days of only two sweets on the menu. They now make six kinds of muffins and four or five cookie varieties daily, not to mention the additional products like sticky buns, scones and of course, all those breads! She says, "We keep customers satisfied by making their favorite things, changing out the menus with new ideas and giving them choices."
While there has been a ton of work over the 30 plus years, there have also been a lot of laughs. Joan recalled one incident where the crew had worked diligently producing rolls to donate for a race. Once the product was finished they put it all in the back of the delivery van, ready to be taken to the race. "But an employee left the van door open and squirrels got in and ate the rolls! You just have to take the loss and deal with it." And, be able to laugh about it later.
She can get emotional when talking about her years in the locally owned bakery. She was hired by the original store owners, Tom Amundson and Sally Weissman. "They were always so good to me, even if I had issues outside of work. They were there for me through thick and thin…and I think they felt the same way about me."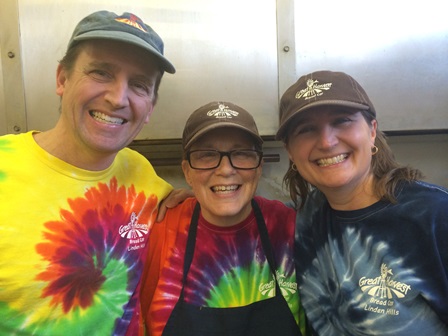 Steve and Gail Arnold purchased the store from Tom and Sally a few months ago and Steve, a former employee, has worked alongside Joan for the last 16 years.
Steve says, "Joan thrives on the challenges that the Great Harvest concept throws at her daily. She is dedicated, committed and always stays positive about bringing an "I can" attitude to the bakery each and every day; that is a pleasure to work with either as an owner or peer. We're so fortunate to have her as part of this staff."
Joan says "Steve is wonderful to work with and we all have such a great comradery here. It's just wonderful."
So how does a part-time job become a life-long career? Joan says "I took on the challenges they gave me. I never said no. It's a lot of physical and mental work, but if I could do it…I did. I pushed myself."
For Joan, it's that challenge that still keeps the job fresh after all these years. "There is something so satisfying when you work hard at all the details, everything lines up like you want and then you have this perfect product. It's the end result that make is all worthwhile."
Her advice to those searching for a career path? "Give each job a chance. If you take on challenges, you'll be happy."
Are you looking for a new career? Why not consider bakery ownership?
If you enjoyed this post, you may also be interested these: