Inside or out, no two Great Harvests look alike.
That's because local bakery owners have unique personalities and passions. They all fit nicely when you have a Freedom Franchise that offers the opportunity to reflect the owner's choices in everything from the exterior paint colors to the counter tops. The bakery franchise staff provides layout services and design recommendations, but in the end it is the local business owner who makes the decision on a "personality" for the store.
For example, Judy and Tom's Kirkwood, Missouri bakery reflects the history of their downtown and was once a post office. It took a lot of work and steady commitment on their part to bring a modern bakery into the setting.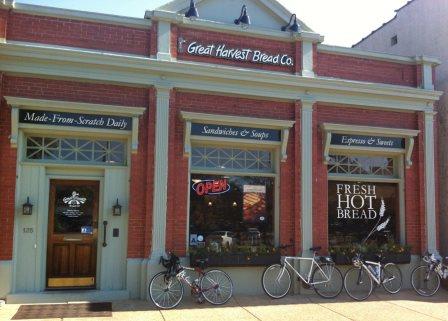 Judy commented, " We knew our bakery needed to be in historic downtown Kirkwood, and when this building became available just as we began our location hunt, we couldn't believe our good fortune. Our motto during build out was "don't go crazy, but don't go cheap." We completely renovated it, with an eye towards maintaining its historic integrity. The city of Kirkwood recognized our efforts with a historic preservation award the first year we were open. Our bakery fits our own personal style and the vision we have for our Great Harvest."
At the Nashua, New Hampshire Great Harvest, Jeremy and Sterling's bakery has a piece of century old family history that has become a landmark.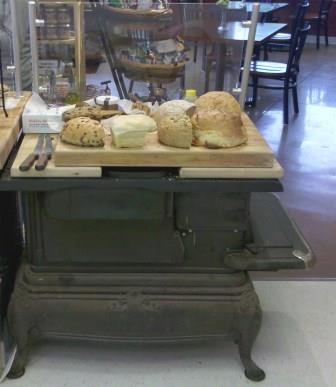 Jeremy filled me on the story. "We have a Portland wood stove that came from Avon Mills Grange Hall in Avon Mills, Maine. My great-grandfather was the president of that Grange Hall for a time and that oven was used to heat the hall and cook food for the farmers. My grandfather salvaged it when the Grange Hall collapsed and handed it down to my mother and she handed it down to me. It was purchased brand new by the hall about 110 years ago and has now found a fitting new home as the centerpiece of our bakery. A stove that did so much to serve its community and farmers deserves another chance to serve a new community within the same family!"
Jon Rasmussen brought a little of his own professional history to his eclectic Delafield, Wisconsin bakery, with of all things… chandeliers!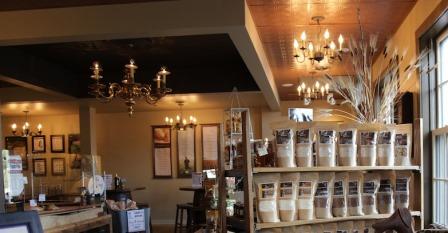 Jon said, "They are from the old Marshall Field's department store that I used to manage. They used to hang in the main aisle of the store. During a renovation, they were all removed and were not in the plans to be used again. I purchased 4 of them thinking that I would find a use for them someday. Well, that day came when I opened the bakery. I wanted the design of the bakery to not look like a typical bakery and these grand brass chandeliers create a "wow" effect when you enter. In fact, my contractor had to reinforce my ceiling twice due to their weight! Also, my breadboard butcher block is an antique that we used as a visual prop in the entrance of the home department. Of course, my butter crock is also stamped with the Marshall Field's logo. Needless to say, my customers are nostalgic of the old Chicago-based department store chain and always appreciate the history behind the pieces."
Does your business encourage your personality to shine?