We thought you might want to watch our new two-minute video about the Great Harvest franchise, so here it is, for your viewing pleasure:
Let us know what you think in the comments. (Every time I watch it, it makes me really hungry!).
---
There's Never Been a Better Time to Franchise With Great Harvest!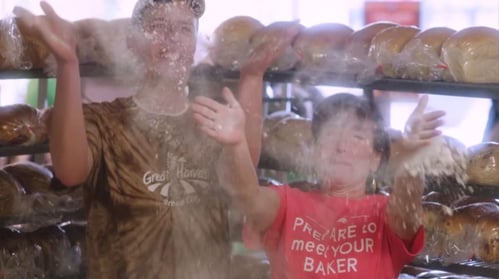 The video isn't the only thing that's new. There've been many changes underfoot here at Great Harvest. If you've visited our website recently, you may have noticed that our franchising section now distinguishes between single-unit, multi-unit, and international franchising. This is a pretty big deal because, in almost 40 years of franchising, Great Harvest has offered franchises exclusively to owner-operators, who almost always start as single-unit franchisees. No more! While owner-operators still represent the heart of Great Harvest, we now also welcome multi-unit franchise owners.
Last year, we introduced our new cost-effective Hub & Spoke model which makes multi-unit franchising with Great Harvest extremely attractive. We have franchisees who will be opening multiple Great Harvest locations in Guam, and we plan to expand our footprint in the Northeast with a goal of opening 25 locations before 2019 through multi-unit franchise owners.
It's an exciting time to franchise with Great Harvest. If you have considered opening a franchise with us in the past, you can view the latest edition of our Franchise Information Packet here: