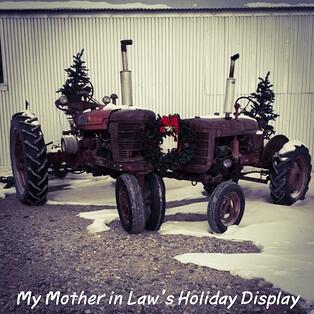 As I put a bow on this holiday season, I'm thankful that in 2014 I was able to celebrate, reflect with and grow alongside a loving family. That's why one of my 2015 resolutions is to better remember and honor my family. Whether it is remembering to send giant Great Harvest cookies and Harvest Bars to my nieces who live in an area of the county without a bakery, calling my parents who live out of state more frequently or cooking Sunday dinner for nearby family once a month, I resolve to remember my family a little more in 2015.

With that resolution in mind, I wanted to spend some time discussing family farms and what a family grain farming operation in Montana looks like to me and my family.
Click infographic below to view original at www.fao.org.
97% of U.S. Farms are Family Farms
There tends to be a misconception that family farming in the United States is dying. I would argue that although it may be evolving, it is far from dying. According to The Farm Bureau, there are over 2.2 million farms in the United States. About 97 percent of these farms are operated by families — individuals, family partnerships and family corporations. Farms relying primarily on family labor still account for nearly half of U.S. farm output. While there is no denying that the aggregate number of family farms in the U.S. has declined over the past fifty years, The Washington Post reported that between 2002 and 2007 the U.S. farm count actually rose 4 percent, reversing a long-standing decline.
Agricultural practices in the United States must evolve to meet growing demand, changing consumer wants and needs, and to compete with the ever-increasing costs of doing business. Farms may have changed to become larger, multi-generational operations, often sharing machinery, labor and larger tracts of land, but it is inaccurate to say that the family farm is on the decline when over 97 percent of the industry is family based.
The Johnsons are Proud to be Part of the 97 Percent
Throughout my series of blogs discussing grain farming, I've taken the liberty of using "we" as I describe actions and philosophies on the Johnson Ranch. "We" really refers to my father and mother-in-law. They are the ones getting up at 2:00 a.m. to check cows when it's 30 degrees below zero in February, bailing hay at 4:00 a.m. in July, running the combine until dark during harvest, making the important business decisions and mentoring my husband and I all year round! Although my husband and I work as hard as we can to contribute when we're not at our day jobs (I should clarify: my husband contributes — I learn), the family farm is still very much my mother and father-in-law's operation. Farming is my husband's passion and although he and I both hope it can eventually become his day job, we know that is still on the horizon.

My father and mother-in-law are both from third generation Montana hay, cattle and grain operations. Both are still very active in their respective family farms and have parents and siblings still working and living on their family farms. Grandpa and Grandma Johnson still farm on their own land and are an extremely active, everyday part of the Johnson Ranch. My father-in-law's brother also farms and ranches the neighboring piece of ground. There are few days on the Johnson farm where the family isn't working together — whether it's planning what crops to plant next year and working on the business side of the operation, or working side-by-side in the field or the shop.

I feel I would be doing an injustice in the writing of this blog about farm families if I didn't point out that my parents are also from family farms. My mother plays a key role in the management of our family Century Farm in Southwest Iowa where we grow corn and soybeans. With both of our families so deeply rooted in farming, it's no surprise that my husband and I see it in our own future.
What's Happening on the Johnson Ranch Right Now?
The months of December and January tend to focus on feeding and keeping the cows healthy until they are ready to give birth. Although feeding requires routine and presence on the ranch, it is a quieter time than other seasons. That will soon change as we expect to begin calving by the end of the month. We are looking forward to welcoming the new calves onto the ranch!

As a new year brings with it new calves and a new cycle of seasons, I'm reminded that — despite its changes — the essence of family farming (for us, inseparable from family) endures.

If you enjoyed this post, you may also enjoy our other posts about Montana grain farms.