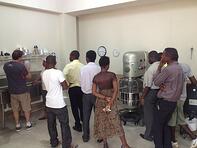 "Give a man a fish and you feed him for a day. Teach a man to fish and you feed him for a lifetime." Great Harvest Bread owners, Rick and Debbi Sands of Stow, Ohio, have taken this proverb to heart.
Rick says he has always wanted to help feed the world and in October of 2010 he was called by God to do just that…in Haiti. "I was inspired by God and believe He has put this on my heart for a very long time. I think this is why He gave me a Great Harvest and made me a baker."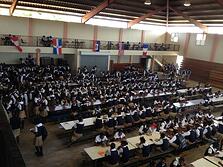 Working with the vocational school at Institution Univers, the Sands have helped build a bakery that feeds 2,400 school children a day while they receive a Christian education. And, just as importantly, it is used to train baking, as well as operating and maintaining a retail facility with the goal of teaching communities to be more self-sufficient.
"In Haiti, an average day is to wake up and determine how to feed your kids. Jobs are scarce, food is scarce. It is common for Haitians to only have one meal per day. Our goal now is to begin feeding the children breakfast as well."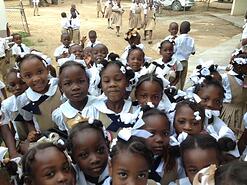 Profit from the bakery is distributed at the discretion of the school's director, Hugues Bastien, who started the school as well as a hospital and an eye clinic. Rick emphasizes "Children are dying here. If they make it past 5 years of age, they are fortunate." The Sands are working to make a difference.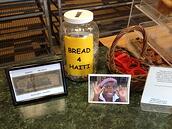 "We are changing lives here and the support has been amazing." Rick says a large portion of the money raised has come from a pickle jar on the counter at their Great Harvest Bread Company…$70,000 so far. And one day, a customer came in and said "I heard about what you're doing" and handed Rick a $10,000 check.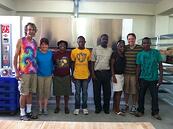 Rick has had calls from the White House, and visitors to the area include Hillary and Bill Clinton, Ben Stiller and Sean Penn to name a few. And, even some help from fellow bakers. Early on, he met with former Great Harvest bakery owner Randy Verdi and asked for his support. "Randy said 'count me in' and has been a huge blessing. He's made several trips to Haiti to help with everything from installing the oven to training."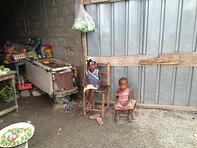 There is still much work to do, but the Sands know that support will continue to help them see it through. "The reception has been amazing and we have already seen many lives changed as a result of the bakery."
For Rick and Debbi, the connection with the Haitian community is about so much more. "We've been able to spread the Gospel and they know God has sent us and God loves them."
If you'd like to support the Bread4Haiti program, checks should be written to:
Christ Community Chapel/Bread4Haiti
They can be mailed to or dropped off at:
Great Harvest Bread Company
4058 Fishcreek
Stow, OH 44224
Christ Community Chapel
750 W. Streetsboro St.
Hudson, OH 44236
C/O Bread4Haiti