Your search for the best stuffing recipe this holiday season is over! (Also good news: it has just three ingredients and is super easy to make).
In response to some queri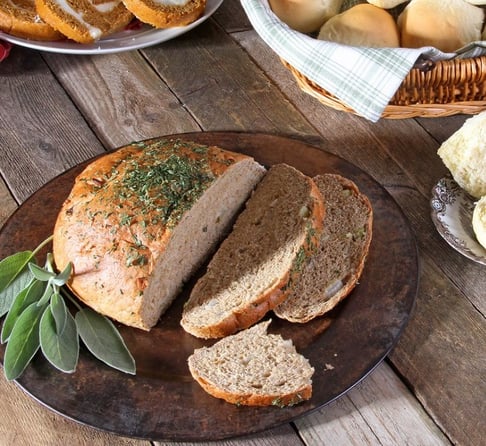 es we've received about the classic holiday stuffing recipe that has been handed out by many local Great Harvest bakeries over the years, we are going to post the recipe here.
This recipe requires a loaf of Great Harvest's Stuffing Bread. Contact your local Great Harvest to see if you can reserve one, or see about getting one shipped to you. Because the Stuffing Bread comes "pre-stuffed" with your favorite holiday herbs, you don't have to add herbs to this recipe, which simplifies things.
Best Stuffing Recipe
Ingredients:
One loaf of Great Harvest's Stuffing Bread
One stick or 1/2 cup of sweet cream butter
1 and 1/2 to 2 cups of chicken broth or giblet water
*Optional: chopped walnuts and dried cranberries
Directions:
Slice the loaf into 2" cubes and

dry the cubes in the oven for 3 hours at

200 degrees.

Place cubes in a large bowl.

Add in one stick of butter that has

been cut into small pieces.

Add enough chicken broth or giblet water to

moisten cubes.

Optional: Take it up a notch by adding chopped walnuts or dried cranberries

.

Put in a buttered casserole dish and bake at 350 degrees for 30-40 minutes uncovered.

Serves 6 to 8.
That's it!
Great Harvest has you covered for your holiday feasting needs, including rolls, desserts, and stuffing. By the way, don't forget to pre-order your rolls and desserts from your local store to avoid disappointment. Most stores stop taking advance orders a few days before a holiday.