Do you ever wonder what life would be like if you could just have that one dream job, getting paid to do something you absolutely love and would probably do for free?

As a Chef, I get the real pleasure of being able to get paid to practice my art, much like a painter or a musician. For many folks toiling out there in the corporate world chained to their desks, becoming a baker and owning a Great Harvest store is one of these dreams. I absolutely love my job as Corporate Chef at Great Harvest. I get to bake constantly and play with new recipes, teach new franchisees how to become amazing bakers, and visit whole wheat bakeries all over the country. But I often dream about retiring someday and opening up a small pizza joint, preferably in a ski town and only open three days a week (How unrealistic is that?).
I have always been fascinated with pizza. I am not talking about slow baked, delivery style pizza nor am I talking about deep dish pizza - strike me down as a Chicago boy! I am talking about mind-blowing, thin and bubbly, lightly charred, fast cooking Neapolitan style pizza, ideally baked in a wood-fired oven at temperatures approaching 900 degrees.
OK, so that is impossible to replicate at home without some serious investment in an outdoor oven. Maybe someday I will have the time and resources to build one in my yard. But in the meantime I make do with a run of the mill electric home oven and a baking stone. Is it the same as what you get out of a real pizza oven? No, but it is delicious and a lot of fun to make. It is great to make as a family or with a group of friends. I will often prep a bunch of different toppings and then have folks pick what they want on the pizzas as we make them.
Preheating your oven for at least an hour with the baking stone inside is essential. The choices for toppings are endless; just make sure you do not overload the pizza as it can become a soggy mess. A light smear of the sauce, a couple ounces of cheese and a light scattering of vegetables, herbs, or meat is really all you need. The dough should feel very wet and moist and stretch very easily after its long rise. I have experimented with several variations of pizza dough recipes over the years, but the best one is based on one of Peter Reinhart's from his Pizza Quest website.
Yields about 5 pizzas, plan on 1 pizza per person
For the Dough:
Ingredients
2 ¼ cups warm water, approximately 80 degrees
1 tablespoon honey
1 ¼ teaspoons instant yeast
5 ¼ cups unbleached flour
2 teaspoons kosher salt
Olive oil as needed
Method
Dissolve yeast and honey in the water in the bowl of an electric mixer. Add flour and salt and mix on medium speed for 1 minute.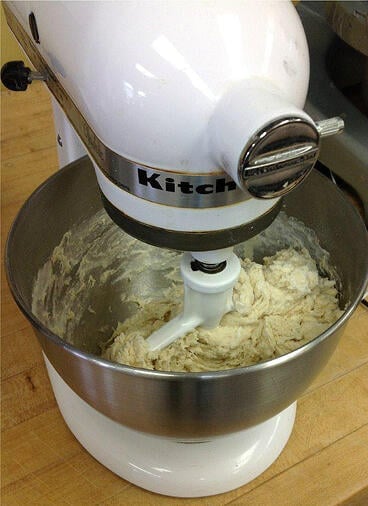 Turn off the mixer and let the dough rest for five minutes (it will look very shaggy at this point). Mix on medium speed for 1-2 minutes more until a very wet and tacky but smooth dough is formed.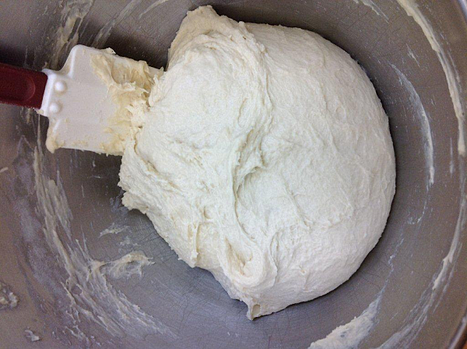 Place the dough on a lightly oiled cutting board or table and with oiled hands fold the dough several times. Allow it to rest for five minutes and repeat the stretching and folding.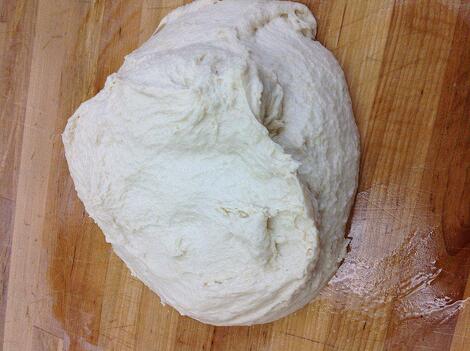 Rest, stretch, and fold two more times. The dough really will transform during this process into a beautiful smooth ball.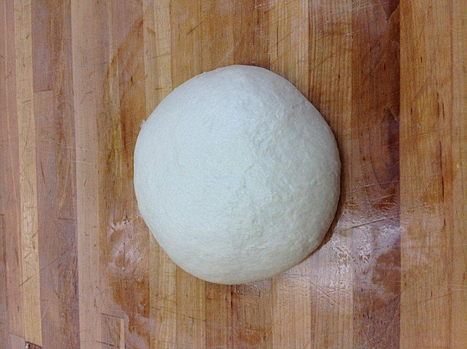 Place in a lightly oiled container, cover, and refrigerate at least six hours or ideally overnight. Remove dough from refrigerator two hours before making pizza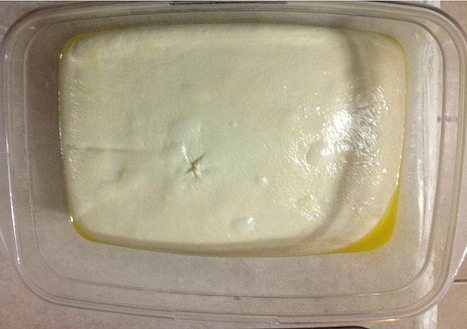 and divide into four or five equal size balls.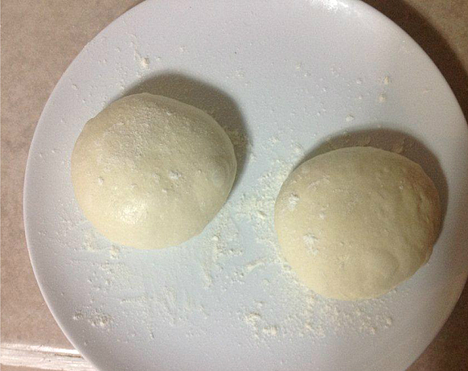 Lightly oil the tops and cover with plastic wrap.
For the Sauce:
Ingredients
1 28 ounce can whole peeled tomatoes, preferably San Marzano
3-5 cloves of garlic, depending on size
1 teaspoons kosher salt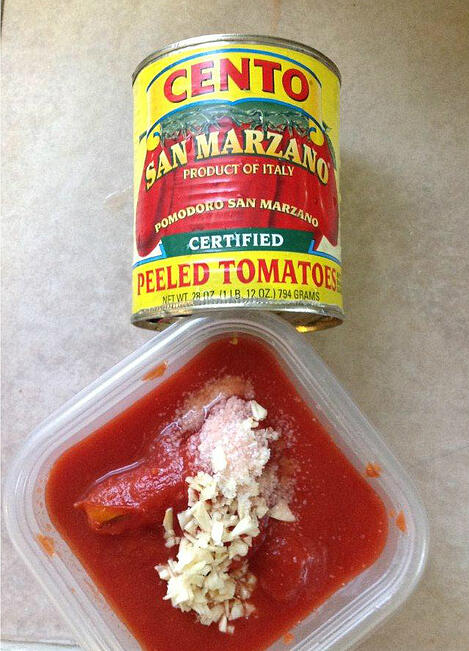 Method
Place all ingredients in a bowl and puree with an immersion blender or pulse ingredients in food processor. I like to leave it slightly coarse.
For Pizza:
Preheat your oven with the baking stone at highest setting for at least an hour.
An 8 ounce ball of fresh mozzarella, sliced thin
Sauce from above
Fresh basil leaves
Assorted toppings, as desired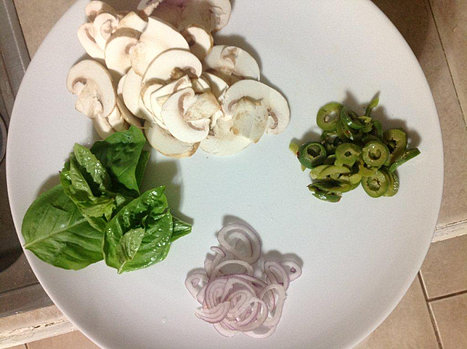 Method
On a lightly floured pizza peel (you can also use the back of a cookie sheet or a piece of cardboard) stretch dough into a rough circle, about 10 inches in diameter. Spread a light layer of tomato sauce, top with 2 ounces of mozzarella, several torn basil leaves and whatever toppings you desire.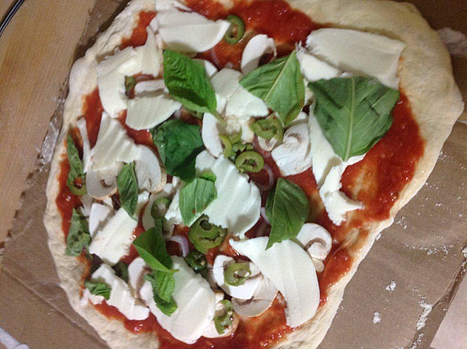 Carefully slide pizza onto pizza stone and bake until beautifully browned and cheese is bubbly. Depending on your oven this can take anywhere from 4-7 minutes. Remove from the oven with pizza peel and serve immediately.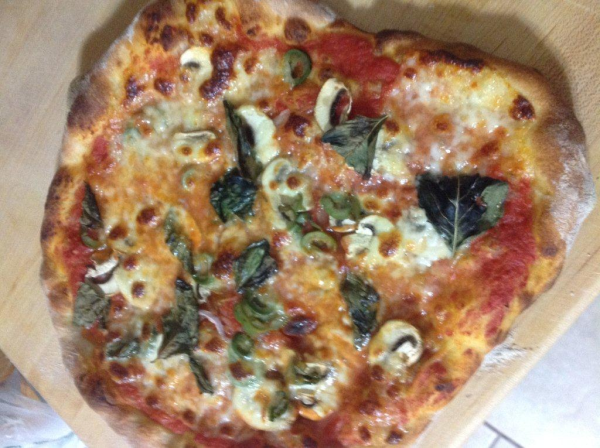 Let me know in the comments below how your pizza tasted and the creative toppings you recommend.
Intrigued? See more recipes from Scott on our Recipes page.